Chewing is an essential part of every dog's life, but it's a particularly important activity for puppies. Through gnawing on toys, puppies learn to manage their chewing instincts, explore the world around them, and alleviate the pain from teething.
That is why giving your pooch a toy to chew on is not even a subject for debate. The question is which puppy chew toys will safely satisfy your dog's urges. Here are our 9 picks for good chew toys for puppies.
Youngever 8 Durable Dog Chew Toys
Editor's Choice
It's no secret that with an avid chewer, any toy is at a risk of being ruined. To save you the trouble of going out to buy a new toy every time your puppy destroys the old one, Youngever offers a value pack of 8 high-quality chewing toys:
The pack contains 5 rope toys and 3 rubber toys.
Both the rope and the rubber are extremely durable and suited even for aggressive chewers.
This set of chewing toys is designed for dogs ranging from 10 lbs to 50 lbs.
The toys help maintain your pup's dental hygiene.
With a complementary mesh bag, you will easily keep the toys in order.
Nylabone Dura Chew Ring Bone & Chew Bone
Nylabone is one of the best known names in the pet supply industry, and their puppy teething toys are always a good choice. This Nylabone set contains a chew bone for puppies and a ring bone:
The double pack of chewing toys can last your dog well into adulthood: you can start with the chew bone and eventually graduate to the ring bone.
Both toys are flavored with chicken, making it irresistible to the dog.
The materials are both durable and soft, which is ideal for the sensitive gums of teething puppies.
Regularly chewing on these toys prevents the formation of plaque and tartar.
KONG Puppy Toy
KONG is famous for making some of the most durable dog toys in the market, but they are also known for their exceptionally safe chew toys for puppies. The KONG puppy toys share many of their features with the adult versions but still have a lot to offer on their own:
The toy comes in three sizes and two colors, which means you will easily find the perfect one for your pup.
The special teething rubber formula soothes the dog's gums and cleans the teeth.
The unpredictable bounce ensures a fun game of fetch.
The toy can be filled with dog snacks and frozen to give your puppy even a more thrilling experience.
Oneisall Indestructible Pet Chew Bone Toy
If you are looking for a chewing bone for puppy that is a bit more durable than your regular rubber and rope toys, here is something to check out! Oneisall makes a range of indestructible toys for all dog and puppy needs:
The toy is made from non-toxic and extremely durable nylon.
There are three sizes available, with the smallest one being perfect for puppies.
The bone comes with a scrumptious bacon flavor — a real dog favorite.
Chewing on the toy relieves the painful teething sensation and helps clean up the teeth and gums.
Wisedom Dog Toothbrush
Cleaning your dog's teeth with a special toothbrush may be a hassle, particularly when your puppy is stressed out from the teething. This chew toy for puppies is shaped like a toothbrush and can be a great addition to your pup's toy collection:
There are four sides with bristles on the toothbrush for effective cleaning.
You can squeeze the toothpaste inside the toothbrush for an even better effect.
The toothbrush toy comes in one universal size, perfect for both small and large puppies.
There is a mild mint flavor for extra fresh breath.
The toy is made of durable rubber and works longer than most other dog brushes.
Nylabone Puppy Chew Toy Starter Pack
Another bestseller from Nylabone contains some of the best chew toys for puppies available today. From chew bones to teething pacifiers — this starter pack is every teething dog's best friend:
The Dino toy and the two pacifiers are perfect for relieving teething pain.
The three teething bones for puppies can cover every stage of the teething process, and there is even a delicious treat for the pup!
All toys from the pack are flavored to make them completely irresistible for your pooch.
Thanks to the variety of sizes and shapes, the starter pack from Nylabone can last from a very young age up to when your dog reaches 25 lbs.
Mammoth Flossy Chews Rope Tug
Rope toys famously make great toys for teething puppies and active chewers. They are durable, cute, and can be easily cleaned in a washing machine to make things more hygienic. This rope from Mammoth has several reasons to check it out:
The toy is made from pure cotton and non-toxic dye, which means it's absolutely safe for your pup to play with.
The rope cleans your dog's teeth and massages her gums during play.
When your dog is in a mood for some active time, play tug of war with it using this rope!
The toy is best suited for larger breeds, although puppies and smaller dogs will also enjoy their time with the Mammoth.
Jim Hodges Dog Training Elk Antlers For Dogs
If you are a fan of all things natural and want your pup to get the best products, here is something the two of you might like. These genuine elk antlers are produced without any harm to the elks and are a true fan favorite:
Natural antlers are very hard and therefore very durable. They make great chewing toys and are ideal for supporting the teething process.
No flavoring needed — your pup will sense the natural origin of this toy and will like it immediately.
The antler toy prevents tartar and is a great source of calcium, zinc, and other essential nutrients.
Without any smell, stickiness, or small pieces, it's a fantastic choice for an indoor toy.
Pet Parents Gnawtlers For Dogs
This is another version of the popular variety of natural elk antlers for dogs. These antlers are also harvested responsibly without damaging the elks and come with several important qualities:
The Gnawtlers are unprocessed and don't leave any mess or color even when your pup chews it for hours.
These toys are packed with nutrients and help remove the plaque from the dog's teeth.
Pet Parents Gnawtlers come in four sizes, making it super easy to find just the right one for your pooch.
The antlers are vacuum sealed and come to you perfectly clean.
Things to Consider when Buying Puppy Toys
When shopping for the perfect chew toy for your puppy, there are several important factors to take into account. These are the 5 things you should look for in the chewing toy you buy for your puppy:
You buy the chew toy for your dog to chew for hours, which is why it should be something safe and durable. The number of dogs and puppies who die or sustain serious injuries due to small sharp pieces chipping of their toys continues to grow, and it's something you should always keep in mind.
When choosing a puppy chew toy, you may think that the tougher a toy is, the more durable it will be. However, when the chew toy is too hard, it can not only hurt the delicate teeth and gums of your puppy, but also make him lose interest completely. The perfect toy should have some degree of softness to keep the puppy entertained.
Even while they are still puppies, dogs come in a variety of sizes, and so do chew toys for them. You should always look for the most appropriate size of the toy for your puppy. A tiny Yorkshire terrier puppy will be simply unable to use a large chew toy the right way, and a Great Dane puppy risks choking on a toy that is too small.
Most chew toys for puppies come with different textures. A good texture will both make the toy your puppy's favorite and take care of his dental hygiene. It's also important to have several chew toys with different textures in rotation to prevent your puppy from getting bored.
Not all puppy chew toys are flavored or have a particular taste, but having one or two flavored toys in your collection will help you give your puppy some fresh sensations. Some toys even allow you to fill them with treats that they will dispense gradually, which will help your pup enjoy the toy even more.
What to Avoid in Puppy Teething Toys
There are several things that can be bad for your puppy when included in a chew toy, so always try and find a toy that doesn't contain any of the following:
BPA is a dangerous chemical that has been banned by most reputable dog toy manufacturers but can still be found in some of the cheapest toys in the market. BPA can cause neurological, reproductive, and immune system problems, to name a few.
Toys that are not designed for dogs
Good teething toys can be quite expensive, and when you compare the prices of specialized chew toys and regular toys for babies, it can be very tempting to save a few bucks and go for the latter. However, toys for children are made from completely different materials and are not designed for continuous chewing by puppies.
Many squeaking toys, especially from the upper price range, are completely fine for dogs and puppies. Still, there is a variety of cheap squeaker toys, which can be very dangerous: your puppy will easily chew through the plastic and can choke on the squeaker.
If you are looking at a chew toy with many moving parts or that consists of several fragments, it is better to go for another option. These toys can be easily torn apart, and the small pieces that come off pose a serious threat of choking.
How to Keep the Puppy Interested in Chew Toys
Chew toys have a very clear purpose of helping your puppy through the teething process and preventing your valuables from being destroyed. But what if your pup is completely indifferent in the chew toy you are offering? Here are some ways to keep him interested:
There is a whole category of chew toys for puppies that have interactive properties. These toys require your pup to perform one or more tasks while also giving the toy a good chew. Achieving the goal while getting relief for teething will surely feel very satisfying to your pup.
This little trick works great on human babies who are teething, and it works like a charm on puppies too. Before offering a teething toy to your dog, put it in the freezer for about 30 minutes. A cold toy provides even more relief for the painful teething process.
Your puppy will be much more motivated to chew on the toy if it dispenses treats. You can find a variety of treat dispensing toys that you can use with kibble, special puppy treats, or even peanut butter.
Like humans, puppies tend to get bored when they are always offered the same toy. Letting your puppy play with one chew toy for a few days and then putting it away for about a week will make your pup feel like he's playing with a brand new toy every time.
Frequently Asked Questions
Why do puppies need chew toys?
Every puppy loses his milk teeth before reaching the age of 8 months, and since the process of teething can get rather painful, puppies find relief in constant chewing. Without a special toy designed specifically for prolonged chewing, the puppy will turn to the next available thing, which can be your shoes, gadgets, furniture, or other valuable items. That is why a good chew toy is simply essential for making your pup's teething process a little easier.
When to start giving chew toys to a puppy?
You can try offering a chew toy to your puppy as soon as you notice the signs of teething. The most telling symptom is, of course, uncontrollable chewing of anything in the vicinity of your dog, but you can also notice other symptoms such as excessive drooling, restlessness, and swollen gums. You can also check with the information about your breed to know when to expect the beginning of teething, as it can happen anywhere between 3 and 8 months.
Can I give rawhide as a teething toy to my puppy?
While there are no strict regulations preventing you from giving rawhide as a teething toy to your pup, most veterinarians and experienced dog owners agree that it's not the best choice for teething puppies. Rawhide does have certain benefits, but it can also fall apart from constant chewing, creating a risk of suffocation. Moreover, rawhide can cause stomach problems for puppies with a sensitive digestive system, and in some cases, rawhide is contaminated with E.coli and other bacteria, which can be dangerous not just for the puppy, but for the whole family.

The market of chewing toys for puppies is filled with great options, from the all-natural elk antlers to the industrial-grade rubber. You'll never know which one will become your dog's favorite until you try it, but rest assured it's already on our list!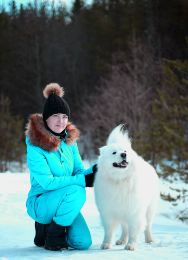 Vanessa Vilchek is one of our favorite authors. She is a real dog person, she was introduced to her first puppy at the age of 3 and since then she would rescue every pooch she met. Today all care and entertainment issues are a piece of cake for her, and we are really proud of having her on board. If you have any questions, feel free to ask in comments below or on her facebook page.