"Dog Bone" is a term that refers to a range of products that go well beyond meat leftovers after cooking. These are specially designed treats for dogs, which involve a pup not only in his natural gnawing activity.
This wide variety of products (bones, wooden sticks, knuckles, rawhide or starch products) supports dental hygiene of a pooch, satisfies the urge for biting and chewing, improves digestion and supply of wholesome elements.
It also trains obedience, commands performing, and prevents undesirable gnawing of the household items. As a result, you will get your lovable canine in excellent physical condition.
Natural Dog Bones
Cartilage, bones with bone marrow, antlers and various other hard parts of animals useful for pups. They are also very delicious. A natural taste and firm consistency attracts four-legged friends, as they are predators by their origin. However, monitor your pooch when he is treated with dog bones to avoid choking hazards.
Rachael Ray Nutrish Soup Bones Longer Lasting Dog Chews
Nutrish Soup Bones Longer Lasting Dog Treats produced by Rachael Ray are perfect supplements for a wholesome nutrition of an adult canine. Offer these additional meals up to 10% of everyday feeding. Soup Bones made with natural meat and garden veggies have soft tender filling and hard crispy shell.
Your four-legged friend will be grateful for these small pieces made of fresh chicken or beef with a small amount of pea, barley or rice, dried beets or carrots. No artificial elements, chemical preservatives, corn or soy are used for manufacturing.
Natural healthy bones for dogs of small breeds must be broken into pieces to avoid choking. Feeding of dogs under one year or tiny breeds is not recommended. A bowl of fresh water should be offered all times when treating a pup with healthy dog bones.
Delicious good bones for puppies are offered in two flavors, chicken or beef supplemented with several packing options.
Purina Busy Real Beefhide Dog Chews
Yummy bites of Purina Beefhide Chews look attractive. Manufactured for long-lasting chewing, these delicious treats are cooked of farm-raised cattle rawhide.
Lacking artificial ingredients, 100% natural dog bones are free of allergens. They consist of beef hide or other parts of beef, supplemented with small amounts of rice or wheat flour.
Each piece is crafted in the shape of a real rib, may be offered for dogs of all life stages, and vary depending on a pup's breed and size.
These healthy bones for dogs are supplied in various sizes of packages, counting from 5 to 20 pouches.
Pet 'n Shape Beef Bone Dog Treat
Beef Bone Treat, by Pet 'n Shape Bones and Chewz, ensures the best flavor and quality of the dog bones produced in the USA. Flavored with the taste of beef, wholesome treats are cooked carefully to attract and satisfy even the most ardent chewer.
Containing only one ingredient, roasted beef treats are tasty and have an irresistible odor. They ensure an ideal proportion of nutritious elements without wheat, corn or soy supporting your pup's good health condition.
Natural dog bones are intended for supplementary feeding of medium and large pooches. Dog chews of different sizes are supplied in a package of two or four items.
DreamBone Twist Sticks by the DreamBone Store
Enriched with vitamins, DreamBone Twist Sticks are free of rawhide, however maintaining its delicious flavor and taste.
They are made of real chicken with natural vegetables. Beef and cheese taste is also available for pooches who are not attracted by poultry ingredients. No wheat is used in its manufacturing. Instead, dried carrots, sweet potatoes, pea flour, barley malt syrup are added.
Natural dog bones from DreamBone are good as intermittent treats to support healthy gums, correct digestion and vitamin supply for an adult lovable buddy no matter of his size.
30, 50 or 1200 pieces bowls of DreamBone dog chews are an indispensable part of your puppy's wholesome nutrition.
EcoKind Pet Treats Gold Yak Dog Chews Healthy Dog Treats
Exclusively delicious sticks produced from the products, originated from the most ecologically clean part of the world, the Himalayans, Gold Yak Dog Chews by EcoKind Pet Treats provide mouth freshening and prolonged chew engagement for your lovable buddy.
No lactose, gluten, allergens or chemicals are used for their manufacturing. Chew ingredients of good bones for puppies are yak's and cow's milk specially processed for better digestion.
Suitable for the most sensitive stomachs, they are allowed for dogs of all life stages. The offer for Yak Dog Chews include 1-8 sticks packages or 1-5 lb. bags.
Antlers for Dogs
Antlers for dogs, elk or buffalo horns are perfect dog bone treats, sturdy long-lasting chews. They play an important role in the dental and digestion health of a pooch.
Elk antlers are soft, wholesome and are often flavoured with an attractive taste for dogs. They also redirect destructive instincts of gnawing,engaging a pup into business for a long time.
Heartland Antlers Premium Grade-A Dog Chews
These savory treats for canines are 100% natural. Dog bones ensure a long-lasting business even for aggressive chewers directing their efforts into delicious pieces.
Premium horns by Heartland Antlers are from naturally shed elk. They contain only nutritious wholesome elements, like glucosamine, chondroitin, phosphorus, calcium, vitamins and minerals, have venison flavor. No processing is applied in their production.
Fresh treats may be offered for breeds of all sizes from the smallest to giant ones, as they vary in size: 4'', 6'', 9'', 11''.
Deluxe Natural Elk Antlers for Dogs
Excellent elk antlers for dogs are 100% organic. This product is manufactured of the shed material. Your four-legged friend gnaws it for hours improving his teeth and gums health. Just watch your pooch, removing sharp and small pieces to avoid the hazard of choking.
Deluxe Antlers for Dogs are full of nutritious elements, phosphorus, calcium, strontium, magnesium, crude protein, fiber, fat, favoring gastrointestinal tracts health, teeth and bones density increase.
Natural antlers are intended for all pups of medium and large sizes, like German Shepard, Rottweiler, Labrador Retriever.
Packed in resalable containers, each pouch places a 1-lb piece of an antler from 5" to 9" to be offered for different breeds.
WhiteTail Naturals Organic Deer Antler Dog Chews
These Deer Antlers are hand selected, cleaned and packed to bring enjoyment to your little four-legged friend and make him tail wagging. Chews originate from the USA and are from natural shedding of deer. No animal is hurt by collecting antlers.
Organic dog bones ensure not only healthy engagement for gnawing, strengthening teeth and gums, but also supply of nutrients, vitamins and wholesome elements to support limbs and the skeleton of pups.
Antlers for dogs have no excessive odor, may be used indoors and outdoors. Pieces are a proper size for small and medium pooches 5 to 40 lb.
Being 5'' or 6'' length, these best dog treats are placed in 6-units packing.
Synthetic Dog Bones
Synthetic dog bones resemble fully real bones, are used for intensive chewing and switch natural pup's destroying activity to a toy treat. Besides, application dog chewing toys made of food-grade polymers is favorable for a dog's digestion, mouth cavity sanitation, adds no calories, is hygienic and stain-free.
These products are usually made of safe synthetic materials, like nylon and supplemented with dog's lovable flavors: chicken, bacon, venison.
Use reliable and trusted dog bone brands to ensure your canine safety and prolonged chewing activity. A producer should ensure durability of the applied material of good bones for puppies. A canine must be always under supervision when using chewing toys to avoid issues if ingested.
Benebone Real Bacon Durable Dog Chew Toy
Benebone Real Bacon Durable Wishbone is a toy chew for the most obsessed chewers, allowing them to redirect their gnawing instincts into a sturdy, durable and safe target.
The hard bones for dogs are made of the material, free of allergies and hazardous chemicals, flavored by real bacon. The tasty odor makes the toy desirable by almost all pups.
The chewing toy is produced in the shape of a wishbone and may be conveniently grabbed by pooches of all breeds and sizes: tiny, medium and giant.
The offer includes one or two units. There are three taste variants: bacon, chicken and peanut butter.
Oneisall Indestructible Pet Chew Bonegood bones for puppies
Food grade nylon is used in this Oneisall Indestructible Pet Chew Bone, which is 100% safe. It is also durable enough for 6-month intensive usage and is good bones for puppies.
Your canine companion will never be bored with this chew toy supplemented with the taste of bacon. Its bright green color helps find it easily in the mess of dog's belongings.
Having S, M, and L size options, the unit is offered for dogs under 15 lb., as well as for medium and large breeds.
Petstages Toy Beyond Bone Md
Petstages Toy Beyond Bone is made of synthetic material. It is sturdy, long lasting and does not create a choking hazard. Unlike an unprocessed animal bone, it does not splinter.
Your pooch is attracted by a tasty flavor, chewy patches and is engaged in gnawing and playing long. The size of a bone is 5'', weight is 0.71 oz., which is suitable for dogs of all breeds.
Wooden Dog Bones
Wooden dog bones have a number of advantages to satisfy a natural instinct for chewing for canine friends. Their natural texture ensures durability, additionally a combination of wooden and synthetic materials make them soft bones for dogs.
A bone or stick shape is convenient for grabbing by jaws and hands. Unlike natural bones, these units do not splinter. For safer and longer usage, choose safe dog bone brands and the correct size of a wooden dog bone.
Petstages Dogwood Durable Real Wood Dog Chew Toy
Petstages Dogwood Real Wood Dog Toy is perfect for pup's chomping and chewing. This treat occupies hours of a pooch's engagement in gnawing, and supports his mouth cavity hygiene, dental and digestion health, as well as redirects his natural biting instincts into specially designed items.
Being manufactured of reliable material, such as natural wood, it has a pleasant fragrance, which attracts a pup. A trusted brand of a product makes it 100% safe.
It is offered in four variants of sizes: petite, small, medium and large, from 4'' to 8'' in length. The pouch contains 2 sticks.
Benebone Puppy Dog Chew Toy, Softer for Modest Chewers
Benebone Puppy Dog Chew Toy may be offered for those canines, who are not prone to aggressive biting and gnawing, as this brand offers soft bones for dogs. However, the stick is made of wood and is sturdy enough for prolonged application.
A natural material is supplemented with bacon odor, which makes a unit even more attractive, and switches attention of your puppy from table legs to a toy.
Product options are multiple, suitable for tiny, small and medium breeds, as they are offered in the shape of wishbones, maplesticks, dental chews for better grabbing.
Nylabone Real Wood Strong Dog Stick
Real Wood Dog Chew Toy by Nylabone brand makes your furniture destroyers obey. Thus, the damage to your property is reduced, and the health benefits for your dog is increased.
A stick has a maple-bacon flavor, which your buddy will appreciate. Textured surface is made of nylon, is safe, ensures the pup's teeth cleaning, gums massaging, breath freshening.
Real Wood Stick by Nylabone is 8'' by length and is for strong gnawers weighing over 50 lb.
There are products for gentle, moderate and extreme chewers, varying in a size. Check with the manufacturer's information how to opt for a proper variant suitable for your four-legged friend.
Benefits of Chewing a Dog Bone
Among the best healthy dog bones, choose specially manufactured or processed natural bones, elk or deer antlers, horns, rawhide, woodbones or sticks combined with food-grade polymers. Unlike bone leftovers after cooking meals, they cannot cause harm, splinter and break a dog's tooth.
Irresistible and tempting taste and odor make a dog engaged in a prolonged activity, redirecting destructive chewing into a wholesome treat. Besides, good bones for puppies, sticks, chews have multiple benefits.
Mouth cavity health. Application of healthy bones for dogs strengthen pup's teeth and jaws. It also freshens the mouth cavity when having a mint additive. Increased salvage by prolonged gnawing prevents excessive plague, caries, diseases caused by microbes and bacteria.
Healthy digestion promotion. Being involved in chewing for a prolonged time, a puppy's digestive system produces gastric juice, which is a good prevention of gastrointestinal tract diseases.
Wholesome elements consuming. Natural dog bones, antlers or rawhide contain organic elements, cartilage beneficial to skeleton, teeth and limbs health. Processed chews and treats, enriched with minerals and vitamins, are useful for pup's immunity.
Beating boredom and engaging a pup into activity. Save your household items, clothes, boot wares and furniture offering your instinctive chewer treats, which switch his attention into something wholesome and non-destructive.
Stimulate growth of adult teeth for puppies. Pup's temporary teeth are supposed to be changed for constant ones by the age of 3-7 months. Chewing on hard bones for dogs helps relieve itching, swelling and discomfort for a little one.
Different Types of Dog Bones
Chewing natural, processed or artificially produced dog bones is useful for a pooch. Prior to considering the type of bones to offer, think about features, which your four-legged friend will prefer: a size, a taste, a shape and hardness.
Depending on the pup's breed and age, offer the relevant size of a dog bone treat. However, this method is not always applicable. Remember, that sometimes, bigger dogs prefer gnawing smaller treats, and refuse taking bigger items.
Trial and error method helps understand pooch's tastes and flavors preferences: natural raw meat or bone odor (chicken, bacon, venison). Some treats have mint additives to freshen the breath and kill microbes.
The hardness of different types of bones vary. Use sturdier treats for heavy chewers, teething pups. Avoid susceptible to breaking into pieces and too soft bones for dogs, which may cause choking hazard for a buddy. Usually the hardest are natural dog bones and sticks made of pressed rawhide or antlers. Additionally, dog treats supplied with synthetic materials, nylon or made of wood are preferable for prolonged chewing.
Dog treats may be offered in a customary bone shape. A convenient instinctive grip and no sharp corners are important features of these treats. However, the other forms for healthy dog bones may be selected individually for every pooch: sticks, horns, knuckles, ears, tails.
As of the types of dog bones, think about natural or synthetic treats.
Natural dog bones include raw and processed wishbone, bones with meat leftovers, knuckles with cartilage. Cooked or processed healthy bones for dogs lack the hazards of raw food as they are usually sterilized, enriched with wholesome elements and vitamins, flavored with attractive tastes. Raw food allows the natural predators to use their hunting and eating raw food instincts, however, it may be sometimes dangerous.
Synthetic dog bones, fully or partially made of nylon, rubber or food grade polymer material, wood, are used for decreasing boredom of a pup, when he is left alone at home. They serve as additional toys for canines, and help in jaw exercising and teeth cleaning.
Natural or Synthetic Dog Bones – What to Choose?
Natural dog bones
Natural dog bones, which are cooked, bleached, made of raw material, cow or pig hide, tails, ears should be always treated under pet parents' supervision. These chews are susceptible to breaking and sharp pieces may cause wounds and choking hazards. Canines prone to allergies may have raw food or natural dog bone treats intolerance.
Natural dog bones have wholesome elements, minerals and vitamins in its content, they are good for hydration and moistening purposes. However, healthy dog bones are nutritious and add calories to the pup's food. For those canines who should manage their weight, there is the risk of overeating. Thus, the calories consumed with dog bone treats must be deducted from their daily limit.
Synthetic dog bones
Unlike natural bones, synthetic ones have no nutrition effect. Rubber or wood dog bones have no dangers for overeating or allergies. They are sturdy enough for heavy chewers, and rarely break into pieces, last long. They also cope with tooth plague, providing cleaning and refreshing of a mouth cavity.
Wood or nylon bones are good for playing, prolonged gnawing, and beating boredom when a pup is left alone. They are usually used as toys.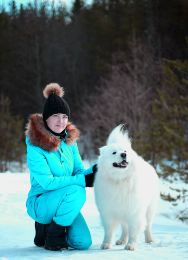 Vanessa Vilchek is one of our favorite authors. She is a real dog person, she was introduced to her first puppy at the age of 3 and since then she would rescue every pooch she met. Today all care and entertainment issues are a piece of cake for her, and we are really proud of having her on board. If you have any questions, feel free to ask in comments below or on her facebook page.