As a responsible and caring dog owner, you probably strive to keep your pooch happy and healthy. However, it's also important for dogs to be challenged. Various dog mental stimulation toys positively influence the pup's problem-solving skills, keep them entertained for hours, and simply allow them to have safe and mentally developing fun. Check out our 12 favorite dog puzzle toys of the year!
Top Dog Puzzle Toys for your Pup
These puzzle toys for dogs may offer a delicious treat as a reward, but their main purpose is help the pup develop its cognitive abilities through playing.
Trixie Pet Puzzle Toy
Editor's choice
Trixie Pet is a brand that offers a selection of dog enrichment toys. Available in three levels and multiple styles, these dog puzzles range from a multi-layered gambling tower to a real chess game for dogs.
You can hide your dog's favorite treats in special compartments or leave the treat component completely out of the game — your pooch will quickly get the hang of it and will soon be able to graduate to the next level.
Nina Ottosson Outward Hound Dog Puzzle
The Nina Ottosson Outward Hound lineup of products includes three dog puzzle toys, each more challenging than the previous one. The goal of this puzzle is to unlock the compartments underneath the sliding tops. It will work perfectly without any treats at all, but adding treats into the game makes your pup more motivated.
Nina Ottosson dog puzzle toys resemble wood but are, in fact, made from high-quality rubber. Combining the best qualities of wood and rubber, this puzzle toy is very durable and will last your active pooch for a long time.
Trixie Pet Mad Scientist For Dogs
Another one from the highly popular puppy puzzle games by Trixie Pet, this toy features an innovative design in vibrant colors that will feel irresistible to your dog. The premise of the game is simple: load the beakers with treats and allow your pup to discover a way to enjoy those treats.
One of the best features of this puzzle toy is that you can make it more challenging without upgrading the puzzle. Simply change the positions of the lids to prevent your dog from remembering the old positions and eventually finding the challenge too easy.
Nina Ottosson Brick Treat Puzzle Dog Toy
This dog puzzle feeder by Nina Ottosson has not one, not two, but three fun feeding features. Your dog will have lots of fun discovering new ways to interact with the toy while also getting a tasty treat each time she makes the right decision.
A big benefit of this puzzle toy is that it is very versatile. If you want to use it as a feeding device, simply fill it up with the treats or dog food kibbles. If you want your pup to only enjoy the development aspect of the toy, fill several compartments at random to keep the element of surprise.
ZippyPaws Woodland Friends Interactive Dog Toy
If this toy looks so fun and adorable to humans, just imagine how much your pup will enjoy hunting down the little animals in this dog puzzle. Designed to nurture your dog's natural instincts, this toy also controls unwanted behavior in dogs.
The premise of the toy couldn't be easier: you hide three squeaky toys inside the burrow and allow your dog to find them. No treats, only safe, continuous fun. This puzzle toy is available in two sizes to accommodate every dog breed.
Nina Ottosson Outward Hound Tornado Dog Toy
The design of this dog food puzzle looks very complex, but your dog will have zero problems learning how to operate it. Overall there are 12 treat compartments, but you can fill as many of them as you want — your pooch will love the toy either way.
If your dog is displaying negative behavior traits, often stays at home on its own, or has issues when asked to solve easy problems, you can train those skills with the Tornado dog toy by Nina Ottosson.
Best Dog Treat Puzzles
There is also an easy way to combine the educational activities of your dog with feeding time. There are many dog puzzle toys that include feeding functionality, and here are 6 of our favorite ones.
OSPet Interactive Dog Puzzle Toy
Besides providing a fun and engaging way to give your dog its favorite treats, this puzzle toy from OSPet is perfect when your dog has issues with anxiety or needs to find a way to manage its stress.
The unique design of the toy is carried out in ABS plastic material, which is both durable and safe to use. The slow dispensing of the treats prevents your pup from overeating, and the challenging mechanism of getting the treats out makes your dog work for every bit.
StarMark Bob-A-Lot Interactive Dog Toy
If you are looking for a dog treat ball that can also double as a complete feeding device, check out the dog toy from StarMark. The feeding compartment is large enough for one feeding, and the availability of two sizes makes it easy to find just the right toy for your pooch.
The weighted construction of the puzzle toy makes it impossible to turn the toy over and have the kibbles scattered around on the floor. Plus, the puzzle component creates an additional challenge for the dog.
PetSafe Busy Buddy Tug-A-Jug Dog Toy
The best dog puzzle toys in the market usually combine feeding features with an opportunity to train the dog's mind and even physique. That's exactly what you get with the Tug-A-Jug. It's not the most innovative dog toy ever, but it is very functional and easy to use.
The PetSafe toy is available in three sizes for dogs weighing from under 10 lbs to over 40 lbs. The addition of a rope helps maintain your pup's mental hygiene, and the challenging design of the treat compartment makes your dog put some effort into the feeding process.
FurryFido Interactive Dog Ball
Many dog treat puzzles come in shape of balls, but few of them are as popular and practical as the interactive dog ball by FurryFido. The rubber used in the toy is both durable and safe to chew; plus, it cleans your dog's teeth and massages its gums.
Inside the large ball, there is a smaller ball that you can fill with treats. By interacting with the toy, your dog will rotate the balls, and when the holes in two balls align, your dog finally will get the desired treats.
EEToys IQ Treat Ball
Want to not only treat your dog to its favorite food or develop its intelligence, but also keep its teeth and gums clean and healthy? Then the IQ treat ball by EEToys is your best option when you're shopping for dog puzzle toys.
Another big reason to opt for this toy ball is that it can be used both for individual play and for the bonding time between the dog and the owner. Play an entertaining game of fetch and later fill it up with treats for a delicious surprise!
Our Pets IQ Treat Ball
Not all dog puzzle toys need to have a sophisticated design and extensive functionality. Some dog owners prefer simple and straightforward toys for their pets, and the IQ treat ball from Our Pets has thousands of fans.
The transparent design of the ball will encourage your dog to work for the treats. The two available sizes will help you find just the right one for your pooch. When the opening in the ball faces the ground, the treats will spill out for your dog's enjoyment.
Summary
Puzzle toys for dogs are a fantastic addition to your pup's toy collection. They can be enjoyed alone or together with the dog's owners; many of them also function as treat dispensers; and puzzle toys are overall simply indispensable for the continuous development of the dog.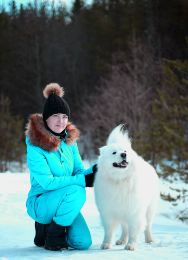 Vanessa Vilchek is one of our favorite authors. She is a real dog person, she was introduced to her first puppy at the age of 3 and since then she would rescue every pooch she met. Today all care and entertainment issues are a piece of cake for her, and we are really proud of having her on board. If you have any questions, feel free to ask in comments below or on her facebook page.