When it comes to durable and unique dog toys, KONG is one of the first brands that jump to mind. The history of KONG dates back to over four decades ago, when the founders saw a need for dog toys that not only provide the dogs with a fun activity, but can also stimulate them mentally or control unwanted behavior.
This is how the history of KONG chew toys started. Today the brand offers an endless variety of toys for dogs of all breeds, sizes, and chewing needs. Check out our top 10 of KONG dog toys.
KONG Dog Frisbee
The KONG dog frisbee is considered to be a classic for a number of reasons:
Made from high-quality rubber, this frisbee is safer and easier to catch.
A frisbee provides a fun exercising activity for the dog and the owner.
The texture of the frisbee allows to keep your pup's teeth and gums clean.
The toy comes in three sizes, so whether you are looking for KONG toys for large dogs or small dogs, you can find the perfect one in KONG's lineup.
KONG Extreme Dog Toy
Even the name of this KONG rubber toy suggests that it's designed for dogs with special chewing needs. KONG Extreme Dog Toy has many features that will make this toy your pup's all-time favorite:
KONG dog toys use color grading for their chewing devices, and black color indicates that it's ideal for aggressive chewers.
Available in five sizes, the toy is very easy to fit to your dog's chewing needs.
The inside of the toy can be filled with delicious treats to prolong play time.
In the unlikely case you or your dog are not happy with the toy, you can take advantage of the KONG dog toys warranty.
KONG Dental Teeth And Gum Cleaning Dog Toy
If you are concerned not only with your dog's emotional state, but also her dental health, here is why you should consider these KONG teething toys:
The universal design of the toy allows you to use it for playing with your pup or allow her to enjoy it on her own.
The toy is hollow on the inside and can be filled with a variety of treats for even more fun.
KONG Dental comes in three sizes and can fit any puppy or adult dog.
KONG chew toys for puppies and dogs gently clean teeth and gums and make ideal teething devices.
KONG Goodie Bone
Is there anything more natural than a dog gnawing on a bone? However, since natural bones can be a hazard to a dog's health, KONG offers the next best thing — a rubber Goodie bone:
Shaped just like a real bone, this KONG bone has all the benefits of quality rubber.
The bone has a soothing effect on gums and helps maintain dental hygiene.
To extend play time, fill the sides of the toy with your pup's favorite treats.
Let your dog play on her own or initiate a fun game of fetch.
The bone comes in three sizes. The smallest ones make the perfect KONG toys for small dogs.
KONG Ball Dog Toy
If your pup loves rubber balls but chews through several of them in one week, the two of you are definitely going to love KONG balls for dogs:
The durable rubber used in the ball will make it last longer than most toys in the market.
The toy is designed to have an unpredictable bounce, which makes individual play even more thrilling.
Keep your pup's teeth clean and gums healthy with a regular use of the ball.
The ball has a hole in the middle that can be filled with delicious treats.
KONG Classic Dog Toy
Visually similar to the Extreme KONG puzzle toy, this Classic dog toy has one significant difference. The red color indicates that it's not as rough as the black one and is suited to the chewing needs of most dogs.
The two KONG dog toys share the rest of features. This toy can also be used in a game of fetch or during individual play by your pup. It can be filled with treats or left hollow. It comes in six sizes, with the x-small size being perfect for miniature dogs and puppies.
KONG Stuff-A-Ball Dog Toy
Any KONG dog toys review you'll ever come across points out the unusual design of this toy, but it has several more outstanding features:
The edgy build of the toy allows it to have an even more unpredictable bounce, which is great for individual play.
The toy is made from the same durable, tear-resistant rubber as dozens of other KONG puzzle toys.
Stuff your pup's favorite biscuits inside the toy and let her work for the treats.
There are three sizes of KONG Stuff-A-Ball available to buyers.
KONG Jumbler Interactive Fetch Dog Toy
While some KONG dog toys are designed mainly for individual play for dogs who often stay alone, the Jumbler is the ideal device for sharing fun times between you and your pup:
The innovative design of the toy allows you and your dog to enjoy a game of fetch for hours.
The handles make picking the ball up and throwing it so much easier.
The inside of the ball contains a squeaker and makes tumbling sounds while moving, giving your dog a thrill of a lifetime.
KONG Wild Knots Flamingo Dog Toy
One of the rare KONG plush toys, this charming flamingo has several benefits you and your dog will appreciate:
The reinforced plush material and the rope internal construction of the toy make this KONG device as durable as some of the better-known rubber toys.
The toy is soft on the outside, making it a great fit for anyone, from puppies to senior dogs.
This flamingo toy is equipped with a squeaker for satisfying your pup's natural instincts.
KONG Aqua Floating Fetch Toy for Water Play
If you are looking for a new activity to try with your dog or are already a fan of water play and are looking for a new toy, here are three reasons why you're guaranteed to enjoy this toy:
The familiar shape of the rubber toy will delight your dog who is already familiar with other KONG dog toys.
The long rope allows you to easily throw the toy to a long distance.
The durable rubber helps keep your pup's teeth and gums in top-notch shape.
Summary
KONG dog toys are the first choice for millions of dog owners, and if you don't have any KONG toys in your pup's collection, now is the best time to give one a try!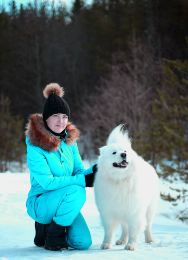 Vanessa Vilchek is one of our favorite authors. She is a real dog person, she was introduced to her first puppy at the age of 3 and since then she would rescue every pooch she met. Today all care and entertainment issues are a piece of cake for her, and we are really proud of having her on board. If you have any questions, feel free to ask in comments below or on her facebook page.