Dogs are just as prone to feeling anxiety and even depression as humans are. Just as if humans choose to take medicine to calm themselves down, you can combine this method with increasing the attention paid to the pet. High-quality calming dog treats do not contain any chemical additives or drugs as one might suppose.
As a rule, the ingredient that is expected to calm the dog's nervous system down is natural – for example, chamomile or ginger, in some cases hemp.
Stay tuned and keep reading the article to get all the information you need about dog calming treats.
Top 5 Calming Treats For Dogs
So, let's start our comparison from the five best picks that are able to cope with slight to severe anxiety signs plus fit different budgets.
PetHonesty Hemp Calming Anxiety & Hyperactivity Soft Chews
Editor's Choice
There is no confirmation that every supplement or medication will work for every dog. If you have not figured out what suits your canine yet, then the best option to start is to pick something with over 90% positive feedback. These treats are one of the best and most reliable ones you will be able to dig up on the market. Some even say that it may be even too effective, thus do not exceed the dose recommended by the manufacturer. Dogs do not approve the taste but their carrying owners tend to give it to them with some other more appealing food.
Zesty Paws Stress & Anxiety Calming Bites with Suntheanine
Runner-up
Most dogs love peanut butter. If your pet is no exception, then there is a chance that it will love these calming dog treats. On the plus side, they have a soft consistency, making it easy for consumption for senior dogs. Although a pack costs a little more than an average option, you shouldn't expect such a strong effect as with the previous variant. Nevertheless, it is not a confirmation of its ineffectiveness: at least there is less chance of an overdose, which may make the situation even worse. Keep in mind that if your canine needs something sturdier then this is not an option.
SmartBones Calming Care Chicken Chews Dog Treats
Budget Pick
As customers say, this option is more a treat than a dog-calming supplement. Reduced efficiency is probably caused by a smaller part of "calming" ingredients. In fact, because of the size, composition, and chewiness, these tasty bones can occupy the dog for 5 to 10 minutes. However, their chewiness may seem to others as hardness, which often does not captivate the animal to consume the treat. Therefore, if you are looking for a highly efficient means to cure a dog's anxiety, this is not the way to go, but dogs enjoy it, especially before a nap.
Isle of Dogs 100% Natural Chillout Dog Treats
Best natural dog calming products
A fully natural composition is a rarity these days; however, this is what people are hunting for. The main disadvantages of these calming chews for dogs are the quantity and effectiveness. Owners of large-breed dogs will not save enough money to satisfy pooch's craving for these pills. Once again, the active ingredients, which are supposed to provide a soothing effect, do not usually cope in tough situations. Another problem is how inconsistently they appear on the market, which on the one hand, is understandable because they do not have any conservatives and are required to be produced not in mass quantities to maintain product's freshness, but on the other hand, it makes it hard to access them.
YoPup Chill Out Biscuits Dog Treats
Best biscuits dog treats
Although not all customers reported that these pet calming treats would appease your canine, they surely have some other benefits. They can become the most universal dog treats because of probiotics inside (which will gradually fix the gut problem that may be the initial reason for anxiety), slight calming effect, and the form (the biscuits are easy to consume even for older pets). However, 7 oz is not enough to provide the dog with the required number of supplements for the recommended period of their intake (2 months), to see the desired result and not go bankrupt.
Guide (Frequently Asked Questions)
Finding the best calming treat for your dog may be challenging since this is not the usual treatment that your dog may consume anytime, and secondly, this is not the magic pill that will let your dog get rid of anxiety forever. However, if you know answers to the main questions, there will be fewer issues with the choice.
What are the signs of anxiety in dogs?
Here are the main signs, however, their combinations and manifestations are always unique and individual.
Excessive barking
Urinating and defecating indiscriminately in the house
Trembling
Walking up and down
Destructive behavior
Excessive chewing of things
Restlessness
Dyspnea
Aggressive behavior.
Other dogs experience not anxiety but rather fear. In this case, a pet can react completely differently than you are expecting from it. It no longer follows the simplest commands and no longer listens to his people. That is why it is very important to recognize signs of fear and to work on it.
He puts his ears flat on his head and lowers his tail. Some dogs pull them between their legs and up to their stomach.
The dog feels ready to escape immediately in an emergency.
The dog is shaking and panting.
Breathing is shallow and quick.
The heartbeat increases significantly and the muscles are tense.
The dog is very alert, hears every sound, and reacts to everything he sees.
Depending on the level of anxiety caused by fear, these symptoms are more or less evident.
What can I give my dog to keep it calm?
You can choose either to go to the vet for a prescription for calming medicine or get one of those natural best dog-calming treats described in the article. There are also liquid supplements, which one can drop in pup's food. Also, it depends on your purpose. If the dog experiences depression daily then you should seek out professional help and receive a prescription for sedative drugs, like Fluoxetine, which fixes the anxiety after a continuous taking. To calm the dog down during or for a specific event, you can get something like Benzodiazepines, which only works for a short period.
Are calming treats for dogs safe?
Calming dog chews are completely safe in moderate recommended doses. However, different brands have a different proportion of active and inactive ingredients in their products. Thus, one can consist mainly of normal useful products and the other may have a bigger percentage of hemp, valerian, chamomile, ginger, and so on. Secondly, you should know what your pet is allergic to before taking any supplements. In all other aspects, there is no pretext to worry. What is more, best calming medicine for dogs does not only relieve unnecessary stress dogs may have during rainy weather, in large crowds or unfamiliar places, they are also proven to manage dogs' hyperactive behavior that can turn one's house into chaos.
Should I see my vet before using a canine calming product?
It depends on the kind of stress relief for dogs you choose and the behavior you observe after your ward. Nevertheless, you can start your research with calming dog treats review and decide which pack of soothing kibbles will work best for you. The good thing about them is that if used correctly, no side effects will get out, and if they were of no benefit after several weeks, then you can switch to plan B, which is, meet your vet.
Will calming products cure my dog's nervousness or anxiety?
Judging from the reviews of the top products, you can see that supplements influence various dogs in a different manner. Some do not work at all, others treat the problematic symptoms – you never know unless you try. The change will not happen overnight. There are supplements, which are focused on long-term results, as well as those which aim to ease short-term stress. Never forget that the best way to make a dog happier is to dedicate more time and attention to it. Lack of attention is a frequent reason for a dog's tension, and solving this problem is the first step one has to make on the way to full recovery.
How long do dog calming treats take to work?
Dogs calming tablets usually take 30 to 40 minutes to show a noticeable result and last from 4 to 8 hours. According to dog calming pills review, the canine will not experience the calming effect straight away, but it will become a little less tense or hyperactive over time. It also depends on the quality and quantity of active ingredients per portion. Another aspect is the dog itself and its activity level, health state, and age. Therefore, if you have a separation problem, then giving your pet a magic pill 45 min before you leave is perfect timing.
How often can I give my dog calming chews?
Every manufacturer puts that information on the package. You can give either once if there is a short-term stressful event as well as give them two times a day. If your dog is prescribed dog anxiety treats by a vet then you just follow the instructions and maybe give an extra pill when there is a stress-threatening day. Relying solely on natural dog calming products makes the dog drowsy and sleepy. Combine it with a proper healthy dog diet, training, socialization to prevent such a result.
Can a dog overdose on calming chews?
Calming treats are not medicine; they are made of natural products. If your dog has found a pack of anxiety chews for dogs and emptied it, or you have taken the risk to give your dog a bigger dose in the hope to cure its stress, there is no reason to be troubled. The worst outcome possible is an upset stomach. If the treats have melatonin as one of the active ingredients, then the dog will probably get a deep sleep. Also, the surplus consumption of calming dog treats can provoke an allergic reaction if your dog is initially prone to show them in response to certain products.
Can I give my dog Benadryl for anxiety?
You can, but keep in mind that Benadryl is no joke. Overdosage of this medicine, not a supplement can have a tragic effect on the dog's health. Despite the temptation to increase the prescribed dose, never do it. This aid is only given with food, so you should prepare a dog's favorite snack to wrap it around the pill. There is also Benadryl liquid, which in the human world is used for children, but it has a rather unattractive smell.
What is the best calming medicine for dogs?
There are several answers to your question: "what is the best calming aid for dogs". At the end of the day, it all depends on the dog and its needs. Reading stories on the Internet is ok, but every case is individual. Here are the main types of dog calming drugs you may choose from and decide which one works best for your dog:
Drugs. This type of medication causes a fast-acting relaxing and sedative effect. For this reason, they are usually prescribed in cases of anxiety or specific fear. However, it is necessary to mention two important points about tranquilizers for dogs. These drugs interfere with your dog's behavior and learning. Furthermore, prolonged use can lead to dependence or paradoxical reactions, such as increased excitability. The use of this type of tranquilizer for dogs is contraindicated in pregnant females, puppies, and older dogs, dogs with liver, kidney, heart disease, or epilepsy.
Pheromones. Its main advantage is that it has no contraindications described above. What is more, they are easy to use – you should just spray in on your dog or its collar.
Natural substances. Valerian, chamomile, or oats can have an interesting result. Although it may seem that these infusions or tablets are harmless, natural substances can also have adverse effects and contraindications. It is worth mentioning Bach flowers which work as tranquilizers for dogs. The liquid is made from mature flowers of different wild species for oral intake through drops of the essences.
Nutritional supplements. One more alternative to calm your dog can be nutritional supplements. Some of these supplements are formulated based on proteins or amino acids (such as L-thiamine, tryptophan, or vitamins and plants with relaxing effects).
Other Best Calming Aid for Dogs
Need more product reviews to make a fully informed choice? Here are more calming pills, chews, and treats of one purpose but different nature.
Zesty Paws Hemp Elements Calming Nutrastix Behavior Dog Supplement
These calm treats for dogs tend to be the best option when you want to get a treat and a calming supplement in one bottle. Dogs adore these supplements so much and feel less anxious after taking them because of a smart proportion of active and inactive ingredients. There is no predominance between them. What surprised the customers was the size of each kibble. Sometimes you will have to break a treat in half to get the desired dose.
Pet Naturals of Vermont Calming Dog & Cat Chews
The smaller size of these chews makes it easy to hide them in food if your pet is a fussy eater. The pack has 160 pieces inside, so it will last longer than some other alternatives because the maximum dose is two kibbles for large dogs. These treats are not strong calming medicine for dogs and will not bring about any unwanted side effects. The feature you would rarely meet is that it also works for cats. Thus, if you own both a meowing and a barking animal at once, then there is no need to look for calming aid separately.
Vet's Best Comfort Calm Soft Chews Dog Supplement
These can be the best calming aid for dogs with separation anxiety; it also worked for some rescued doggies. What repels some dogs is the smell and form. Owners frankly said that the smell and taste are unpleasant. The texture, however, is soft which makes the treat breakable. Mixing it with dog's food works in most cases but if your pooch is a true fur Sherlock Holmes then it will most probably smell them out and eat its food reluctantly.
BONIES Calming Formula Mini Dog Treats
Mini bones are sometimes dangerous for your dog. Bigger dogs are less likely to chew such small treats and might just swallow them. The dog-calming chews have an unpleasant smell, but pups seem not to pay any attention to it and simply enjoy it. It is perfect for smaller breeds as they will occupy them for several minutes. The chicken flavor is what makes this tool work, so, if your pet is obsessed with meat tastes, then it might be the way to go.
VetriScience Composure Behavioral Health Bite-Sized Dog Chews
The variety of flavors opens room for choice and a bigger possibility of a dog eating it. These are not soft and chewy as described, but rather hard as a rock and some dogs will give up cracking these anti-anxiety dog treats. However, these bites are a perfect pick for pups with occasional anxieties caused by a thunderstorm, grooming, and fireworks, and so on, but do not expect much of a long-term effect.
Pets Are Kids Too Premium Pet Calming Bites
Even if you are still skeptical about dog calms, let's consider Pets Are Kids products. Seventy-eight percent of Chew clients remained fully satisfied with the product, which can be rarely met. Unfortunately, these bites are not intended for cats, because of the size, hard texture, and peanut butter flavor. The packaging legibly says that it is created for dogs usage only, even despite the branded cat is depicted on a packaging.
NaturVet Quiet Moments Calming Aid Dog Soft Chews
These are trustworthy, soft, and eatable treats. Due to the size and texture, no dog will have complications while eating. The company also makes similar products for cats, so there is no need to wander around the Internet. Although these anxiety treats for dogs contain melatonin, which is a strong anti-anxiety ingredient, there were frequent occasions of it making pups sick or allergic to a certain ingredient. The flavor will thrust a finicky dog aside, but an average four-legged consumer will not cavil at the taste.
Tomlyn Relax & Calm Chicken Flavor Small Dog & Cat Supplement
As many comments say: "Not for us, but still worth a try". The delightful detail about this brand is that they make natural dog calming products for small and big breeds separately. Therefore, this option is uniquely created for small creatures including cats. Per contra, some reviewers reported that the kibbles are too hard and abundant for an average cat to bite. Small dogs are a better match in this case.
TranQuil Chews Calming Dog Supplement
These inexpensive anti-anxiety meds for dog earlier came in tablet forms, which, as stated by the clients, are not difficult to cope with. The chew form is crumbly and spreads all over the floor after an unsuccessful attempt to break it in half. The pack has 60 pieces inside, which is enough to feed an average dog for a month. An interesting fact is that while some dogs become less active after gulping it down, others become even more energetic, howl the whole night and play fools while on a walk. It is just another confirmation that every organism reacts to the same supplements differently. A bigger dose will make the dog not as calm as you want it to be but sleepy.
PetNC Natural Care Calming Aid Soft Chews Dog Supplement
The dog anxiety chews are more or less effective, but the smell is one of the main decisive factors. A lot of users shared that their dogs were not so willing to eat these chews. Anyway, the ratio of price and quality is worth trying it. Pay attention that these chews are not recommended for dogs with heart diseases. However, they will be good from time to time solutions to reduce stress during fireworks, family gatherings, and separation anxiety. Not all dogs, however, are ready to chew them and even bite on two cheeks with pleasure.
Conclusion
A dog's nervous system can be more or less robust depending on breed and age. Plus, character plays a role too. However, it is definitely not worth letting your dog suffer from tension, anxiety, and stress if you can easily prevent these conditions with any of the medications we have described in this article.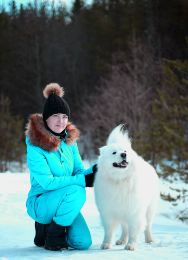 Vanessa Vilchek is one of our favorite authors. She is a real dog person, she was introduced to her first puppy at the age of 3 and since then she would rescue every pooch she met. Today all care and entertainment issues are a piece of cake for her, and we are really proud of having her on board. If you have any questions, feel free to ask in comments below or on her facebook page.