The Chuckit brand of dog toys is mainly known for their dog ball launcher, but the truth is there are so many unique and practical Chuckit dog toys that you will always find something new for the sheer delight of your pup.
Here are 7 Chuckit toys that impressed us the most.
Chuckit Ultra Ball
Editor's Choice
The Chuck It Ultra Ball is an ideal toy for an active dog and an equally active owner. Your pup will never grow tired of fetching this ball, which means you need enough stamina to give your dog as much exercise as she needs!
Available in five sizes, the ball is made from durable rubber. It's very easy to clean, and the orange and blue colors of the ball are perfectly visible both for the dog and the owner. Plus, this toy is highly buoyant and can be indoors, outdoors, and on water.
Chuckit Whistler Balls
On first glance, these texturized dog balls look cute but perfectly ordinary. However, the little holes drilled in the surface of the balls play a very important part: when the ball is flying, it produces a whistling sound that dogs find simply irresistible.
Like all Chuck It dog balls, this one is made from highly durable rubber and will easily fit in with any dog's chewing needs. The ball is available in two colors and three sizes.

Chuckit Classic Ball Launcher
Even if you have never tried a ball launcher with your dog, you will probably recognize the appearance of this toy. The idea behind the launcher, which is to give the dog owner a helping hand for long sessions of playing fetch, couldn't be simpler, and it is reflected in the construction of the toy.
This dog ball launcher will make throwing the ball to a long distance easier for your back and arms. Moreover, it allows you to pick the ball without using your hands. It works perfectly with standard-sized tennis balls, as well as many Chuckit balls.
Chuckit Ultra Squeaker Ball
There are very few dogs that are completely immune to squeaker toys. If your pup completely loses her mind when seeing a squeaker ball but chews through them on a regular basis, try something more durable — for example, this squeaking Chuckit ball.
Carried out in the traditional Chuckit color scheme with blue and orange, this ball is impossible to miss on any surface. It's available in three sizes and is very easy to match to your pup's breed and chewing intensity.
Chuckit Paraflight Dog Toy
Playing frisbee is a favorite summertime activity for millions of families with dogs, and Chuckit offers a brand new spin on the traditional dog frisbee. Unlike most frisbees, which are made from plastic, the Chuckit frisbee is designed with durable nylon mash.
This toy is perfect for flying and fetching, but it can also be used on water thanks to its floating abilities. The soft rubber edge around the frisbee eliminates the risk of damaging your dog's mouth while catching.
ChuckIt Amphibious Bumper Floating Fetch Toy
Playing fetch on dry land is nothing new and is probably something you and your pup do quite regularly. But how about adding a spark to your fetch sessions by taking them to water? The floating fetch toy from Chuckit can help you with it!
Made from EVA and durable rubber, this toy can float for as long as needed for your dog's enjoyment. The toy is also equipped with a sturdy non-slip rope to make the throwing process easier and more precise for the owner.
Chuckit Fetch Wheel Toy
Chuckit is never afraid to try new shapes and concepts with their dog toys, and their efforts always pay off. The fetch wheel toy by Chuckit has a straightforward design yet plenty of functionality.
The construction of the toy allows you to throw it and roll it. Your dog can also enjoy her wheel toy on her own thanks to the unpredictable bounce. Moreover, the toy is buoyant, which gives you lots of opportunities for using anywhere you and your pup go.
Summary
Few other dog toy brands offer the same kind of diversity and innovation for their products. No matter what your dog's playing needs and habits are — Chuckit has the perfect toy for every dog and every owner.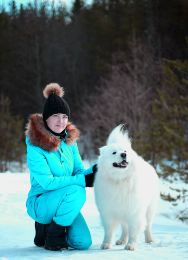 Vanessa Vilchek is one of our favorite authors. She is a real dog person, she was introduced to her first puppy at the age of 3 and since then she would rescue every pooch she met. Today all care and entertainment issues are a piece of cake for her, and we are really proud of having her on board. If you have any questions, feel free to ask in comments below or on her facebook page.