Where is your dog sleeping? Of course, as an option, the dog can sleep on your bed or sofa, but this is not always good. The dog should have its own personal place where it will be soft and comfortable. The basic requirement that a dog bed must comply with is that it must fit the size of the dog. Now the market has a large selection of beds for dogs, so making a final decision is sometimes more difficult than it seems at first glance.
Large dog beds or pillows for dogs make the dog feel protected during sleep and rest.
To choose the right best dog beds, it is recommended that you familiarize yourself with the basic information on the topic. Arrange a comfortable nest for your dog with bedding for dogs – in our top 10 dog beds rating.
Serta Ortho Quilted Pillowtop Pet Bed
Editor's Choice
This covered dog bed is holding up very well. Doesn't look like it's flattened out any at all. Of course, your dog will sneak in and lay on it and even with him laying on it, but be sure it wouldn't lose any of its cushions.
This is a dog bed with removable cover. Thus the cover is machine washable. It gives the dog good orthopedic support. We like the fact that we can wash the outer cover. We wash it on cold and hang it up to drip dry. It's easy to put the cover back on.
K&H Pet Products Bolster Couch Pet Bed
K&H Bolster Couch is an orthopedic dog bed that will provide a comfortable sleep and rest for your pet. This light and soft model with a pleasant to the touch microfiber coating thanks to harmoniously selected colors will perfectly fit into any inteior.
The lower part is made of more durable fabric with a special anti-slip coating, which will prevent the movement of the lounger on the floor surface.
The soft low back serves as a comfortable headrest and allows the dog to feel safe.
Two-layer filler will provide sufficient comfort. The top of the lounger and the litter are filled with polyfill, which holds its shape well, does not soar, does not cake, and remains soft and even during operation, despite the activity of your dog. The lower part of the memory foam dog bed is filled with a special ecological fiber, which has a different structure and is designed to maintain the shape of a sunbed.
Furhaven Pet Dog Bed
We were expecting the thin cheap egg crate many "orthopedic" beds have, that pack down quickly. We were worried the seams would rip easily.
Well fortunately this covered dog bed turned out to be of a decent quality The egg crate is the thick, firm kind that will not pack soon. It's a full 4″ thick. The bottom of the zip on cover is what we would describe as a thin canvas. The top is a soft fleece, blanket type.
Brindle Soft Memory Foam Dog Bed
The bed works great, brilliantly performing its functions. The medium size is probably what I needed.
Another great feature we noticed is the thickness of the cushion. It is crucial in terms of how your dog will get up whether he was lying for a long period of time.
The most important thing here is that you can keep it clean with ease. The cover gives you a chance to vacuum this washable dog bed after you make it unzipped for washing.
A white linercis featured by the shredded foam inside. What about the outer cover, you can wash it, too. It is removable.
The outer cover hides dirt and hair nicely, the zipper slides easily. This bed is not meant to be indestructible, please be aware.
JOYELF Orthopedic Dog Bed Memory Foam Pet Bed
This waterproof dog bed features all the characteristics described below, on the retailers page, as well as reviews.
To see the details, here we have the 2 inches thick memory cotton. Which is dense enough. Unlike other market options this "pillow" is very fluffy and breathable. With this item your dog's head gets a support of another level.
The waterproof and non-slip bottom of the fabric is also in the arsenal of the JOYELF Orthopedic Dog Bed. The mat leaves no worries, it is damp.
Our most satisfied point is as follows. The fact is that dogs like to bite their beds. Thus the manufacturer of this bed designed it to be very strong. The outside material says about this in full voice. It is thick and tear-resistant.
The last advantage of this bed we want you to know is the innovation that helps dog survive on very hot days. What is the secret? Instead of plastic they used the Rattan material of mat.
Friends Forever Orthopedic Dog Bed
The outside material the bed is created with holds up terribly well; does not stain or simply absorb liquid (urine, vomit, drool). Hair does not infix into the material and comes off simply with a household appliance otherwise you will dampen your hand with a wet rag, run your hand across the material to get rid of the hair. The seams are also stitched well and also the zippers are of excellent quality.
This bed was actually designed with an understanding of dogs and also the desires of the pet owner. The outer cover is well created with zippers to get rid of it in order that the cover will be washed. It holds up well once washed (cold water) and dried (low heat).
Another tremendous plus is that the removable (zippered) waterproof liners; one covers the bolster and also the alternative the pad itself. If your dog ought to vomit, urinate or alternative liquid spills occur it will not flow into the pad or bolster batting and start to smell (because you cannot wash the particular pad or batting on any dog bed). another plus is that additionally to the surface cover, the waterproof covers will be removed and washed, as well.
PetFusion Ultimate Dog Bed
These are the main features of this dog bed: 6 cm thick solid foam mattress for first-class comfort, joint comfort, better health and movement.
Support pillow with recycled eco-friendly polyester lining, durable twill polyester (65%) and cotton twill (35%).
Just look at the design. Optimum support mattress and pillow for maximum comfort, water-repellent and tear-resistant coating, non-slip bottom, fits easily into your environment, removable covers are sold separately.
It is also easy to care. The removable cover can be washed in a washing machine, stains and hair are easily removed.
The pillows are already in the cover. All you have to do is insert a cold foam mattress and close the zipper.
BarksBar Gray Orthopedic Dog Bed
When it comes to buying a comfortable bed for your pooch, look no further than this Amazon bestseller, which provides great ease for small, medium and large dogs (over 100 pounds!).
The bed has both cotton packing and orthopedic foam, which will help to decompose your dog's neck and spine when he is resting.
In addition to a convenient place to call your friend home, this bed has a rubber non-stick protection that will prevent it from slipping on the floor.
It is also very easy to remove the cover and wash it.
More than 2000 reviewers agree that this bed is the best for dogs from large Dobermans to small Yorks, from older dogs to puppies.
Best Friends by Sheri Calming
It's incredibly soft and well padded on the sides and the bottom. The interior edges are deep enough that your pet can "burrow" into them.
A self-heating sunbed makes a special two-layer filler. The 1st polyfill layer acts as an excellent heat insulator. The 2nd layer with a special metallized filler reflects the accumulated heat back to your pet. Among the additional advantages of the filler, one can distinguish its excellent wear resistance, crush resistance and elasticity with high softness.
Petsure Orthopedic Memory Foam Dog Bed
The Petsure lounger organizes your pet a warm, relaxing place without the use of electricity. The soft fabric of the cover, high wide side, comfortable litter, high-quality filler – everything works to ensure that the animal feels comfortable in the cold season.
The manufacturer has taken care of additional bonuses for you – a fashionable design of the cover, which is very practical to use, as well as convenient care for the sunbed with the possibility of cleaning in the washing machine.
Why do dogs want to sleep on bed
The situation when a dog sleeps with the owner in the same bed is quite common in everyday life. Surveys have shown that about 65% of dogs are not averse to sniffing in a bed next to their master.
Should you let your pets do this? Is it safe for the pet owners themselves? And what is the true reason for this dog behavior?
Most often, such a habit is developed as early as puppyhood. The kid has just appeared in your house, he was recently separated from his brothers and sisters. And, of course, he suffers very much from this. He wanders around the apartment at night, begins to whine. And when the owner takes the puppy to his bed, he begins to feel warmth, care and calms down.
A joint sleep with a four-legged one is not so unsafe. For allergy sufferers, doctors strongly recommend that you do not even let the animal into the room where you sleep.
About half of the owners of animals that sleep next to their pets admitted that their four-legged animals do not allow them to sleep peacefully. Tail sniff, snore, pant, roll over from side to side. In the middle of the night they jump off the bed and clatter their claws on the floor, strolling around the apartment, and then again they jump onto the bed.
This, of course, prevents a person from getting enough sleep. But, despite all these inconveniences, few people refuse to hug their favorite at night.
Who Should Buy a Dog Bed?
Many owners love their pet so much that they permit it to climb onto its berth. This behavior is provoked not solely by nice feelings for the dog, however by banal laziness: the owner doesn't wish to coach and forbid the dog to go to his place.
The consequences of this treatment are typically deplorable: wool and torn bedding, dirt from a dog may be a useful atmosphere for the propagation of parasites. If the pet remains sleeping within the master's bed, once every walk on the street it's necessary to totally wash the dog's paws and comb it.
To better perceive the very fact that the dog needs a bed, it's suggested to think about many nuances. they're going to facilitate to understand why the dog has a separate berth:
Comfortable sleep of an individual and a pet. If the owner and therefore the dog sleep individually, this greatly improves the standard of sleep for each. once resting along, the pet typically cannot find an area for itself: it spins, turns, that greatly prevents an individual from falling asleep. This harms the health of the animal and therefore the host;
Hygiene. without a dog, a person's bed can become much tidier and cleaner. the chance of parasites that the dog may catch whereas walking is considerably reduced.
Having once given the pet with a replacement sleeping place, the owner can forever ignore worries. Over time, the dog can get accustomed the new bed, settle in it and can not wish to come back to the person's bed.
Exploring the Different Types of Dog Beds
Standard – soft couch without limiters;
With sides – have a raised edge around the perimeter;
With soft sides – they are distinguished by special comfort;
Orthopedic – suitable for old and weak animals;
Cage beds and carrying – used to transport the pet;
Closed – are popular with small dogs;
Heated – are a universal option;
With legs – a very convenient design.
The most practical and harmless is considered a wooden bed for a dog to buy. The most functional is considered a raised from the floor crib for a dog made of wood (with legs).
They consist of a wooden frame and a soft mattress. They also have a number of advantages:
the basis includes environmentally friendly materials;
fit perfectly into any interior;
have a modern design;
a large selection of colors and a variety of shapes;
are universal for all types of dogs.
Why is it so important
A dog bed is not just a place to sleep and rest. Like a person, it is important for the dog to have a space that belongs exclusively to him, in which he can relax, feeling comfort and safety, and that no one bothers her there.
Adult dogs always know the command "place". Ignorance and non-fulfillment of this command by a pet in a city apartment will bring discomfort to the owner: the dog will interfere underfoot all the time.
But there are times when the dog categorically refuses to take the place prepared for it. Try moving the couch to another part of the room. Please note the following:
It is advisable to place a lounger in a corner in that part of the room where people go the least.
Dogs like to watch what is happening in the house, so if possible, give him an overview of the area.
Avoid drafts from windows, windows and doors. And in order to protect the dog from the cold air walking on the floor, choose a raised (5-10 cm) bench above the ground.
You should not have a dog resting place near batteries, heaters, electrical appliances.
The dog itself can tell which place she likes best; if possible, this place should be allocated for the dog.
Remember that the territory of the couch should be inviolable: here you can not scold and punish the dog, store your belongings, sit on the bedding.
Important Features To Consider
Pet shops offer a huge selection of all kinds of dog beds, which can be grouped by these types:
bedding (mattress, rug);
sunbed;
house.
To understand which of the above types is suitable for your dog, pay attention to how he sleeps. Dogs who like to stretch their legs in a dream, it is better to buy bedding. The sunbed is more suitable for those pets who sleep curled up.
When choosing, it is worth considering the size of the dogs: beds for large dogs of large and medium breeds are like beds.
Beds for small dogs are almost always appear in various houses. Of course, you can buy a warm, soft and comfortable house for a large dog, if finances allow.
When choosing a dog bed, be guided by the materials of which it consists.
Firstly, covers should be as low as possible and easily removed from the stove bench, because they will have to be washed often.
Secondly, the material must be natural in order to exclude the possibility of allergies and the electrification of wool.
Thirdly, the material must be wear-resistant, because some dogs, before they can be reared, rake up the litter for themselves.
The most practical and hygienic option is plastic dog beds. They are easy to care for, they are durable and inexpensive. Dogs like plastic sunbeds to have soft sides that you can rest your head on. However, it is worth remembering that plastic can electrify wool.
In any interior, a wicker bed for a dog from rattan rods looks beautiful. But it is not always practical: if the dog likes to chew on it, it will very quickly fail.
Conclusion
The cover on the litter gets soiled very quickly, so you will have to wash it at least once a month.
Once every three to four weeks, the dog bed should be treated with a special spray that will not only disinfect the bed, but also eliminate the specific smell.
Do not forget to shake the dust out of the mattresses once a week and clean the area around the bedding.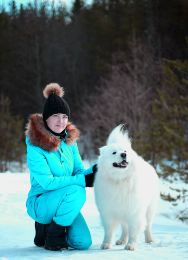 Vanessa Vilchek is one of our favorite authors. She is a real dog person, she was introduced to her first puppy at the age of 3 and since then she would rescue every pooch she met. Today all care and entertainment issues are a piece of cake for her, and we are really proud of having her on board. If you have any questions, feel free to ask in comments below or on her facebook page.