Apply dog breath fresheners to achieve clean teeth and a nice mouth odor of your pup. Read below our description of these easy to administer products.
Frequently, dog's teeth plaque and tartar are the reasons for the bad breath of your canine companion and stinky mouth makes tender cuddles with your lovable pup repulsive.
However, a pooch's oral cavity smell may be different depending on your dog's feeding ration, teeth density, breed, gut peculiarities. Consulting a vet for solving a problem comprehensively may be necessary.
One of the ways out is to use a breath freshener, a safe and effective solution prior to medical treatment. There are numerous offers of this product in the market. Pay attention to ease of usage, safety, reliability and price of the treatment.
Here below we collected important tips to use mouthwash for dogs efficiently.
Top 5 Best Dog Fresh Breath Additives
TropiClean Fresh Breath Water Additive
Editor's Choice
Our top selection for the best dog breath fresheners is Fresh Breath Water Additive by TropiClean. We consider it to be the best overall dog mouthwash due to several reasons.
TropiClean offers a product which is both effective in fighting the stinky mouth and helpful in eliminating reasons causing the smell. This remedy is offered in a liquid form, may be easily added to a dog's drinking bowl and is free of fragrance additives.
The best organic fresheners, such as citric acid, green tea and chlorophyll, act as dental cleaners, fight plaque and are full of necessary vitamins and antioxidants promoting general positive health effects.
The fluid is supplied in bottles containing 33.8 or 16 oz. Administer it each time you refill a dog's bowl, add a cupful or a tablespoonful of the remedy and you are sure to notice your four-legged friend pleasant odor in a 2 weeks period.
Arm & Hammer Dental Flavorless & Odorless Tartar Control Dog Dental Water Additive
Budget Pick
Flavorless & Odorless Tartar Control Water Additive is offered by Arm & Hammer. It continues our selection of dog breath fresheners being our budget pick with the proven effectiveness.
We love this water additive for the simplest administration each time when you add fresh drink to your pooch's bowl. The components are natural, simple and safe, containing water, sorbitol, sodium bicarbonate. With no additional fragrances and tastes, your barking companion will not notice the additive.
You win the fight with tartar and plaque and enjoy your pup's fresh breath and sparkling teeth just in a few weeks of its regular usage.
Supplied in 16.0 fl. oz. bottles, the supplement is recommended for adult dogs of all breeds.
Zesty Paws Peppermint & Spearmint Fresh Breath Dog Dental Spray with Aloe Vera
Best Dog Breath Spray
Pleasant odor and wholesome ingredients make Zesty Paws Peppermint & Spearmint Dog Dental Spray the best among dog breath sprays.
The substance is perfect both in application and in positive influence on dog's mouth hygiene and health. It is stuffed with a number of organic and safe elements improving an oral cavity condition, teeth cleanness, and even gut health.
Aloe Vera, rosemary, spearmint and peppermint oils support fresh breath, provide minty fragrance and prevent GI diseases.
Convenient 4 fl. oz. dog mouth spray is applied according to the instruction on the bottle label depending on a dog's weight.
Nylabone Advanced Oral Care Liquid Tartar Remover
Best Dog Tartar Removal Liquid
Advanced Oral Care Liquid by Nylabone is the best dog tartar removal liquid. We value it for its reliable formula.
It has proved its effectiveness in fighting bacteria, which cause gum diseases and lead to general ailments and stinky mouth odor.
The liquid form of the remedy is easy in application and helps establish the correct oral care routine effortlessly. Besides, it is safe and includes only natural ingredients without allergens, artificial flavors and fillers.
The results of the regular application is the optimal oral pH, bad bacteria control, nice breath smell and dog life quality increase.
The liquid remedy is offered in 16 or 32 oz. bottles. Stir one tablespoonful with 32 oz. water and serve with regular drinking.
Merrick Fresh Kisses Double-Brush Mint Breath Strip Infused Large Dental Dog Treats
Best Breath Mints for Dogs
We vote for Fresh Kisses Dental Dog Treats by Merrick as the best breath mints for dogs.
These treats are perfect for regular consumption and provide sparkling teeth, fresh odor and prevention of dental diseases making teeth and gums stronger.
The form of treats is unusual and resembles a double-sided brush, which boosts the cleaning power. The content is emphasized by mint for healthy oral cavity and digestion. Among 10 best natural ingredients are turmeric, spearmint, pea and tapioca starch, gelatin. They ensure a soft texture and a long lasting action.
These mints are offered for large breeds. The varieties for middle and small dogs are available. You may choose a packing of 4, 7 12 or 16 units.
Features to consider when buying best dog breath fresheners
To beat bad breath from the dog's mouth, you need vet's advice.
However, ordinary teeth hygiene may be the way out, and using dog's mouth fresheners works good. Here are the main features of these products to be considered prior to their purchase.
Wholesome components.
Safety is the main requirement for dog teeth cleaning sprays, liquids, or treats for teeth care and mouth freshening. All ingredients should be clearly indicated in the label and be suitable for a pooch. Make sure that the product will not cause problems if your pup is too young or pregnant.
A hypoallergenic product.
In case of any stomach sensibilities or health concerns, make sure the content of the treatment is free of allergic elements.
Ease of usage.
Each curing product or a food additive contains distinctive feeding directions. Read thoroughly and make sure it is understandable and suitable for you. Remember, the freshening effect will not be achieved if a treatment is severed not in time. Choose a product with the simplest instructions, to observe them properly.
Price.
Choose a cost-saving dog's mouthwash or freshening spray. Buy in bulk or in big bottles keeping in mind that the remedy is for a long or a constant usage for the best effect.
A comprehensive activity.
Your vet may give you a piece of advice regarding the reasons of bad smell for a dog's mouth and the most powerful freshener for your own pup.
However, an effective remedy is beneficial when acting in several directions:
beating harmful bacteria,
cleaning teeth and a tongue,
deleting tartar and plaque.
Thus tooth caries and gum diseases are prevented.
Guide (Frequently Asked Questions)
Why does my dog's breath stink so bad?
While a mild breath smell is normal for a dog, more distinctive stinking causes a constant unease. Try to undergo a complex examination by a professional to reveal a root of the problem.
Oral hygiene
Teeth care is obligatory for maintaining a healthy oral cavity. Failing to support a constant mouth cleanliness leads to mouth build-ups, teeth, gums, tongue damage.
Loose teeth result in their loss, produce cavities in gums, collect food leftovers and lead to food pus. Various problems follow next including stinking smell, inflammations, intestinal tract diseases, and a disgusting odor from a dog's mouth.
Diseases
Multiple diseases, causing bad smell, may be connected with GI tract and dog guts.
These are periodontitis, gum inflammation or gingivitis, diabetes, kidney and liver diseases.
Ensure quick and thorough pet examination by a veterinarian to avoid more serious problems for you lovable up if any of these symptoms are noticeable.
Food habits
Unwatched dogs sometimes demonstrate awful dietary habits, which lead to stomach diseases and bad mouth smell. Poop, dead animals, garbage may be swallowed by a pup if it is not a picky-eater.
Avoid feeding your dog with cheap dog food, containing low quality ingredients, artificial elements, by-products, chemicals, fillers. Human dishes and food leftovers are also prohibited, as they do not contain the elements necessary for dogs. Failing to keep to a correct dog diet may lead to further problems.
What type of dog breath freshener should I get?
To freshen a dog's mouth and make an oral cavity free of harmful bacteria, pet owners use two types of breath fresheners.
Additives or DIY products, which may be easily found in any household: foods, plants, spices, liquids, other substances. The advantages of these products (parsley, mint, apple slices, coconut oil, cinnamon, neem, wheatgrass, vinegar, natural bones and rawhide) are numerous. They are cheap, accessible, easily administered. Just add a few drops or pinches of the substance to the main dish regularly to achieve the best result.
Industrially produced treatments: fluids or hard substances, chews, treats, spays, gels. These products also are beneficial for pup's fresh breath. Their reliability is the best feature, when being purchased from a manufacturer with a good reputation. Safe ingredients, suitable consistency and convenient serving are additional bonuses alongside with your four-legged friend fresh hugs and kisses.
How do I keep my dog's breath smelling fresh?
Stinky breath is not normal for a dog. Keeping to several simple rules help eliminate a pup's bad odor.
Regular oral hygiene. It prevents bacteria and tartar multiplication, cleans stinking buildups. Use specially designed toothbrushes. There are a variety of them including soft silicon ones operating by a single finger. A toothpaste for dogs only helps avoid poisoning by inappropriate ingredients. There are offers with pleasant tastes suitable for your pooch: vanilla, mint.
Control your dog's eating habits. Do not leave her unwatched during walks and do not allow swallowing corps of dead animals, garbage or even cat or dog feces.
Use hard or liquid foods for mouth freshening. Dog's feeding additives, chewing gums, treats with parsley, mint, cinnamon provide gentle teeth cleaning and breath freshening. Liquid means, sprays or DIY juices, syrups, oils may be easily added to a dog's water bowl.
Feed your dog with yogurt regularly. Probiotics maintain healthy bacteria quantity, promote correct digestion and overall immunity thus reduce danger of intestine illness and bad breath.
What should I give my dog for a bad breath at home?
If you vote for natural and safe treatment for your canine friend, avoiding industrially produced remedies, use these tips.
For regular oral hygiene, apply a piece of sterile gauze to clean your pooch's teeth daily.
Stimulate your canine friend for chewing, offering it hard snacks, treats, chews. This process emphasizes teeth and gums health, thus making oral cavity smelling better.
Special sprays, liquids or some oil additives specially designed for dog's fresh breath (tree oil, coconut oil) may be supplied with the dogs' drinks. Add as prescribed for the best result. A few drops of apple cider vinegar added to the dog's menu may be a good way out to beat bad bacteria and improve health.
What are natural remedies for bad dog breath?
Natural remedies for bad dog breath are always at hand in any household.
Tasty slices of carrots or apples may be used instead of hard treats purchased in shops. To make them crunchier drop them in a freezer for a few hours.
Blend a pinch of parsley to produce parsley juice, which may be easily added to a dog's water bowl. Alongside with breath freshening, parsley increases your pup's ration with healthy minerals and elements, emphasizing dog's immunity and disease resistance. However, only a curvy sort of parsley should be used to avoid poisoning.
Bake some tasty biscuits with a freshening effect for your four-legged companion. Thoroughly blend oats, eggs, water, mint and parsley. Add a few drops of coconut oil. Cut, roll and produce small biscuits, convenient for your pooch to chew. Bake the treatment for a half of an hour. Cool it completely before offering a tasty dish to your pup.
What food helps with bad breath in dogs?
Adding special foods to your dog's ration surely reduces bad smell from a pooch's mouth, as well as creates healthy habits and maintains overall dog's health.
Hard snacks (rawhide, bones or slices of fruits and vegetables) act as natural teeth brushing. Being consumed by a dog, they gently clean the oral cavity reducing plaque and tartar build-ups and making breath better.
Carrots and apples provide scrubbing effect, clean gastrointestinal tract and intensify digestion due to their elements and cellulose.
Celery is also in the list of beneficial foods due to low calories and availability of vitamins, minerals and wholesome elements providing an antioxidant effect.
Foods containing probiotics (yogurt, kefir) provide smooth work of GI tract and control proper bacteria activity thus reducing bad smell from the dog's mouth.
Greenery, which is easily planted in the windowsill, usually is good for a clean breath and vitamins supply especially in winter. These are parsley, wheatgrass, peppermint, Aloe Vera. Use them fresh, frozen or dry by adding a small amount to the main dish.
Among plant breath fresheners are natural oils (tea tree, coconut), flavorings and food additives (cinnamon, spirulina, chlorella). Enjoy your pooch fresh and clean breath after adding some amount to a dog's water bowl for drinking.
Industrially manufactured means of mouthwash for dogs usually list these foods in their content.
Other dog breath fresheners
Oxyfresh Dog & Cat Oral Hygiene Solution
Simple and highly effective solution for your dog's gums and teeth health, fresh breath, Oxyfresh Dog & Cat Oral Hygiene water additive substitutes a boring and annoying teeth brushing procedure.
Even a meticulous pup does not recognize that his usual water bowl is supplied with the hygiene solution, as it does not have any odors or tastes.
Main ingredients are oxygen and zinc, which are safe and reliable in teeth tartar fight and gingivitis prevention. Thus, the breath of your pooch is perfect.
Being recommended by veterinarians, the remedy is supplied in 16 fl. oz. bottles or a big 1 gal. bottle. Add 1 capful to a liter of water for a serving.
VetSmart Formulas Total Oral Care Aloe Vera Bad Breath Dog & Cat Spray
Total Oral Care Spray by VetSmart Formulas is your right decision in ensuring a regular hygiene procedure for your lovable pet.
The spray reduces bacteria causing plaque and other build-ups, ensures breath freshness and heals possible wounds and inflammations.
The liquid consists of the natural components, honey, cloves, cinnamon, Aloe Vera, peppermint.
4 fl.oz. bottles are convenient and may be easily applied during a day as recommended in the instruction on the label.
Arm & Hammer Dental Advanced Care Fresh Breath & Whitening
Only the best and natural components are used for these Advanced Care Dental Mints by Arm & Hammer Dental.
Dogs are eager for their daily dental care due to a tasty chicken flavor. Pet parents are happy with the peppermint ingredients as they change the doggy smell into the fresh odor, making pup kisses pleasant for both.
The main ingredient of the treats is baking soda, making an oral cavity clean and teeth white.
Dental treats are supplied in 40 count packs. Up to 2 mint pieces may be served daily for the best freshening effect.
Dental Fresh Advanced Plaque & Tartar Water Additive for Dogs
A number of advantages for this remedy are a reliable and safe formula, a double-effect, an easy application. Veterinarians recommend it for ensuring prevention of halitosis and periodontal diseases.
This Dental Fresh Advanced liquid water additive performs a double function: ensures gentle teeth whitening and removes harmful bacteria from a dog's mouth, providing a freshening effect.
Use the remedy daily by adding a cupful (teaspoonful) to a dog's drinking bowl.
The additive is supplied in a variety of bottle sizes: 8, 17, 32 oz. for your convenience.
Bluestem Oral Care Vanilla Mint Flavor Dental Dog Oral Spray
Oral Care Dental Dog Oral Spray produced by Bluestem is designed for those dogs, who do not consume much water. Thus, oral hygiene is quite an ordeal for them if they do not enjoy tooth brushing either.
With Bluestem Oral Care, just a few pumps of one of the best dental sprays for dogs make doggy breath fresh, gums and teeth healthy and strong, as this liquid destroys a biofilm with the harmful bacteria on the surface of a mouth cavity.
Food-grade ingredients with a mint and vanilla flavor may be used even for pooches with digestion sensitivities.
The remedy is supplied in 2 fl. oz. bottlers and allowed for adult dogs of all breeds and sizes on a daily basis.
Bocce's Bakery Daily Support Breath Aid Apple & Mint Recipe Dog Treat
Many pooches adore Daily Support Breath Aid Dog Treat offered by Bocce's Bakery. Choose this tasty snack to make your four-legged friend breath fresher and dental care easier.
Only natural products are used as ingredients for these crunchy and long-lasting chews: oat flour, peppermint and apples. No by-product meals or wheat is used. Snacks are safe for dogs with food sensitivities.
Packed in 12 oz. bags, it is convenient to use on the go as an additional healthy diet snack.
Vetoquinol Dentahex Oral Hygiene Rinse for Dogs & Cats
Dentahex Oral Hygiene Rinse for Dogs & Cats is a product, which perfectly suits cats and dogs. Thus, it is extremely handy for multiple pets' owners.
The formula contains safe and effective ingredients for plaque and tartar fight including zinc and 0.12% chlorhexidine.
All build-ups are gently removed and the dog's breath is fresh and free of unpleasant smells. In addition, bacteria do not produce bad smell, and do not provoke dental diseases, if this solution is applied correctly. Detailed directions for usage are indicated on the label allowing regular application following each meal.
The rinse is supplied in 8-oz. bottles.
Oxyfresh Pet Dental Breath Dog & Cat Spray
Oxyfresh offers Pet Dental Breath Spray with the reliable and trusted formula for better oral care of your canine friend.
The remedy is suitable for multiple pets in your house as it may be used for cats and dogs. Safe and non-allergic components (Oxygene and zinc) ensure gentle cleaning of your animals' teeth and gums without tooth brushing. No alcohol, artificial fragrances or tastes are used.
Veterinarians recommend the substance for regular daily usage to maintain teeth whiteness, breath freshness and periodontal disease prevention. Just spray directly on teeth and tongue after each feeding.
Oxyfresh Pet Dental Spray is offered in 3 oz. bottles and is simple in application.
Happy Kisses Fresh Minty Chews Dog Breath Mints
Feed your furry friend with these Happy Kisses Fresh Minty Chews and your kisses will be very pleasant. Forget about doggy smell, caused by oral bacteria and possible teeth decay processes.
The dog snacks containing mint, rosemary and parsley neutralize stinky odor, freshen breath and provide gentle teeth cleaning.
The treats contain no artificial ingredients and are safe for dogs with stomach sensibilities. They are produced in a funny bone form, convenient for grabbing and feeding. A long-lasting content allows effective chewing.
Mints are packed in 30-count bags. Feeding directions are provided on the label.
Mr. Groom OxyGreen Oral Hygiene Pet Dental Care Gel
Mr. Groom OxyGreen Dental Care Gel is an effective and reliable prevention remedy for teeth and gums damage caused by mouth bacteria, plaque and other build-ups.
Only natural and organic ingredients are used in the product to avoid possible allergies and intolerances.
The formula containing coenzyme Q10 and chamomile, as well as eucalyptus, wintergreen and peppermint oils, provide freshening, cleaning and soothing effect even to inflamed tissues.
Gel substance supplied in a 4-oz. tube, is intended for application directly on teeth and gums according to the manual provided.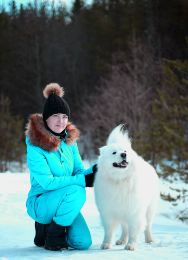 Vanessa Vilchek is one of our favorite authors. She is a real dog person, she was introduced to her first puppy at the age of 3 and since then she would rescue every pooch she met. Today all care and entertainment issues are a piece of cake for her, and we are really proud of having her on board. If you have any questions, feel free to ask in comments below or on her facebook page.