Many dog breeds require regular grooming, and if your pup needs his fur trimmed every month or every week, you can end up spending a fortune on those grooming sessions. A good idea to reduce those expenses is to get some high-quality dog grooming clippers.
Choosing the best dog clippers for your situation is an important task that needs thoughtful preparation. The goal here is to find dog grooming clippers that will keep your pup's fur healthy and the trimming process stress-free and easy. Here are the best dog clippers we hand-selected for you.
Best Grooming Clippers on the Market
Ceenwes Cordless Pet Grooming Kit
Best Overall
If you are new to the world of dog grooming and don't think you have enough skills to assemble a grooming kit from scratch, Ceenwes is ready to come to the rescue. Their pet grooming kit has everything you need to keep your pup's hygiene in check.
The kit contains cordless dog clippers, nail clippers, combs, comb attachments, cleaning brushes, scissors, and a nail file. The cordless design means you no longer have to deal with cords or battery replacement: the device can work for 70 minutes on a single charge, which should be more than enough for home use.
Pros:
Ergonomic and safe design
4 comb attachments for different types of fur
Ceramic blade for easy and smooth trimming
Cons:
5 hours of charging time
Not suitable for professional use due to average battery life.
Wahl Clipper Pet-Pro Dog Grooming Kit
Budget Pick
A good pair of dog clippers does not have to be expensive to do the job perfectly. The Wahl dog grooming kit is one of the best-selling pet grooming products on Amazon, and the fact that it's also budget-friendly makes it an even better option.
The kit consists of corded clippers, attachment combs, scissors, a comb, and a cleaning brush. With the help of its kit, you will take proper care of your pup's fur without the hassle of having to recharge the device in the middle of the session.
Pros:
Affordable price for a comprehensive kit
Corded design for an uninterrupted performance
Self-sharpening carbon blades
Cons:
No nail clippers included
Only one speed
Best Amateur Dog Clippers
Andis EasyClip Pro-Animal Clipper
If you already have most of additional pet grooming products like nail clippers and combs or simply don't need them and are only looking for high-quality pet clippers, there is no need for you to overpay for a whole kit — especially when Andis clippers are perfect for the job.
This dog clipper has a lovely design and can easily become the only device you need to successfully maintain your pup's hygienic cut. The powerful motor is suitable for trimming thick dog coats but can also work on most breeds. In the kit, you will find four attachment combs for different types of fur.
Pros:
Heavy-duty cord = no battery problems
Ceramic blade for sharper cutting and less overheating
Quiet enough even for sensitive pets
Cons:
Only one speed
No cleaning brush included
Oster A5 Turbo 2 Speed Clipper
The first thing you notice about this Oster pet grooming clipper is its cute wildlife-inspired design, but this small device has a lot more to offer to its buyers. These clippers can be used by amateurs, but they are also powerful enough to double as professional devices.
Unlike many amateur dog clippers, the Oster device comes with two speeds, so now you can trim different parts of your pup's coat with the same precision. The corded design means you no longer have to struggle through replacing or charging batteries. It's also less prone to overheating than its competitors, which is great for sensitive dog skin.
Pros:
Sturdy and lost-lasting design
Two speeds for finer grooming
Cool blades and housing even after prolonged use
Cons:
Can produce a lot of noise and vibration
No additional parts and equipment included
MaikcQ Cordless Dog Grooming Kit
At first glance, the MaikcQ dog clipper may seem significantly smaller than its competitors, so you may think it's only suitable for owners of small dogs and cats. However, if you often groom medium and large breeds, you will also find the MaikcQ clipper useful — it allows you to safely perform fine trimming jobs on the paws, face, and butt of your pup.
The device is available in black and white colors and is cordless. It can last for up to 60 minutes of trimming, which should fit the needs of most dogs and their owners. In the kit, you will also find a USB charging cord for convenient charging, plus a bottle of oil and a cleaning brush.
Pros:
Small head for precise trimming
Low noise and vibration
USB charging capabilities
Cons:
Takes 5 hours to fully charge
Not suitable for major trimming jobs in large breeds
Best Professional Dog Clippers
Holdog Heavy Duty Dog Grooming Clipper Kit
A professional dog grooming kit needs to be practical, durable, and more versatile than a home device. That is exactly what you will get with the Holdog grooming kit. This kit includes everything you need to take care of the dog's coat: a comb, scissors, four attachment combs, and a cleaning brush.
The Holdog dog grooming clippers have a cordless design, but, unlike amateur devices, it can last for 3 to 4 hours of continuous trimming with a 3-hour charging time. The clipper comes with five speeds and an adjustable blade distance for more precise trimming.
Pros:
LCD display with battery and speed indicators
Titanium and ceramic blades for extra durability
Low vibration and noise
Cons:
Blades can overheat from continuous use
Too powerful for amateur use
Hansprou High Power Dog Clippers
The Hansprou dog clipper is one of the few grooming devices that doesn't come in a plastic housing, so that's at least one reason to consider purchasing it. If you are on a search for heavy duty clippers that won't break down after a few months of use, the aluminum housing of the Hansprou device is guaranteed to meet your needs.
The clippers have a corded design, which is perfect if you need to use the device for a long time without worrying about the battery. The combination of titanium and alloy blades, along with four attachment combs, will allow you to do the most precise job every time.
Pros:
Sturdy and long-lasting design
Low noise and vibration
Suitable for home use
Cons:
Only one speed
May not be ideal for thick coats
Wahl Professional Animal Motion Pet Clipper
You can count on Wahl to produce some of the most advanced dog grooming clippers, but the Animal Motion pet clipper is one of the best cordless dog clippers we have ever seen. The device is so sturdy and versatile that it can be used not only on dogs of all breeds and cats, but also on livestock and horses.
The availability of attachment combs and the design of the clipper allows you to perform all kinds of grooming jobs, from all-over trimming to precision grooming in challenging places. And with a LED battery capacity indicator, you will never unexpectedly end up with a dead battery.
Pros:
Removable scissor grip handle for extra comfort
Just 45 minutes of charging time and 90 minutes of run time
Constant speed control
Cons:
One of the most expensive options
Not the best choice for professional use due to limited battery capacity
Best Professional Dog Grooming Kits
Sminiker Professional Cordless Pet Grooming Kit
If you are setting up your own salon, it makes perfect sense to buy a complete grooming kit to keep everything in style. The Sminiker Professional kit is a pretty good option for small salons and individual groomers.
For a moderate price, you will find most of the tools you will need on a daily basis: a cordless clipper, scissors, comb, nail file and nail clipper, four attachment combs, and a cleaning brush. The design of the clipper is very beginner-friendly and is suitable for all grooming tasks.
Pros:
Up to 6 hours of run time
Comb attachments for every situation
Low noise and vibration
Cons:
4-5 hours of charging time
Only one speed
PetExpert Dog Grooming Clippers Kit
The PetExpert dog grooming clippers have a rather futuristic design, but it's what you will find inside the kit that matters the most. The kit contains everything you may require to maintain the hygiene of your pup, including the clippers, charging base, scissors, nail trimmer and file, and oil.
One of the biggest advantages of the PetExpert clippers is that they come with a battery capacity indicator. You will always know how much of battery life is left and will be able to plan your grooming sessions accordingly.
Pros:
Low noise and vibration
360-degree charging angle
Titanium and ceramic blades
Cons:
Charging takes 3 hours
Only recommended for dry hair
Buying Guide
There are dozens of dog trimmers available in the market today, and sometimes even the most detailed dog clipper review may not be particularly helpful in the difficult task of choosing the right one. Here is everything you need to know in order to pick the best dog clippers for your pet.
Features to Consider
Motor
Electric dog clippers are equipped with a motor, but those motors differ in power and efficiency. An easy way to tell how efficient the motor is is to look at its spm, or strokes per minute, number.
The higher the spm in a motor is, the more productive it is going to be. However, it's not always a good thing. Only owners of dogs with particularly thick fur should go for the highest spm. In other cases, the motor may cause the device to overheat and cause damage to your pup's skin and fur.
Single-speed vs. multi-speed
Inexperienced buyers may be puzzled by the choice between one or multiple speeds in a dog hair cutting machine. The good news is that it's actually very easy to choose between those two options.
If you have more than one dog in your family and they all have different furs, a two-speed clipper may be more effective in your situation. In case you only own one dog, you can safely go with a one-speed device — it will work just fine in your situation.
Cord vs. cordless
The choice of corded or cordless dog clippers depends simply on your preference and the way you are going to use the device. If you intend to use it frequently and on multiple dogs, you may often face the issue of a battery that dies in the middle of a grooming session if you decide to go for a cordless trimmer.
At the same time, cordless dog grooming clippers are the better option for owners who need to literally chase their dogs in order to trim their fur or prefer to hold trimming sessions outside of the house.
Professional vs amateur
The difference between amateur and professional-grade dog clippers is getting smaller and smaller, and right now, it may not be easy to tell one from the other. High-quality dog grooming clippers can be easily used as professional dog clippers in most cases.
However, there is still one feature that can usually be found only in professional dog clippers. We are talking about ceramic blades. Compared to other blade materials, including even stainless steel, ceramic blades are more durable and less prone to overheating.
Heat
In most cases, dog grooming sessions take some time, and it's very likely for the blades to overheat from prolonged use. It's not always a sign that your dog clippers are bad — overheating is a natural result of friction that occurs over time.
At the same time, excessive friction is not inevitable and can be prevented, which, in turn, lowers the possibility of overheating. To reduce the production of heat, you can follow these easy tips:
Choose a motor with lower spm. It will create less friction and the blades will be less likely to overheat.
Don't forget to lubricate the clippers — not only before each use, but also after every 10 minutes of continuous use.
Most blades in dog grooming clippers can get dull over time and produce more friction than necessary. Sharpen the blades once in approximately 100 hours of grooming.
Attempting to clip a matted and dirty coat will result in more friction and more heat. If your dog's fur is full of mats and oil, give him a good bath before the trimming session.
Noise and vibrations
Most humans can easily handle the noise and vibrations produced by dog clippers, but your dog may have a different attitude towards those aspects of lengthy trimming sessions. Clipping is completely painless for the dog, but the noise and vibrations may put your pup under lots of unnecessary stress.
Generally, the more powerful the motor of the device is, the more noise and vibrations it will produce. Therefore, if your pup is sensitive to noise, look for a medium-level motor that is less noisy.
There is also a category of dog shears that are designed specifically for sensitive dogs. These devices produce very little noise and vibrations and can be safely used even on pups who easily get stressed out.
Blades
There are several materials that dog clipper blades are made of, but if you want the most durable and comfortable options, look for clippers with stainless steel or ceramic blades.
Stainless steel blades can last for a long time and only need to be sharpened once in a while. However, they still can become dull over time and are believed to be more prone to excessive heating.
Ceramic blades, which are often found in professional heavy duty dog clippers, are an even better option. They can increase the price of the device, but they need to be sharpened even more rarely than stainless steel blades and generally last longer.
Comb
Most dog clippers you can find today come with several comb attachments, whose number can vary from 2 to 6. Some of the best dog clippers for thick coats can even have more attachments than that, and knowing which comb to use for different situations can be difficult.
Dog clipper combs come in different length, width, and number of blades. If you want to achieve an even length of fur for your dog, you can easily get away with 2 comb attachments, but if you have more than one dog or if your dog requires a different fur length on different parts of his body, look for 4 or more combs.
Brand
There are dozens of brands you can find in the dog clipper market, and it may not be easy to differentiate between them. The price range of dog grooming clippers can also be huge. Generally, we wouldn't recommend going for the cheapest option, as they are usually made from low-quality materials and can easily break down in the middle of the grooming session. The most expensive clippers are usually best suited for professional use.
Right now, there are three brands that offer a proven quality of dog clippers: Wahl, Andis, and Oster. However, it doesn't mean you cannot buy a pair of good dog shears from a less famous brand. Always look at the dog clippers reviews before buying!
How to maintain my dog clippers?
Even though dog grooming clippers are not the most expensive item on a typical dog owner's shopping list, you still want your pair to last for as long as possible. Only then will you be able to save time and money on taking your dog to a professional groomer.
Maintenance is an essential part of owning dog clippers. We recommend starting with the user manual that came with your clippers. There you can find some specific maintenance tips and requirements that will help you preserve the device.
If the manufacturer of your clippers did not provide any special care recommendations, here are a few basic tips for taking good care of your dog grooming clippers:
Proper lubrication is essential for prolonging the life of the blades and other parts of the device. In most cases, you need to apply oil to the blades after every grooming session. However, if you trim your dog's fur more frequently than once a month, you can lubricate the blades after every other trimming session.
To apply oil to your dog clippers, turn them on and drop several drops of oil between the blades. Turn the device off and place it on a paper towel. Don't rub the oil off or bloat it — allow it to absorb and dry naturally.
Dog clipper blades come in close contact with your dog's skin, which is why they should always be absolutely clean. In the past, dog owners used a solution of soap and water to clean the blades, but it's not a particularly effective disinfectant and there are lots of better options.
You should be able to easy find a blade washing solution in the same place where you buy your clippers from. They are not only able to thoroughly clean and disinfect the blades, but also prevent the formation of rust and buildup.
To clean your blades, full a glass or cup with the solution. Submerge the clippers so that the blades are under the surface and turn the device on. Allow it to run for a few seconds. During that time, the hairs and dirt will be removed from the blades.
After the cleaning session, remove the blades from the solution and gently dry the device with a paper towel. You can also spray the blades with a disinfectant and finally put it away for the next use.
Blades are often the most expensive part of the dog grooming clippers, so it can be extra frustrating when you can no longer use your device because of dull blades. The important thing to know here is that you shouldn't attempt to sharpen the blades at home — not only can it be dangerous, but you also risk breaking the expensive clipper blades.
The best option to sharpen the blades in your dog clippers is to contact a professional service provider. If you are unable to find any on your own, you can ask your groomer — they likely already have a trusted blade sharpening service.
Frequently Asked Questions
Are dog clippers different from human clippers?
Human hair clippers can look very similar to dog grooming clippers, but the visual similarities are the only similarities you will find between the two types of clippers. In fact, using human clippers on dog and vice versa can have negative effects for everyone.
The biggest difference between dog and human clippers is that dog fur is much thicker than human hair and there is more of it per square inch compared to human hair. That is why, human clippers are simply not designed for the challenge of trimming dog fur.
Dog grooming clippers are sturdier than the devices for human grooming. They have thicker metal parts and are less likely to break down during a particularly long and challenging grooming session.
If the dog clippers are equipped with a battery instead of a power cord, you can expect them to last for the whole trimming session, whereas a pair of human clippers is designed for shorter sessions.
Finally, using human clippers on a dog can lead to thick fur being jammed in the blades. This will cause your dog some very uncomfortable sensations and can even result in bleeding, which is not something you want when you're simply trimming your pup's fur.
Do dog clipper blades need to be sharpened?
In order to be safe and effective, the blades in dog grooming clippers need to be sharp. Your clippers will be sharp enough when you take them out of the box, but after prolonged and regular use, they will inevitably get duller.
To answer this question: yes, dog clipper blades need to be regularly sharpened for the best results. At the same time, there is no standard sharpening schedule, as every owner's dog grooming habits and needs are different.
It's not easy to tell when a blade needs sharpening with a naked eye. However, if you notice the blades in your clippers tugging the pup's fur or cut the hair noticeably unevenly, you can think about sharpening your clipper blades.
How old should my dog be before he gets his first groom?
The age when your pup starts regular grooming sessions depends on several factors, including the dog's breed and whether you intend to raise him as a show dog. If you own a breed that needs regular trimming of its fur, the recommended age to start is 12 months.
At this age, the dog is still small and often sensitive, but many dogs find it easier to adapt to the process of grooming with its noise and vibrations at a younger age, compared to dogs who first got groomed at the age of 1 or more.
Of course, the first grooming session does not need to be long and extensive. You can give your pup a bath, trim his nails, and only get him acquainted with the grooming clippers instead of giving the dog the full trim.
How long should dog hair trimmers last?
There are several important factors influencing the lifespan of dog grooming clippers, including the manufacturer, price, materials used in the design, your dog's fur, and how often you trim it. The amount of care you put into maintaining the clippers also matters a lot.
On average, a pair of inexpensive dog shears will last you only for a couple of months. If you invest in high-quality clippers from a renowned brand, take appropriate maintenance measures, and don't overwork them, you can expect the clippers to work flawlessly for several years.
Why do dog clippers get hot?
Dog grooming clippers get hot due to friction, which is created during long trimming sessions and due to some other issues like matted or dirty hair. If your clippers often overheat, you can try the solutions we described above.
Professional dog groomers usually have a set of replacement blades of every size. When the blade gets hot, the groomer simply replaces the overheated blade with a fresh one. However, this may not be an option for amateur groomers. You can try taking breaks during the trimming session and allowing the clippers to cool down naturally.
How often should dog grooming clippers be cleaned?
After every trimming session, there will be hairs, oil, and other debris stuck in the blades of your clippers. Ideally, you need to clean the blades after every session. We have described the cleaning process in detail above, so you can always refer to it when your blades are in need of cleaning.
Can you shave a matted dog or a wet dog?
When you need to trim the fur of a matted dog, you may find that it's not that easy and gives the dog a lot of discomfort. Mats can be pulled by the clipper blades, which is very painful and stress-inducing for the dog.
Some groomers prefer to wash the dog first prior to the grooming. And while you actually can shave a wet dog safely, it only works when there are no mats in the dog's fur. Otherwise, washing will only make things worse and lead to more mats.
If you are dealing with an extremely matted dog, the first thing you should do is get rid of the biggest mats, either with clippers or scissors. Then, after major mats are removed, you can carefully proceed with shaving using short clipper blades.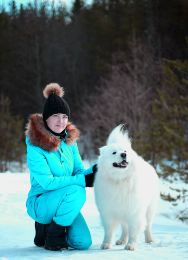 Vanessa Vilchek is one of our favorite authors. She is a real dog person, she was introduced to her first puppy at the age of 3 and since then she would rescue every pooch she met. Today all care and entertainment issues are a piece of cake for her, and we are really proud of having her on board. If you have any questions, feel free to ask in comments below or on her facebook page.