Prevent pup mouth diseases with easy to administer dental dog chews. Healthy teeth and gums are achieved with the products we reviewed below.
Maintaining proper dog's mouth hygiene helps avoid teeth aches, damages, gum ailments, periodontitis, bad breath for every pup. These problems influence your canine mood, behavior and appetite. As a result, a pooch refuses hard, fresh food, and a dog's ration starts lacking necessary elements and vitamins.
Regular teeth brushing is vital. However, this may be hard to perform, as the mouth hygiene is not an appealing procedure for pups. Sometimes, there is a need in the vets' aid including anesthesia for allowing manipulations with the pooch's mouth. If performed frequently, this is also harmful for the dog's health.
The most favorable method of canine teeth cleaning is special treats, which contain abrasive particles. While a pet chews them, they delete plaque and tartar, gently remove unwanted parts, provide gum massage. Sometimes they contain additional enzymes for bacteria fight, and prolonged performance, have an overall positive influence on a dog's health.
We collected the best dog dental chews with the tips of their usage.
Top 5 Dogs' Oral Care Chews
Greenies Teenie Dental Dog Treats
Editor's Choice
Greenies Teenie Treats are designed for tiny breeds, ready for dental treats consuming by their age. We value this product as the best overall dental chews for dogs, as it provides the best comprehensive oral caring effect. Each bite of the served treat is full of wholesome elements, ensuring additional balanced feeding.
The texture of the chews is porous, which helps reduce plaque and tartar in the mouth reaching the most difficult contamination. Vitamins (B1, B6, B12, A, E, D3) and minerals (zinc, magnesium, calcium) ensure healthy nutrition.
The instruction for feeding is provided on the label. Calories per one serving are also indicated, in case your canine needs weight control. The Veterinary Oral Health Council has tested and approved its cleaning effect. Pets love dental chews for dogs by Greenies for their incredible taste and fresh flavor.
The producer offers dental dog's treats for all breeds and sizes. Every piece is thoroughly measured according to the weight of a pooch. The variety of packing is also great, from smaller quantities (11, 22, 43 count) to bulk sizes (130, 192 treats).
OraVet Dental Hygiene Chews for Dogs
Runner-up
OraVet Dental Chews for Dogs are our second choice among the best dental chews for pooches. They won pet parents appreciation for effectiveness in fighting existent plaque and tartar, in preventing calculus and halitosis disease.
The chew's ingredients scrub off contaminations of teeth and gums. Moreover, Delmopinol, as a constituent of OraVet Chews content, creates a thin film and a barrier for dental build-ups.
The snacks are easy to administer at home, which is convenient between regular vets' examinations for preventing serious periodontal disease. They are measured according to a dog's weight. Serve a treat in the correspondence to a dog's size and breed avoiding feeding it to pups under 6 months, pregnant and nursing mothers.
The offer consists of four types of chews sizes depending on a pooches' weight, and is packed in bags counting 14 or 30 pieces.
Bones & Chews All-Natural Dental Chew Sticks
Budget Pick
Safe and wholesome All-Natural Dental Chew Sticks from Bones & Chews are US-manufactured. They are our best budget pick among other dental dog treats. A chew freshens an oral cavity, fights tartar, prevents harmful teeth plaque. The treats are durable allowing a pooch's prolonged gnawing for the best cleaning and protecting effect.
The chews are made of natural ingredients, avoiding artificial substances. Rice and wheat flour, pork gelatin are the main constituents of these crunchy chews. Additionally, they have palatable chicken flavor, making a dog longing for yummy pieces, producing saliva for antibacterial prevention.
All-Natural Dental Chew Sticks have also a unique shape of treats, 6-points form. It allows reaching the most difficult parts of the mouth to clean and freshen it.
These dog teeth cleaning treats are supplied in one size (32 count bags); however, they may be easily split into two safe pieces for dogs of smaller sizes. This is safe if a pup is constantly monitored while gnawing.
Blue Buffalo Dental Bones All Natural Mini Dog Treats
Best Dental Bones for Dogs
The best size and texture appropriate for pooches make Blue Buffalo Dental Bones All Natural Mini Dog Treats the winner of the best dental bones evaluation. We are sure the pups will highly estimate bone-sized treats, which also perfectly cope with oral cavity cleaning, breath freshening, and teeth and gums diseases prevention.
The best dental bones for dogs have wholesome ingredients. Made of potatoes, pea protein, gelatin, they are free or wheat, soy or gluten products. No poultry-by meals or chemicals are used and thus they are recommended for the dogs subjected for allergies. Additionally, dental bones are supplied with vitamins, offering balanced supplementary feeding.
Blue Buffalo Mini Dog Treats are intended for the smallest breeds (5-15 lbs.). The manufacturer offers 3 more types of other sizes dental treats for dogs. Choose carefully the variant suitable for your canine friend by weighing a pooch.
Package options are 12 oz. bags (44 pieces) and 27 oz. bags (97 daily bones).
DentaLife Daily Oral Care Dental Dog Treat
Best Dog Treats for Bad Breath
Your pooch's daily teeth care has never been easier with these DentaLife Daily Oral Care Treats. The chews for dogs from DentaLife are the winner of our Best dog treats for bad breath nomination.
The formula provides perfect teeth cleaning and freshening effect due to the unique eight-ridge form and porous texture. These features ensure durable engagement of a pooch in chewing and emphasize daily oral caring procedure.
Every pup is eager to gnaw on palatable DentaLife treats with chicken flavor. The snack is intended for supplementary feeding, it possesses its own calories indicated on each packing. The calories a dog consumes should be deducted from the daily ration.
A variety of chew packing (from 10 to 94 count) is convenient; a small amount may be purchased for testing; a big bag is a money-saving variant. Small / medium dental treats are intended for canines over 15 lb. There are also offers for mini and large breed dogs.
Features to consider when buying dental chews for dogs
Teeth cleaning means include edible and non-edible offers, treats, chews, toys, etc. We vote for chewable products due to their effectiveness. We list some important features to be kept in mind before the purchase.
Quality statement.
Almost every packing of dental chews claim its cleaning power, safety and reliability. However, does it really provide them? Stick to the US-made products for effective, safe and reliable offers. The Veterinary Oral Health Council, a special regulating organ in the USA, is responsible for the monitoring of the dental goods effectiveness. Look for the corresponding statement about VOHC approval on a chews pack.
Prolonged action.
The force of dental chews is in their ability to fight tartar and plaque, making the teeth healthy. Proper effect may be achieved in some time, during which a pup has to chew a snack. Thus, it must be durable, resistant to pooch's teeth within several minutes to ensure cleaning content reaches all corners and cavities in a mouth.
Ingredients.
The content of the product is indicated in every bag. It must include elements and products with a cleaning effect. Mind the fact that ingredients contain calories. This is a serious note for the pups concerned with weight control.
Flavour.
An additional feature of dental treats is taste. Palatability makes a dog eagerly consume snacks every time it is necessary for cleaning purposes.
Dangers.
Chews for dogs perform their function of teeth cleaning safely for your canine friend. The list of hazards to be controlled is not limited to:
the lack of proper cleaning elements content;
abundance of calories;
dangerous or artificial ingredients; .
improper size of the pieces.
The last point is extremely important as it may lead to choking while swallowing too large or small parts. The fraction of chews must correspond to the dog's size and breed. Try to keep watching your dog while consuming. Make sure that no big particle gets to a dog's intestines and blocks proper activity of the internal organs. Otherwise, immediate help of a vet is needed.
Guide (Frequently Asked Questions)
Do dental chews really work for dogs?
Dental chews are effective for pups' daily oral hygiene. Very few dogs are eager to have regular mouth cleaning. Dental chews are easy to administer, are not traumatic for pooches. The content of the crunchy chips helps maintain a clean mouth, fresh breath, remove harmful bacteria.
However, the product has to be used only as one part of comprehensive dental care. Regular teeth brushing, daily removing food leftovers between teeth, cleaning gums, vet visits are compulsory for each pet.
What are the benefits of dental chews for dogs?
Due to the longer life of domestic dogs compared to their wild ancestors, their teeth have to withstand severer upload and remain healthy. Usually wolves live 4-5 years, while dogs – a decade or even longer. Thus, dental care for your pooch is important.
Regular tooth brushing and dental cleanings are not frequent, so special oral caring treats may be used. Their daily consuming by a dog is beneficial for it due to various reasons:
No toothaches. Strong teeth, which are not subject to breaking;
Gum massage, which make an oral cavity healthier, and prevents bleeding and periodontal disease;
Dog's digestive tract better performance, due to keeping all teeth safe; varied and wholesome food ration is ensured;
Fresher breath due to reducing brown build-ups, bacteria and calculus on the teeth.
VOHC maintains the list of trusted brands and products, which effectively fight 10% to 50% of plaque and tartar in a dog's mouth.
How often should you give your dog dental chews?
Ideal antiplaque products must fit exactly your dog's size, age and breed. They are crunchy and durable enough, and are offered by reliable brands. Feeding instructions, including frequency, quantity and the content of dental treats are usually indicated on the label.
However, there are some general rules for proper dog dental chews administration.
Offer your dog reliable dental dog treats at least once a day or once in two days.
Calculate calories quantity keeping in mind energy values of chews.
Try to keep your pup chewing as long as possible (by feeding hard products, long lasting treats or even special dental toys). A dog should be gnawing on the oral caring products at least for 5-7 minutes for increased effectiveness.
Monitor chewing to avoid big particle swallowing and choking hazards.
What is the best teeth cleaning product for dogs?
There are a number of products for oral diseases prevention in the market claiming their efficiency.
Hard raw bones, oral sprays, rinses, chewing toys, kibble with special dental additives are in this list. Each of them may be applied, however it has its own drawbacks and hazards:
higher calories,
too hard texture,
accidental swallowing of a big part and choking,
quick consuming of the food chew.
Instead, recommended by vets dog chews are specially designed for pups' dental care. Their advantages are numerous. Choose a brand meeting the following requirements, and you will maintain comprehensive teeth and gums health with easy administration.
The size of the treats corresponds to dogs' age and breed to avoid choking danger. Many brands offer the variety of chews dimensions.
The chews are durable
If there are food ingredients, they should be clearly stated on the label indicating calories quantity to avoid pooch's overfeeding.
Dental chew products have VOHC approval. This council also provides exact measurements, which reveal a product effectiveness in decreasing plaque build ups.
Do dogs really need their teeth cleaned?
Disease prevention is more effective in fighting the ailment than curing it in the stage of obstruction.
This is true regarding teeth care. Regular dental hygiene helps avoid tooth loss, weak and bloody gums, intestinal problems, pains, making your canine friends live longer and happier lives.
There 3 important stages of dogs' oral care:
Feed your dog with dog's dental chews daily (or each second day) letting it gnaw for a while to gently remove food particles and harmful bacteria.
Brush the teeth at least once a week with a toothbrush mechanically to clean the oral cavity thoroughly.
Visit a vet once per 6-12 month for dental checks. This will allow revealing broken or damaged teeth, cure or remove them, avoid developing such diseases as gingivitis, halitosis, periodontitis. Anesthesia in such a case may be applied; if it is used seldom, it is absolutely safe.
Can puppies have dental chews?
Puppies' and dogs' instincts induce them gnawing everything and everywhere, thus your snickers or chair legs may be damaged. Provide them with the means for chewing relevant to their age.
At the age of 3-6 weeks, pooches' gums are swelling with the erupting baby teeth. Offer some soft but sturdy rubber toys. Fill them with fish oil or yogurt for an additional taste and training chewing customs.
At the age of 6-7 weeks, pups need chewing, as all their baby teeth have appeared, they have been weaned and start eating puppy kibble. The treats must be relevant to the dog's size, durable and soft enough not to damage fragile baby teeth and gums.
By the age of 6-7 months, temporary baby teeth are substituted with the constant ones. Starting from this time dental chews for grown-up dogs may be introduced.
Never offer for gnawing treats or bones, which are harder than pups' teeth and do not correspond to their sizes. Keep an extra watch on small pooches and pups especially when offering things for gnawing to avoid accidental choking or intestinal blockage by small pieces.
Will dog dental chews get rid of my dog's bad breath?
Gnawing on the teeth cleaning products for dogs is very effective for keeping oral cavity healthy, sane and fresh.
Constant moisturising of the dog's mouth, food consuming, makes the oral cavity full of bacteria, which influences breath, gums and teeth conditions.
At the same time, pup's saliva has antibacterial effects. Stimulating salivary glands for producing more saliva within several minutes will eliminate the most harmful microbes, making breath fresher.
Additionally, hard cleaning particles of dog dental chews provide gentle scrubbing activity, removing buildups to keep stronger teeth and gums.
Other dental chews for dogs
Virbac C.E.T. VeggieDent Fr3sh Tartar Control Dog Chews
Give your dog a treat it awards and will love for its palatable taste without any animal-based ingredients. C.E.T. VeggieDent Fr3sh Tartar Control Dog Chews from Virbac cope easily with calculus, eliminate plaque, provide gentle gum massage and help support your pooch's oral hygiene on a regular daily basis. Using these treats results in perfect strong teeth and healthy gums of your four-legged friends.
C.E.T. VeggieDent dog chews have specially designed Z-shape, which allows comfortable dog's grasp and long-lasting gnawing to achieve better cleaning effect.
Virbac brand provides dental chews for dogs of all breeds and sizes, offering extra-small, small, medium and large treats in the bags of 30 count.
Virbac C.E.T. HEXtra Premium Dental Dog Chews By Virbac
C.E.T. HEXtra Premium Dental Dog Chews by Virbac provide reliable and gentle care for oral cavities by cleaning, scrubbing, massaging. They are highly appreciated by pets' dentists and vets.
This treat has a unique composition. It is made of beef rawhide. These hard enough flat slices work sufficiently making a dog chewing for a prolonged time. C.E.T. HEXtra Premium chews content include patented chlorhexidine gluconate, which has an antimicrobial effect.
Thus comprehensive natural dental maintenance is provided daily, making your canine friend happier and healthier.
A brand offers this product for a variety of breeds and sizes, from petite to extra-large, in convenient resealable bags of 30 chews.
Frontline Oral Defense Daily Oral Health Dental Dog Treats for Small Dogs 10-25 lbs
Perfectly sized for small dogs, these Frontline Oral Defense Chews work for a pup's fresh breath, bright and healthy teeth. With this snack, oral care for your small friend is provided easily, reducing tartar and plaque, killing dangerous bacteria in the dog's mouth.
Treats are designed in a bone shape, are crunchy to ensure chewing, their taste is appealing for every pup.
There are also other varieties of chews for extra-small, medium and large dogs. The bags may count 7, 14, 28, 60 treats for your convenience.
WHIMZEES Variety Pack Grain-Free Dental Dog Treats
WHIMZEES Grain-Free Dental Treats are a perfect option for dogs with gluten intolerance and food sensitivities. Made of 100%-natural ingredients, these chews ensure gentle mouth cleaning of harmful build-ups.
Their knobby shape massages gums and reaches for the most difficult corners of the oral cavity, providing thorough dental care, antibacterial protection and fresh breath of your canine.
Ingredients include vitamins, fibers to stimulate digestion and protect overall health of a pooch.
Try to weigh your pup prior to chews purchase and select the appropriate size of snacks. A container for small breeds places 56 chews, for medium – 28, for large 14 treats.
Ark Naturals Brushless Toothpaste Small Dental Dog Chews
Many pups and their owners love the chews from Ark Naturals, Brushless Toothpaste Dental Dog treats. They provide easy and comfortable administration of the wholesome and reliable product for clean teeth and fresh breath of your pooch.
The chews have ribbed shape, which ensures brushing and scrubbing of difficult to reach corners in the mouth. The center of the chews contains fresh toothpaste ingredients, helping reduce tartar, bacteria and making a nice smell from a mouth for a prolonged time.
Organic ingredients are gluten-free and add wholesome elements to a dog's ration: cinnamon, alfalfa, clove. They also support healthy digestion.
The treats may be fed twice a day or according to the vet's directions. The producer offers chews also for mini, medium and large dogs. Re-sealable bags are convenient and may contain different quantities of chews.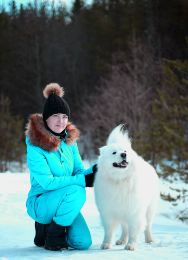 Vanessa Vilchek is one of our favorite authors. She is a real dog person, she was introduced to her first puppy at the age of 3 and since then she would rescue every pooch she met. Today all care and entertainment issues are a piece of cake for her, and we are really proud of having her on board. If you have any questions, feel free to ask in comments below or on her facebook page.