Every pet owner is concerned about his canine friend's well-being and good physical condition. Hygienic procedures are obligatory and special means for definite needs will help. Ears are rather vulnerable body part. A big variety of cleaning substances is intended for getting rid of ears dirt. Therefore, we collected the best items to describe their uniqueness.
Best Overall
ZYMOX Otic Pet Ear Treatment with Hydrocortisone
ZYMOX Otic is number 1 bestselling remedy of dogs' ears hygienic procedures. It mildly cleans build up, cures multiple diseases, such as otitis externa, inflammations, which may cause pain. Instill just few drops into a canine ear. It starts working instantly. It may be applied as a treatment course during 7-10 days or weekly as your vet prescribes. The solution demands no preliminary ear cleaning; excessive quantity should be carefully wiped. ZYMOX Otic has a mild formula; however, it works even against bacteria resistant to antibiotics.
Best Liquid Dog Ear Cleaners
Mighty Petz 4-in-1 Dog Ear Cleaner
One of the best dog ear cleaners acts effectively in 4 directions. By loosening debris, it provides dirt and gents elimination, thus decreasing ache. It soothes swelling tissues in case of pests' bites. Besides, the remedy deodorizes the inner portion of the ear canal and improves canine health.
Mister Ben's Original Ear Wash
A pooch is getting happier after Mister Ben's Original Ear Wash application, decreasing unpleasant feelings of polluted ears. Germs, yeast, mites will say "good-bye" after its regular usage. It comprises of Aloe Vera, a natural soothing and curing component. Unpleasant scent will be gone as well. Do not apply in case of open wounds.
Bexley Labs Curaseb Antiseptic Air Flush
The stubborn ear infection will be gone with Curaseb Antiseptic Air Flush application, consisting of the components for fungus, bacteria, yeast curing. It has a content of natural elements, like melon, providing soothing effect to painful and stinky ears. 7- Days' application course will ensure complete relief from problematic issues with ears.
Liquid Health K9 Ear Solutions for Animals
K9 Ear Solutions may be used frequently due to its formula. It is designed for ear hygienic procedures, like disinfecting and cleaning, and is helpful after water procedures for diseases prevention. In case of any swelling, itching or bad smell, the cleaning drops may be applied several times a day during 2 weeks, and then once a day for 1 week. For cleaning minor debris it may be applied weekly.
VetWELL Otic Cleansing Solution with Aloe
These cleaning drops with an effective veterinarian formula provide mild dirt removal, ease itching, deodorize bad smell, and soothe bites of the pests. Depending on the dog's ears conditions, the remedy may be applied daily (once a day in a case of severe debris) or weekly. The substance is offered with the melon or vanilla scent. Use it every time after swimming.
Doggie Dailies Ear Wash with Tea Tree Oil
Dailies Ear Wash is recommended for its natural components, like Tea Tree oil, Witch Hazel. They work perfectly to ensure mild cleaning procedures, without stinging and discomfort. The substance may be applied for grown up pooches, small puppies. Use it any time when your four-legged friend needs it.
Best Dog Ear Wipes
MedPal Pet Ear Wipes
These cleaning means provide comfortable hygienic procedures for you and your pooch, being one of the best ear cleaners for dogs. No liquid will be spilled on the floor. The components of dog ear wipes help remove dirt, clean debris, soothe lice bites, fungi itching. These tissues are made of soft cotton, their scent is perfect.
Pet MD Ear Wipes for Dogs
Regular use of the wipes ensures your happy and jolly pooch avoiding any medication. The napkins are recommended even for small canine cubs. This dog ear wash has a mild natural formula, does not contain alcohol, eliminates polluted wax, helping to avoid inflammations.
VetWELL Dog Ear Wipes with Aloe Vera and Eucalyptus Recommended for Dogs
This organic dog ear cleaner is intended for everyday usage. It deodorizes, disinfects, and maintains tidy ears by soft and mild cleaning ingredients. These tissues also prevent itching caused by pests' bites, germs and fungi infections without any additional remedies.
Guide
Why Dogs Need Ear Cleaners?
Open parts of canine ears are vulnerable, exposed to infection, bites of mites, dirt, mechanical debris, which in its turn may cause itching or aching. As a rule, animals are able to cope with a minor disorder themselves. However, if the ears seem reddish, swollen or causing pain, do not hesitate to visit the veterinarian, to carry out hygienic procedures, to provide proper ear cleaning.
There are two main factors, which may cause risks getting sick for your pooch because of sore ears.
The dogs' ears constitution
Usually dogs' ear constitution is either short upright or long drooping.
In the first case, alien particles may easily reach an otic surface, but due to airflow access, they are easily removed without causing any dysfunction.
The second variant seems to be more protected from the direct hit of junks and pests. However, it is not so. The inner ear part is isolated from the airflow. Its warm wet environment and a wax substance facilitate microorganisms' proliferation (yeasts, viruses, germs).
Dogs' activity
This is the second risky factor to get sick.
Canine habits make dogs vulnerable to dirt, dust, water, pollen, mites, fungi in the open air. Getting on the innermost ears parts, each of these components may result in painful, itching symptoms or sickens. Besides, an ear of a vigorous pooch may be wounded or get a cut. Then a damaged organ have to be treated properly.
Inflammation is manifested by pain or itching. Neglecting any of these aspects may lead to your pooch unease and cause serious damage of the otic apparatus. A pet may lost its ability to hear. Outer, middle and inner ear canals are vulnerable. Provide relevant caring to protect them.
Here canine ear cleaners come handy. They are worked out for easy usage; contain pain reduction and cleaning elements.
Types of Dog Ear Cleaners
We distinguish between two kinds of canine ears clearers – drops and wipes, intended for different purposes with their advantages and drawbacks.
Cleaning drops
Ear cleaning solutions for dogs or dog's ears drops are convenient to use. They act inside the organ.
Instill few remedy drops directly in the dog's otic apparatus, massage the base of the ear. Dog ear cleaning solution will be dissolved and help loosen the otic debris. Excessive liquid may be collected by a cotton ball and a treated organ will be cleaned from particles, germs, pests. The ear canal will be disinfected.
Cleaning wipes
In case your dog's ears are relatively clean or a pooch is too vigorous to rest for several minutes during the cleaning procedure, use wipes. These cleaning napkins are made of soft cotton. They do not damage dogs' vulnerable body tissues, but act only on the outer portions of the hearing apparatus.
Drops vs. Wipes
Assess meticulously your canine companion state or visit a veterinarian to make up your decision regarding otic cleaner type selection.
Use drops in case antibacterial care is needed or alongside with antibiotic treatment. It will enhance medicines' effect, soothe inflammation and provide an opportunity to clean an inner portion mechanically by build up loosening. Frequency of the liquid cleaner application is stated on the packing (daily, weekly or monthly).
Wipes may be applied for everyday care. Use them after a walk in bad rainy weather, after swimming in open water, during pests and mites high activity season. This will help you get rid of alien units and provide additional disinfection if the napkins have appropriate treatment substances.
Features to Consider
Depending on the purpose, ears cleaning means have different features.
The remedy may contain components for curing, rinsing.
Natural organic components are preferable. They will help to avoid mucous irritation by the regular application of ear wash for dogs. They cope with mechanical junks, polluted cerumen and build-ups removal. Ear cleaners may be offered with different scents.
In case curing effect is needed, a vet may prescribe special drops including elements for diseases treatment. They may be effective against allergies, bacteria, viruses, germs, mites, infections.
Ear cleaner liquid must have non-sticky formula. The main function of the substance is to provide effective rinsing, loosing, removing alien particles out of otic apparatus of a pooch.
Examine thoroughly the cleaning drops packing, read the statements, paying attention to aggressive chemical components and avoiding their application without veterinarian's prescription.
Application method depends on the dog's ear cleaner type: drops or wipes; each of them have its own peculiarities.
As for the drops, they are usually shipped in bottles of different volume. Bottles may vary from tiny (1.25 oz) to big ones (12 oz). A big bottle is not very handy, if you have no assistants. The tip of the bottle must be made of BPA-free material, be thin enough to reach through the ear canal deeper.
Wipes are usually made of the natural material. To avoid scrapes of the outer ear canal part, apply soft cotton wipes. Their packings are of various sizes and contain different quantity of cleaning napkins.
FAQ
How to use a dog ear cleaner?
The procedure of pooch ears cleaning is not very tidy. Our recommendation is to reserve separate premises like a well-lighted bathroom. Provide for assistance when doing it for the first time or your dog is not very calm.
Prepare cleaners, some towels, cotton gauze or balls.
A dog must be soothed and stay calm at least for 3 minutes.
Clean mechanically outer areas of otic canal by wipes, eliminating debris, sticky cerumen, alien particles. Instill some ear cleaner in the hearing apparatus, massage its base for 90 seconds, distribute the liquid more evenly. Do not touch the otic canal walls with a bottle tip to avoid further infecting.
Encourage your dog shaking its head and get rid of excessive fluid. Here a towel will help you to stay dry. Just cover a dog's head with it.
Use cotton balls to collect dirt around the ears.
This is a meticulous procedure usually prescribed by vets, when all cleaning means are applied. If there is no ear problems, use either drops or wipes.
How often should I clean my dog's ears?
If ears are healthy and no special treatment is needed, read the packing statement to learn the frequency of its application. Usually dog's ears wiping may be carried out once a week. Ensure regular examination of your dog's state. Once you notice any problems like reddish color, swelling, odor or alien debris, start applying the ear cleaning drops to ensure hygienic protection.
Why do my dog's ears stink?
Bad pooch's ear odors may be a symptom of illness. Try to arrange a vat consultation to avoid worsening of the canine hearing ability.
The inner portion of the dog's ear is wet and consists of its natural wax. The flora comprises its own bacteria. Together it may lead to some stinking. Using ear cleaners for dogs, scented with vanilla, mint or other natural odors, will decrease unpleasant smells.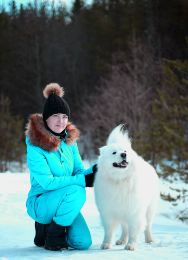 Vanessa Vilchek is one of our favorite authors. She is a real dog person, she was introduced to her first puppy at the age of 3 and since then she would rescue every pooch she met. Today all care and entertainment issues are a piece of cake for her, and we are really proud of having her on board. If you have any questions, feel free to ask in comments below or on her facebook page.