Alongside with pleasant moments, parenting a pet is also a hard and important task. Cuts, bruises, injuries caused by bites or pinches may be dangerous for a pooch if any trouble occurs at home or outdoors. It is important to have a dog first aid kit with you. We collected the best offers for pets' rescue sets and their usage tips if a veterinarian is away.
Top 5 Best Dog First Aid Kits
RC Pet Products Pet First Aid Kit
Best overal
Since the life of your canine friend is essential, choose the best products for its safety. Our choice is RC Pet Dog Kit. This set is the top quality due to many reasons.
It complies with strict demands to packing and compiling its content. The case is produced from elastic vinyl; it is equipped with a reliable zipper that opens wide. The case is lightweight, durable; it is convenient to take along when traveling, hiking, camping. It possesses enough components, and may be additionally stuffed with the necessary elements, while having compact dimensions.
This RC Pet Products kit is worth its money; it contains many useful supplies for the immediate aid. These are gauze, scissors with a blunt tip, disposable gloves, bandage, cold packs, a blanket, wipes. Saline solution will help to fight germs. A first aid manual contains tips for pet rescue.
AKC Pet First Aid Kit, Modified
Budget pick
The set for rescue AKC Pet First Aid Kit is the best budget choice. Alongside with affordable price, it contains 46 pieces for helping your pet recover quicker.
A bag is extremely durable and manufactured from a bright color fabric. This feature allows finding your pet first aid kit quicker in an extreme situation. It weighs around 1.5 lb. and is supplied with soft handles. Therefore, it may be easily taken along when traveling by any transport or walking.
The content of the bag is sufficient, comprises of gauze pads, a tick removal tool, scissors, disposable gloves, a magnifying glass and a variety of other necessary items. Modification in supplies was made, and four wipes were excluded due to chemical safety reasons.
Adventure Medical Kits Workin' Dog with QuikClot
For hunting
Staying away from medical care is dangerous for both, a dog and its owner. We award Workin' Dog Canine First Aid Kit the best for hunting nomination. This set of canine caring and treating units allows rendering medical aid to your friend, if serious injuries, wounds, punctures occur during hunting or any other outdoor activities.
The bag is convenient to carry and transport due to handles and soft durable fabric. Its weight doesn't exceed 2 lb., though is contains numerous useful health caring units, which are suitable even for an owner.
Adventure Medical Kits Workin' Dog have the basic medications (eye and ear drops, triple antibiotic ointment, hydrogen peroxide, antibacterial and antihistamine treatment). The materials for wound cleaning and curing include wipes, self-adhering bandages, gauze, blankets. Medical tools are supplied in abundance; you may use syringes, a tick remover, an instant cold pack, shears, a led-headlamp. A manual for immediate first aid is provided.
FAB FUR GEAR Dog First Aid Kit & Safety Supplies
For hiking
This FAB FUR GEAR Dog First Aid Kit is unique for both, its case design and professional content. Due to these features, it may be called "Best dog first aid kit for hiking".
A military-style wrapping, manufactured from a dense fabric, is easy to grab. Even a dog may carry it. This feature, alongside with its less than 1 lb. weight, makes a kit excellent for hiking and long walking.
A kit's 72 units content complies with the strict demands of medical professionals. It offers various medications, suggested for wounds treatment and blood stop, antibacterial and infection preventing remedies. Its various instrument sets include gauze, bandages, gloves, oral syringes, a blanket, tweezers. There are several packs for dog's waste and a collar, which are seldom present in first aid kits for dogs. An instruction for dog's treatment is also supplied.
RC Pet Products Pocket Pet First Aid Kit
For camping
Pocket Pet First Aid Kit is our choice for camping.
Its first appealing feature is the smallest dimension (4 oz. weight). The case is made of bright color fabric, opens and closes with a zipper, and is supplied with a clip for attaching to a dog's leash or an owner's belt. This dog first aid kit for camping is very convenient for an outdoor activity, in a hike or a camp. Take it each time you walk a long distance and feel safe if any threats to your dog's health appear.
The dimensions of a unit are compact. Nevertheless, it contains maximum of necessary items, a first aid tape, bandages, gauze, and even a brief aid memo for acting in a case of emergency.
Guide (Frequently Asked Questions)
What should be in a dog first aid kit?
When a sudden canine injury happens, be sure to have a set of medications and rescue tools ready. Any delays in case of emergency may cost your companion health or life.
Kits for the first aid may differ in content, quantity, quality, price, usage purpose and place of storage.
The content of a first aid kit may be divided by 4 groups:
Bandaging and wounds curing: antiseptics, antibiotic ointments, gauze, bandage tapes, cotton rolls.
Medications and cleaning solutions: eye and ear drops, hydrogen peroxide, activated charcoal, allergy tablets.
Instruments and auxiliary materials: oral syringes, disposable gloves, a trimmer, a rectal thermometer, a flashlight, electronic tools batteries, a dog cone or e-collar, a blanket, cooling packs, a muzzle.
Important notes: first aid manual, telephone numbers (vets, medical call centers), list of dog's diseases, vaccinations.
Can I use antibiotic ointment on my dog?
Any medication for your dog must be applied with the great caution after your vet's approval. However, minor damages and small cuts may be treated immediately to provide further disinfection.
Triple antibiotic ointment, an OTC drug, that does not need vet's prescription, is effective for this. Make sure to clean the wound mechanically of the dirt, wash it with running water, and apply antibiotic only afterwards. Isolate a canine head with a dog's cone or any other method to avoid its leaking a wound. Make sure, the damage is curing within 3-7 days, otherwise consult a vet.
What can I clean my dog's wound with?
The canine wounds and bruises, which may be proceeded without a vet's involvement, should correspond to a human knee or elbow scrap. Wounds that are more serious, are a matter of veterinarian examination.
To treat a cut on a dog's leg or a body, which is not deep and does not involve big portion of a body, prepare some materials.
Provide an assistant or a muzzle in case of dog's high anxiety, running water availability, a fur trimmer, clean towels, cotton rolls or a piece of gauze, antiseptic (powder or solution), and a bandage tape.
Make sure that the pet is fixed, cut a fur around a wound with a trimmer, pour clean water to wash it and pam it with a towel.
Apply antiseptic to avoid further affection by germs and microbes.
Hold on a pooch for some minutes to allow medication get deeper into tissues, and then apply a bandage tape.
What antiseptics are safe for dogs?
Cheap and effective antiseptics are povidone iodine and chlorhexidine.
The first medicine is widely spread for surgical manipulations and acts to prevent germs entering damaged tissues and their further inflation.
Chlorhexidine acts against peculiar microorganisms. Due to its antibacterial properties, it is added as an ingredient to pets' eye remedies and ear drops.
Can you use human antiseptic on dogs?
There are medicines suitable for people as well as for pets. However, any antiseptics must be applied only after a veterinarian consultation. Remember, that medicines should be diluted in an appropriate proportion with water not to make damage, sting or burn tissues.
Any drug has its own active substance effective in a correct dose, which is defined according to body mass. A proportion for dogs treating is determined in a different from a human being way and should be done by a professional.
Is Betadine OK for dogs?
Betadine (povidone iodine) works perfectly for dog's wounds and cuts treating. Unlike iodine tincture, which irritates tissues and may cause burns, betadine is safe.
Therefore, it must be diluted with water prior to application. Add water until the solution changes its color from dark brown to a color of weaker tea.
What can I give my dog to fight infection?
If any serious wounding occurs to a dog, a veterinarian should examine it. However, in case you are far from a medical institution, you may try to minimize germs, bacteria, or viruses bad effect.
Antiseptics, such as weak solutions of povidone iodine and chlorhexidine, may disinfect minor punches. Avoid remedies containing alcohol, as they are highly aggressive and may burn tissues. Hydrogen peroxide is also a medication from your first aid kit; however use it only in case of dog's poisoning. Its weak solution should be applied orally to provoke vomiting.
Antibiotics should be used with a great caution, even for topical usage. It work for definite bacteria. Frequent application of antibiotics may cause increased resistance of bacteria to medications; it will be difficult to fight them in a long run. Consult a vet to check a need in antibiotic usage.
How often should I replace my dog's first aid kit?
Consider two ways of defining, how often a puppy first aid kit should be inspected.
A medicines set is used frequently. Each time you reach out medication, replace the used one and check expiration dates of the remaining drugs. Check, if materials and tools are undamaged.
A dog emergency kit is not used or used seldom. Take out a medication set once per 6 months. Examine an expiration date, which is indicated on the packages; however, remedies usually have 2-3 years of lifetime. Bandages, cotton rolls or gauze shall be considered non-sterile in case a wrapping is damaged or after expiration date. So restore sterile material availability.
Where should I store my dog's first aid kit?
The firm rule to store your dog medical kit is to keep it out of reach of children.
Depending on kit's size and purpose, choose a definite place where it may be safely kept.
Put an aid kit for home usage in a dark cool place. Improper temperature conditions will damage the medicines it contains.
Do not change storage places. A dog's first aid kit must be at hand immediately if any disaster occurs.
While traveling, a medical set should be kept in a sturdy container. Fix it properly to avoid damages.
Other Dog First Aid Kits
Boss Pet Products First Aid Kit, Large
Boss Pet Products Pet First Aid Kit is supplied in a plastic container, which is easy to open, use and clean. It may be stored and applied at home, or in a car for any outing.
The dimensions of Boss Pet First Aid Kit may differ; the large one weighs over 10 oz. It is stuffed with 21 useful units for dog caring and may be additionally supplied with necessary items, thus be customized to your dog's needs.
The instruments it includes are tweezers, safety pins, non-sticky bandage, scissors, a tick remover, gloves. Cuts and wounds may be treated with disinfection wipes, sterile wound dressing, a blanket, gauze. If a trauma happens, a dog may get sufficient support before being taken to the veterinary clinic.
WildCow Emergency Pet First Aid Kit
It is one of the compact series kits. WildCow Emergency Pet First Aid Kit is good for trips, walking, camping.
Its exterior is stylish and manufactured in camouflage colors. Soft but sturdy fabric of the case allows to transport the item without any damage to its 40 pieces of possessions. It has a loop stripe to be easily attached to another surface supplied with a hook stripes. A kit weighs less than 1.5 lb.
Its content will help with damages, bruises or scratches of your companion. Not all kits are supplied with medications. However, remedies are provided in this set. Povidone-iodine will help keep a cut or a wound clean and disinfected. Besides, wipes with alcohol, gauze in rolls, cotton balls are also included. There are all necessary tools, like a tick removal appliance, scissors, gloves, tweezers, bandages.
Pet First Aid Kit for Dogs
This nice Pet First Aid Kit is perfect for all kinds of travel, may be used at home, it is convenient and lightweight. The set of item may be used for helping people and is approved by medical professionals.
A durable bag made of polyester will serve for a long time. It is supplied with handles. Transparent inner compartments allow having quick and easy access to medical materials in case of emergency. Its weight is less than 1 lb. It has compact dimensions.
The kit contains 85 items. Medical materials are gauze, cotton rolls, triangle and elastic bandages, wipes for disinfecting. There is also a big variety of tools supplied, such as scissors, tweezers, a tick remover. Everything is packed separately to keep clean. The unique offer is nail clippers and a trimming glove, which helps groom fur and keep it tidy.
Adventure Medical Kits Me & My Dog
Me & My Dog First Aid Kit is one of the popular series of Adventure Medical Kits producing different sets of medial materials for various purposes.
A set of medicines is packed in a waterproof bag. A list of items, it contains, is indicated on the backside of the bag. Additionally, a name and a telephone number of an owner or a vet may be inscribed there. Containing many medical materials necessary for healing wounds, treating cuts, bruises, deleting mites, the kit's weight does not exceed 1.5 lb.
Among the tools for pet rescue of Me & My Dog First Aid Kit, there are shears, safety pins, blankets, bandages, a leash, cold packs, gauze. Medication (aspirin, antihistamine drugs, hydrogen peroxide) and a first aid manual are also supplied.
Creative Pet Products Sporting Dog First Aid Kit
This set of dog first aid units is compiled thoroughly. It comprises various medications, so you do not need to buy them additionally. However, keep an eye on their dates of expiration. Any trip will be safe when equipped with this kit. Home usage is also convenient, as all the remedies and medical materials are stored in one place.
Sporting Dog First Aid Kit is a big case made of dark sturdy fabric. It possesses handles for easy transportation. Due to its abundant content, the weight of the case is 5.2 lb.
However, medications, which are offered in the kit, may help almost in every dangerous situation. It contains antibiotics (triple antibiotic ointment), eye and ear wash, saline and iodine solutions, hydrogen peroxide, hydrocortisone cream. Among the instruments are scissors, pads soaked with alcohol solution, a stapler for skin, gauze, cold packs, disposable gloves. Instruction for the first aid rendering is also supplied.
Emergency Zone Dog Survival Kit
This set is intended for first aid rendering, rescue, survival in tough situations. Take it with you when traveling in dangerous places, during weather and nature cataclysms, wildfires. There are a number of essentials to stay deprived of living conveniences for several days.
The container made of synthetic fabric and PVH has a transparent side. It helps to control its content. The kit is supplied with a handle for easy grab.
The units inside a bag may be divided into three groups: tools for survival, first aid materials, essentials for living. Tools for survival include a whistle, a reflective blanket, a leash, a flying toy. First aid group comprises around 50 pieces such as bandages, tweezers, shears, sterile gauze and a dog first aid manual. Dog's compact folding food dish, bags for dog's poops, a pooch pad make essentials for living.
GETREADYNOW Pups & Peeps Emergency Survival Kits
An extra compact dog first aid kit GETREADYNOW Pups & Peeps weighs only 6.2 oz. However, it consist of all essential units for maintaining health of a dog during traveling, camping, hiking. Keep it in a car as it may be used for people rescue as well.
The set is kept in a bright fabric sack with a zipper. There are two loops for fixing when being transported.
The content include gloves, a gauze roll, wipes soaked with antiseptic solution, an elastic tape, sterile cotton rolls. Sterile materials are packed additionally in a waterproof package. There no medical tools, so keep in mind to take them additionally when traveling a long distance.
Kurgo Portable Dog First Aid Kit, Pet Medical Kit
Kurgo Portable Dog First Aid Kit is a compact set weighing 15 oz. Its non-trivial design is very handy in operation. Put it in your car or a backpack when traveling and you will be confident in your pet's safety.
Kurgo Portable Kit is foldable and made of sturdy fabric. It has three transparent compartments inside. A metal hook helps open bottles or fix a kit hanging on a tree.
Among the rescue materials and aid tools, there are bandages, disposable gloves, sting relief and antiseptic pads, cotton rolls, gauze, tweezers, scissors, a tongue depressor. Additionally, medications, antibiotic ointment, antiseptics may be added, as they are not supplied.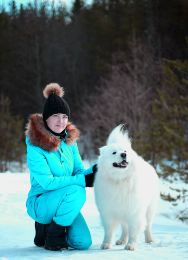 Vanessa Vilchek is one of our favorite authors. She is a real dog person, she was introduced to her first puppy at the age of 3 and since then she would rescue every pooch she met. Today all care and entertainment issues are a piece of cake for her, and we are really proud of having her on board. If you have any questions, feel free to ask in comments below or on her facebook page.