Is your lovable canine friend bored with her existent armory of entertaining objects? A dog frisbee toy, which is aimed at throwing in the air and gliding without instant falling down on the ground is just for those pups.
The main aim of this disc is its prolonged flying period. During this time a pooch may chase it and catch directly by her jaws feeling excitement and fun.
The game also promotes communication of a dog with her pup parent. A human, being skilled and physically fit, should assist in throwing the object.
We have studied a great variety of frisbees for dogs to present our top-choice for these products answering the main questions about their utility.
Top 5 Best Dog Flying Discs
KONG Classic Flyer Dog Frisbee
Еditor's Choice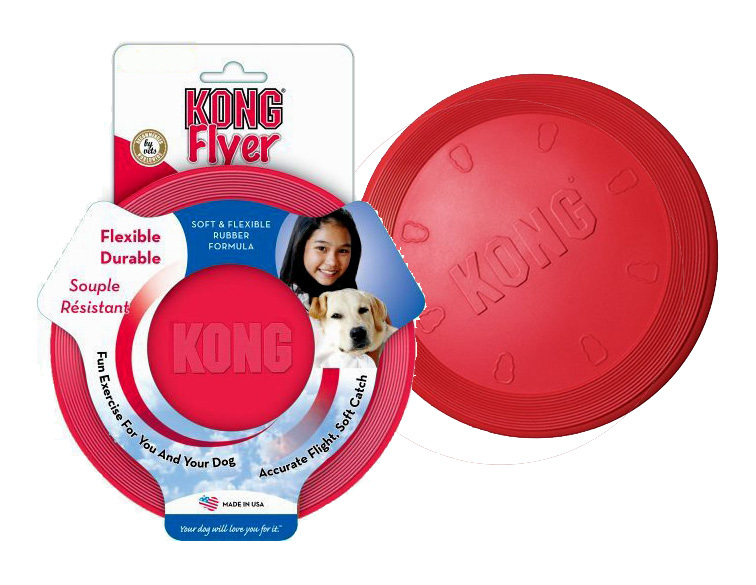 KONG Classic Flyer Dog Frisbee ensures maximum fun and physical exercises, while keeping your doggie friend safe. Thus, it is our best overall choice.
Classic Frisbee by KONG is made of high quality rubber. It also has good balance, ensures tossing accurately and gliding in the air for prolonged time. Thus the dog disc game becomes entertaining and exciting.
Being offered in a bright red color, the dog frisbee toy is produced in 2 options of sizes (7.5'' and 9.0'') for different breeds.
Monster K9 Indestructible Dog Frisbee
Best indestructible dog frisbee
Monster K9 offers its Best indestructible dog fetching disc. Is your pooch a rough player, heavy chewer or has powerful jaws? This dog flier is for her.
Indestructible Flying Dog Toy by Monster K9 is made of industrial strength rubber, may withstand tears and is almost indestructible. A specially designed spherical shape makes it convenient for grabbing by hands.
Your pooch will be happy and fit, when spending much time together with her parent training with this throwing toy. Avoid using a product near open water reservoirs, as it does not float.
Frisco Fetch Rubber Dog Flyer
Best rubber dog frisbee
This bright and soft rubber disc by Frisco is our Best dog frisbee from rubber. Fetch Rubber Dog Toy by Frisco is a perfect means for active daily exercises of your canine paw-rtner.
The item is intended for pooches of all life stages, as it is manufactured from non-toxic materials, gentle and soft towards dogs' teeth and gums. Its flying capacities are good; it glides long in the air.
The diameter of 9'' is suitable for medium and large pooches. Its bright blue color is visible in different landscapes; though avoid rivers and ponds as it may drown.
Hyper Pet Flippy Flopper Frisbee
Best water frisbee
We love this Flippy Flopper Dog Toy by Hyper Pet for its floating capabilities, which make the product the best for water.
Nylon, it is manufactured of, is light weighted material, safe for pooch's teeth, which allows it to float in the water. Additionally rubber makes the dog flying disc more balanced to fly in the air. The dog toy ensures hours of entertainment for a canine. Non-toxic materials and durability makes disc throwing suitable even for kids as well, thus a company for games is bigger and jollier.
The unit is not intended for heavy chewers, as it may be spoiled. Supplied in a set of 1, 2 or 5 packs, with a range of bright colors and 9'' diameter, this is an attractive offer among competing products.
West Paw
Zogoflex Zisc
Dog Aerodynamic Frisbee
Best glow frisbee
We love this product by West Paw Design for its versatility. It is visible even at dusks for longer vigorous rendezvous with your four-legged friend. Zogoflex Zisc toy is our selection for Best glow frisbee.
It is soft but sturdy, being manufactured of the pliable material. The disc may stand the jaws of a hard chewer. It has rounded rims, is elastic itself, causes no harm to dog's gums. A pup won't lose her interest in the game, as it flies high, glides long in the air, and is visible even when it gets darker.
The material is nontoxic, which allows using the product as a dog food bowl in a trip to parks or forests. The best dog frisbee with glowing effects may be cleaned in a dishwasher.
Features to consider when buying a dog Frisbee
Actually, Frisbee is the patented name of a definite product by Wham-O Company, which means flying discs.
Whatever name a producer uses, a flying toy is an amazing entertainment for a pup, which allows him to demonstrate his running, chasing and catching skills, ensuring pooch's perfect physical exercises. Just choose a correct dog frisbee toy, which will perfectly match your lovable pooch. Here are the key points for your consideration.
Effectiveness
Effectiveness is the main feature of a dog frisbee, which ensures your pooch's interest in a throwing disc. A good fetch toy should fly, maintain its position in the air, and glide during definite time.
It must be well managed by strength application, thus a pet parent is able to regulate its flying distance and time. A toy should be ideally balanced for that.
Dimensions
Depending on the size of a pet, the strength of her jaws, her running and chewing habits, choose a toy of a bigger or smaller diameter. Just think about your dog's preferences, as a pup will carry a dog frisbee toy by his mouth. Heavier and bigger items are easier in control and fly farther.
Production materials
The variety of dog flying toys allows choosing a frisbee, which will suit individually to your pup. Use the "trial and error" method. However, our advice is to start from a lighter variant.
Usually items manufactured from nylon or other cloth are better for training purposes. They are not efficient in flying. Then, select effective plastic variants. Take into account reliability of the producer. No harmful and toxic materials must be used in the content.
Shape
A common disc shape of the dog frisbee may be upgraded with some holes, semi-spheres, and uneven ends. The rim has to be rounded. It also should be convenient to grab in hands and durable.
Guide (Frequently Asked Questions)
Do dogs like Frisbees?
Dogs love throwing discs. All round entertaining items, like balls and discs, excite them. However, dog frisbee toys are the best due to various reasons.
Dog Frisbees are suitable for comfortable chasing, catching and fetching, make dogs run, release their energy and promote workouts.
Pups demonstrate their skills, and may be presented by something tasty, thus being trained mentally.
A dog flying disc game helps spend time together with their lovable parents, as it demands two participants.
Is playing Frisbee bad for dogs' health?
Frisbee is a very active game, which involves many physical loads on a canine. Originally they were not accustomed to chasing prey in nature for a prolonged period. Thus, long workouts may be dangerous for their health.
Heavy duty running and jumping may cause damage of muscular tissues, joints and hip diseases, and consequently lead to arthritis, partial immobility. Spine and discs traumas are also hazardous.
Bigger and heavier breeds, grown-up canines subject to bigger loads due to their weight unlike young pups and tiny breeds. They weigh less, their muscular and ligament system suffers less.
Traditionally before starting any sports activities, we consult our doctor. As for the pets, ask your vet about individual recommendations prior to rush shopping for dog frisbee toys.
What color Frisbee is best for dogs?
Ability to see in dogs differs from those in humans. Pooches are able:
to see well in semi-darkness, twilights, and at night;
to watch items in motion when chasing;
to distinguish between limited quantities of colors individually for each pup (purple, blue, red and yellow).
It is also important that the background is contrasting with dog frisbee colors; otherwise, it will be difficult for a pup to spot it.
How do you start playing Frisbee with a dog?
Usually a dog is highly energetic about playing a throwing disc. However, when she sees a frisbee for the first time, she may demonstrate little interest in it. Try to draw her attention to a new object. The following tips will be helpful in engaging her in this entertainment.
Wave about a new item allowing a pup sniffing an object. Introduce her to its color, shape and fragrance.
Give a flying disc to a pooch and try to get it back. If she obeys "give" command well, present her with a treat.
Repeatedly toss an object to her from a short distance, gradually increasing it. She has to catch it successfully and give it to you.
Here is the time to move outdoors if you are still in the house. Make sure you do not interfere with other people' activity or traffic in some public site. The best dog frisbee must be noticeable against the landscape for a pleasant time spent.
Hard vs soft dog Frisbee discs?
Both hard and soft dog flying discs have their own pros and cons.
Soft discs
Dog frisbees may be manufactured from rubber, foam, nylon or other fabric.
The advantages of such discs are in their safety. If it collapses occasionally into a pooch or a human, it does not cause damage to tissues, and does not hurt. You may use them anywhere in the open sites or public parks.
The disadvantage of such a disk is its poor performance. It does not fly high and maintain its position in the air. A soft frisbee demands stronger effort to be tossed farther.
Hard discs
Hard frisbees for dogs are more accurate and may ensure longer gliding. It is easier for a pet parent to throw it, and for a dog to catch. These products are made of plastic and usually are used in tournaments.
However, the drawbacks are in their fragility and possibility to cause harm. Plastic is a hard material. If it strikes a dog or a person, it may lead to serious injuries. Thus, avoid using a plastic frisbee in crowded areas.
Heavy chewers may break a hard disc making it impossible to use. A disc must withstand up to 40 throws. Store a couple of these items for a prolonged game or a competition.
Other dog frisbees
Chuckit! Flying Squirrel Dog Toy
In case, your furry friend loves chasing squirrels, demonstrating her jumping abilities, Chuckit! Flying Dog Toy is just for you!
Chuckit! Fying toy is made of the soft but sturdy fabric, it has the shape of a square with protruded raised "paws". It is easy to grab and fling. The flying disc has excellent aerodynamic qualities, is balanced and may float in the water.
Being exposed to bright light, it accumulates it and may glow in the darkness. Bright colors make a dog throwing toy attractive and visible in different sites. Choose from three variants of sizes.
ZippyPaws Floaterz Turtle Dog Toy
We value this Floaterz Turtle Dog Toy by ZippyPaws for its multiple entertaining functions. This is a perfect flier, floater, squeaker. stress-reliever.
The toy has a round shape, is made of soft material, and has squeakers inside, which produce sounds even when a dog flying disc is wet. Play with your canine and enjoy your fetch game in the park, on the beach, or in any pond or pool.
A funny stuffed head is attached and may come in different characters.
West Paw Zogoflex Zisc Dog Flying Disc
West Paw Zogoflex Zisc Dog Flying Disc is an excellent compromise between hard plastic dog frisbees and soft nylon ones.
Made of pliable non-toxic, PBA-free material, it ensures long high fly, and gentle teeth touch. Thus, it is comfortable to grab for a pet parent and safe for a pooch. She enjoys not only toy gliding, but also its floating in a pool or lake. Zogoflex Zisc Flying Dog Disc is resistant to scrapping and may stand the tug-of-war game.
Two size options are perfect for different breeds. Choose a smaller 6.5'' unit for a smaller pup. It is also thinner and weighs less. Another variant is 8.5'' matching bigger canines.
Starmark Easy Glide DuraFoam Dog Flying Disc
Easy Glide DuraFoam Dog Flying Disc by Starmark is a perfect toy for starting jolly exercises.
Being soft and light weighted, it is good for training purposes. A flying toy is made of a special safe foam material. It is long-lasting, flies high and glides in the air. The toy may be used as a dog water bowl in trips to parks or beaches. It also floats in the water, so use it in any pool or pond.
No special skills or physical efforts are required to toss it. A unit is attractive and visible for a pup and her owner in the forest, grass or water surfaces.
Ruff Dawg K9 Flyer Dog Disc
Ruff Dawg brand offers K9 Flyer Dog Disc as a new generation of durable dog frisbees with excellent balance and distance characteristics.
The throwing dog toy is rugged, pliable, resistant to punctures. Rubber material it is manufactured of, is non-toxic and causes no harm to dog's health.
6.5'' diameter is a smaller frisbee for small and medium dogs, 9.5'' size is for big breeds. The colors are various, but all are attractive and funny. This K9 Flyer Disc does not float, so avoid chasing game close to water.
Chuckit! Fetch Flight Dog Toy
Fetch Flight Dog Toy by Chuckit! ensures multiple hours of exciting fetching games.
This toy is made of a sturdy safe rubber material in a pyramid shape. A small hidden sail in its construction allows a unit gliding in the air providing longer and higher flight distance. Its bright exterior colors won't be hidden by any landscape.
The dog flying disc is comfortable for a pup of any breed and life stage, with its 2'' height, 9.5'' width, 10.7'' length.
Buckle-Down Wonder Woman Flying Dog Disc
Wonder Woman Flying Dog Disc is produced by Buckle-Down and licensed by DC Comics.
This stylish unit is a perfect option for any canine to demonstrate her superhero qualities in running, catching this frisbee for dogs. The material it is manufactured with, is high quality durable nonabrasive plastic, which doesn't cause any damage to pup's teeth and gums.
Bright colors make it visible. The size is 9'', which is suitable for medium and large breeds.
GoughNuts 9.5″ Flynut Dog Toy
Description for this block. Use this space for describing your block. Any text will do. Description for this block. You can use this space for describing your block.
Flynut Dog Toy by GoughNuts is designed for easy tossing and fetching. Materials used in its construction are reliable, safe and ensure long lasting life.
The product is not intended for power chewers. The 9.5″ diameter of the dog frisbee toy is good for medium dogs. Rounded rims and pleasant to touch rubber is comfortable to grab.
Fetch for Pets Star Wars Yoda Dog Frisbee
Description for this block. Use this space for describing your block. Any text will do. Description for this block. You can use this space for describing your block.
Star Wars Plush Dog Frisbee is a funny plush toy by Fetch for Pets, perfect for flying and chewing.
The design of this durable dog frisbee is extremely sturdy. It is made of soft polyester, has no sharp corners, plastic objects or other hazards. Thus, it may be used everywhere in the open air without danger of hitting somebody. Aside from using a toy as a dog frisbee, its rope handles allow practicing tug-of-war, or toss and fetch game. Your pooch will be eager for daily training and playing.
Its 9'' size is suitable for middle breeds. Spot clean it after a unit gets dirty.