Even if you consider grooming services to be too expensive for your budget and not so necessary for your dog, there is still good news for you. Firstly, you can take care of your pet's hair at home, and secondly, you can really save a lot of money by doing it yourself. The only thing to do is to choose the best scissors that will achieve even better results than those of the professionals. In this article, you will get a complete guide on how to groom a dog at home with scissors as well as the top brands that offer the best solutions.
Top Dog Grooming Scissors
Wondering what brands have the best tools on the market today? Next, you will discover the most reliable and the best grooming shears that have high ratings, affordable prices, and lots of positive customer reviews.
ConairPRO Dog Rounded-Tip Shears
Editor's Choice
These scissors are made of Japanese stainless steel and the best dog grooming shears for the money. This model is available in different sizes to find the perfect fit for your pet based on your breed size. The round tip scissors ensure safe handling as this reduces the risk of injury.
For this reason, this tool can be used to trim the face and ears. Please note that these scissors are a versatile solution for cutting all over the body. The handles are designed in such a way that the hands do not get tired during prolonged use. All users are satisfied with this product and note the ease of use and high-quality result.
Pet Magasin Dog & Cat Grooming Scissors with Round Safety Tip, 2 pack
Runner-up
Such dog grooming scissors sets provide the owners with everything they need to get professional grooming from the comfort of their home. The kit includes two pairs of scissors with which you can cut off the hair and then achieve a hairstyle simulation.
Sharpened scissors allow you to trim the thickest fur and elf-locks. The second scissors are dog grooming thinning shears and have teeth that will help to achieve an even cut of the coat. The soft handles of the scissors allow you to work with the tool for a long time. All scissors are made of stainless steel which guarantees their long service life.
Andis Premium Thinning Shear, 6.5″
Best thinning shears for dogs
If you are looking for a pair of scissors that will help you tackle thick hair, then such professional dog grooming shears will help you tackle that hair quickly. These scissors are ideal for trimming around the eyes and ears. They are made of stainless steel and are suitable for all breeds and sizes of dogs.
Also, the tool is available for left and right-handers. The dog thinning shears will help to thin the coat and achieve precise length in delicate areas of the body and muzzle. Thinning scissors have 28 knives and will help to make your hairstyle precise. Users report that they are easy to use and provide professional results.
Andis Premium Curved Shear, 8″
Best curved scissors for dog grooming
If you need a tool that will allow you to model a haircut and create your dog's hairstyle, then these scissors are one of the best options. The curved scissors for dog grooming allow you to easily access ears or muzzle. These scissors are especially suitable for clipping poodles and other dog breeds that have curly coats.
In addition to the delicate areas, scissors will help to trim the entire body of the dog. The scissors are available in both right and left-handed versions. The scissors are made of stainless steel and have comfortable handles that provide comfortable work with the tool. They come in plastic packaging that can be used later for storage.
Pet Magasin Professional Dog Grooming Scissors Set
Best professional dog grooming shears
If you want to use a professional product, then this dog grooming scissors set is what you need. In addition to the cool design and specialized kit, these professional dog grooming scissors allow you to achieve professional results with ease. The first scissors in the set have a smooth blade to cut the fur on the body. The second smaller scissors have micro-serrations to work on the face, legs, and ears.
Therefore, it is a one-stop solution for a complete fur trimming procedure. The scissors are made of durable Japanese steel that does not corrode. So these scissors will serve you for a long time and will allow you to replace professional care.
What Features to Consider When Buying Dog Grooming Scissors
There are several factors to consider when choosing a pet scissors tool for grooming pets. Avoid using scissors that are not designed for dogs. It is better to give preference to specialized tools. Here are the main characteristics to consider:
Scissor type: Today there are several variations of the tools that are designed for different purposes. For example, there are universal tools that are designed for cutting the whole body. Some tools will allow you to create different haircuts. Also, when choosing products, you need to take into account the breed of the dog and the type of coat.
Tool size: Another important factor is the choice of the size of the scissors. For example, 4-inch scissors are designed for cutting hair in the area of ​​the muzzle and ears. And 6-7 inch scissors for cutting small dogs. The following sizes are suitable for procedures with heavier coats and for clipping coarse coats.
Quality of material: It is recommended to give preference to scissors made of stainless steel. Also, choose high-quality grooming shears so that the scissors will last you as long as possible.
Handles: Surely you know which scissor handles you will be comfortable to interact with. Iron handles are suitable for such scissors with which you will not work for long, as your hands get tired with such models. If the haircut procedure will take a long time, then it is better to choose models with rubberized handles.
FAQ
Below you will find answers to the questions that are most common among those who want to practice grooming at home. The following tips will help you choose the dog scissors that will help you achieve the desired result.
How Do You Groom a Dog With Scissors?
Before starting the clipping procedure, make sure that the product is in good working order, and the blades are not blunt. When cutting with blunt scissors, you will not be able to perform the procedure efficiently. You should also do this procedure after you wash your pet, and the coat is completely dry. Only in this case, you can start the procedure.
How to cut dog hair with scissors? Experts recommend starting from the neck of the dog and keeping the scissors parallel to the skin at all times. Also, do not point the scissors directly at the dog to avoid injury.
After the neck, start working the entire body, and then you can proceed to the legs, tail, and muzzle. Don't forget to comb the coat while clipping. Remember to match the trimmed coat with the coat you have not finished yet to cut.
What are the Types of Dog Scissors?
In the arsenal of every grooming specialist, there are about 5 types of pet grooming shears. Of course, for home use, there is no need to stock up on all these types, but you should definitely get to know their specifics. The 5 main types of grooming scissors include:
Straight: these are universal clippers that can be selected based on the characteristics of the coat and breed. This type of scissor allows you to trim all areas of the body and cope with a heavy coat.
Curved: These grooming scissors for dogs have a rounded tip that allows you to trim the face, paws, and tail in a safe way.
Thinning: This tool allows you to tackle thick coats and hard-to-reach areas. They are also used to model haircuts.
Blender: These clippers have one serrated side. They will cut the coat evenly and is especially suitable for short coats.
Chunkers: These snips allow you to deal with thick and curly hair. They are especially relevant when it is very difficult to get to the skin.
What Are Thinning Scissors Used for in Dog Grooming?
These scissors look almost the same as the hairdressers use. As for their purpose, this tool will help to cope with a heavy coat. This type of scissors is ideal for those who want to model a haircut and do grooming on an equal footing with professionals.
Specialists always have such grooming scissors, as they allow you to give different forms to the fur. They are quite suitable for home use and are easy to handle, even for those who do a haircut for the first time.
What Are Straight Scissors Used for in Dog Grooming?
This type of scissors is the most common tool used in home haircuts. They come in different sizes depending on the dog's coat type. For example,
8″ scissors work well for curly coats.
Scissors of 6-7 inches are suitable for small dog breeds.
The smallest 4 "scissors are suitable for trimming such areas as feet, ears, and eye area.
So, this type of scissors is a must-have for every owner, since they are universal for cutting the whole body. Do not forget to pay attention to the size of the scissors based on the characteristics of the fur and breed.
Why Do Dog Groomers Use Curved Scissors?
As you already understood, each type of scissors has its own purpose. This also applies to curved scissors. They are used to trim the face and paws, and at the same time give the coat a rounded shape.
This type of tool has a curved tip that ensures safety when cutting. It can be dangerous to use straight scissors when cutting the face and legs, as these places are more unsafe. But with curved scissors, you can make a quality haircut in such hard-to-reach places.
Do You Groom Dogs Wet or Dry?
When clipping dogs, a completely different approach is used than when clipping people. That is, it is recommended to trim the coat after the pet is washed and completely dried. After that, you can start cutting your dog's hair. It is recommended to trim only the ends of the coat and use a sharp tool. If the scissors are blunt, there is a risk that you will not only ruin the coat but also cause unpleasant sensations to the dog. Therefore, it is better to start cutting only with serviceable tools and cut on dry wool.
What Are the Best Quality Scissors?
There are several criteria that a quality tool should have, regardless of brand and type. The main characteristics are the following:
Material: It is recommended to give preference to scissors made of stainless steel. Some brands cover the instrument with titanium. It is also worth paying attention to the Rockwell rating, which displays the hardness of the material. This information is usually displayed in the product description. Accordingly, the higher this indicator, the stronger the tool will be.
Removable rings: Of course, this is not a determining factor, but the presence of such rings will provide a comfortable interaction of hands and use of the tool. This is the decisive factor when you need to trim more than one dog.
Size: Be sure to consider the size of the products, as this will play a decisive role in how quickly, efficiently, and comfortably you cut the hair.
How Do I Clean Dog Grooming Scissors?
In order for the pet grooming scissors to serve you for a long time and not go out of service ahead of time, it is recommended to clean them after each use. The first thing to do is to shake off the hair that remains on the scissors, and also remove the hair from the bend of the scissors. To do this, they must be fully opened and the hair may be removed with a brush. You can use either a makeup brush or an old toothbrush.
Next, you need to treat the tool with a special solution that is designed for cleaning scissors. You can use either a specialized product for dogs or the one used by hairdressers. Remember not to use water for cleaning, as most scissors are made of a material that is not recommended for washing in water.
Can You Use Human Scissors on Dogs?
This question is very popular, and even many dog ​​owners try to verify it personally. However, it is not recommended to use regular scissors unless you want to broke both the scissors and harm your pet's coat. The point is that specialized dog shears are sharper because they are designed to work with thick and tangled coats. Human scissors are duller and will deteriorate quickly. Also, it can damage the dog's coat. You may also be faced with the fact that the wool gets entangled in the scissors and this will create discomfort for your pet.
Other Dog Grooming Scissors
If you are one of those who are used to choosing products paying attention only to the best ones, then below you will find several options that are also worthy of your attention. We decided to compare best dog grooming scissors. All products are selected based on quality and positive customer feedback.
Andis Premium Straight Shear, 8″
If you are looking for a tool that will allow you to cut long sections of fur, then such dog hair cutting scissors will be a real rescue. These scissors are versatile for a complete haircut. By the way, this model is available for both right and left hands. It is suitable for all breeds of dogs regardless of their size.
The scissors are made of stainless steel and have a comfortable handle so that your hands do not get tired during the procedure. Users note that this tool is convenient to work with, even if you have never done grooming. You can achieve a professional result without leaving your home.
Fromm Premier 111BC Pet Shears, 6.5-in
These best dog grooming scissors are made in the USA, which guarantees high quality. The scissors have slightly curved tips with round. Therefore, this design is a good choice for beginners.
Rounded tips protect in case your pet takes a rough action. And the curved shape will allow you to get to delicate places and it is even suitable for cutting the face. It is also suitable for dealing with thick and hard coats. The scissors are sold with an attached stand.
Master Grooming Tools Pet Nail Scissor
The clipping procedure for most owners is like hard labor. But this is the best dog grooming shears will save both the owner and the pet from unpleasant sensations. The angled shape of the scissors allows you to quickly and safely cut the nails. Scissors made of stainless steel covered with vinyl.
It is worth noting that these scissors are suitable for trimming small nails due to their size. As for the breed, it is a good product for small to medium-sized dogs. The scissors have handles that provide comfort during the procedure.
Sharf Gold Touch Rainbow Thinning Scissors
Such dog grooming shears set will allow you to do even better procedures than in a grooming salon. Besides their high quality, these scissors have a cool design – they have a rainbow reflection.
The scissors themselves are made of Japanese stainless steel. This kit includes thinning shears for dogs and straight scissors. This means that you can not only cope with thick fluff and coat, but you can complete a haircut. Also, these tools come with a case so that you can comfortably store them.
Fresh Shears Mehani Straight Pet Shears
This model is the ideal tool for owners of small dog breeds. The scissors are handcrafted from Japanese steel. Even though they are not manufactured in the USA, they are of high quality.
Please note that this tool is not intended for use with heavy wool but is a deal for fine coats. As for the hardness of the tool according to a specialized scale, their indicator is 58-59. The special design of the handle allows you to work with these scissors for a long time without feeling discomfort and fatigue.
Fresh Shears Komo Curved Pet Shear
This model belongs to premium class instruments, and they are made of Japanese steel as well, which many brands cannot boast of. Interestingly, this instrument is hand-made, which is also a significant indicator of excellent quality. On the hardness scale, these scissors have 58-59, which is a good indicator.
This brand presents the instrument in several sizes. The scissors have a bend that allows you to get into hard-to-reach places without safety risks. The scissors have double handles for comfortable interaction.
Top Performance 36 Tooth Dog Shears
Often, a haircut with a machine does not give the desired effect, then dog grooming scissors from this brand are used. They are made of stainless steel, which is a guarantee that such a tool will serve you for a long time.
They will allow you to improve a haircut in those areas where the grooming machine did not cope with its task. The scissors are designed so that the hand will not get tired from prolonged use. As for the purpose, they are suitable for large and adult dogs. These scissors are manufactured in the USA, which is a guarantee of quality.
Pet Magasin Professional Thinning Scissors with Toothed Blade
This product is one of the best thinning shears. The model is made of stainless steel, which guarantees a long service life. This tool will allow you to simulate a professional haircut at home, as well as help to cope with fluff and tangles.
Please note that these scissors are suitable for working on delicate areas. The scissors are sharpened, so they can be used immediately after purchase. Also remember that this tool is for thinning the coat, not for general haircuts. These scissors have 28 knives, which will remove excess fluffiness and the density of the coat.
Hertzko Angled Blade Dog, Cat, & Small Pet Nail Scissors
In addition to clipping the coat, it is important to pay due attention to your pet's claws. For most pet owners, this procedure is accompanied by the fear of hurting the pet and fear of the pet. This grooming shears for dogs overcome all these problems as they have curved tips but sharp blades.
The model is designed in such a way that you will see where you will cut, but even if the pet twitches, the curved tips will provide reliable protection. The special handle provides a comfortable interaction. Also, this tool is suitable not only for dogs but cats and rabbits.
Le Salon Essentials All-Purpose Trimming Dog Scissors
To cope with hair in the area of ​​the eyes and ears, you simply cannot do without this model of scissors. However, such dog grooming shears can be used in other delicate places too. The model is equipped with protective tips, which means that this is a good model for those who find it very difficult to cope with the haircut of their dog.
This tool is universal, regardless of the breed. The model is equipped with instructions for use, which is very important for beginners. It should be noted that if scissors are used incorrectly, they may not fulfill their function. Therefore, be sure to read the rules provided in the instruction.
Conclusion
As you can see, there is even no need to overpay for grooming services. You may easily groom your dog at home but make sure to have all the necessary equipment for this. In this ultimate guide, we have listed the best picks for dogs scissors and shears so feel free to find what you like and catch the best deals.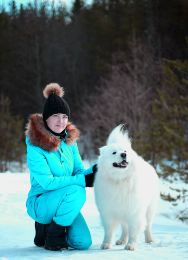 Vanessa Vilchek is one of our favorite authors. She is a real dog person, she was introduced to her first puppy at the age of 3 and since then she would rescue every pooch she met. Today all care and entertainment issues are a piece of cake for her, and we are really proud of having her on board. If you have any questions, feel free to ask in comments below or on her facebook page.