While some dogs react totally fine to the nail clipping process, other pups get very stressed out around a nail clipper. If you have ever accidentally chopped off more than needed and caused your dog's fingernails to bleed, there is an even bigger chance that your dog will try to avoid getting his nails clipped.
A popular solution to this problem is a dog nail grinder, which safely and efficiently trims your pup's nails without any distress or painful sensations. Here are our favorite dog nail grinders you can buy today plus a detailed pet nail grinder buying guide.
Casfuy Dog Nail Grinder
Editor's Choice
The Casfuy device is a professional dog nail grinder that is also perfect for everyday use at home. It is equipped with a diamond bit grinder for the most comfortable and safe nail grinding procedure. This pet nail grinder is available in two colors, is cordless, and comes with a rechargeable battery that can give you 2 hours of use.
One of the reasons why we consider the Casfuy device to be the best dog nail grinder available right now is that it comes with 3 grinding ports and two speed settings, which allows you to find just the right speed and intensity of grinding for every dog.
I-pure items Dog Nail Grinder
Budget Pick
If you want your new dog nail grinder to have all of the latest features without overpaying for the brand or exquisite design, your ideal option is the I-pure nail grinder. Designed for safe and painless trimming of the nails, it will work great even for dogs who are easily scared thanks to the extra quiet motor.
With a choice of 3 size ports and two speed settings, you will easily discover the best mode for your pup every time it's time to trim those nails. The built-in battery of this charger takes just 1 hour for a full charge and can give you up to 4 hours of work.
Pecute Dog Nail Grinder
Safety and ease of use should be your top priorities when shopping for the best dog nail grinder, and that is exactly what you will get with the Pecute dog nail grinder. Equipped with 2 speed settings and 3 size ports, this pet nail grinder can be used on all dog breeds from extra small to giant.
Available in two stylish designs, the Pecute dog nail grinder comes with a quiet motor perfect even for the most anxious pups. And with the charging time of just 1 hour and up to 4 hours of use from a single charge, you will definitely enjoy using this device.
Peroom Dog Nail Grinder
Peroom sports a more futuristic design than other pet nail grinder options on our list, but its functionality is similar to the nail grinders we reviewed earlier in many ways. The Peroom dog nail grinder has two speed settings and two grinding wheels of different sizes to accommodate each pet's needs.
The motor of this grinder ensures a low noise level and produces a slight vibration, which may help soothe the dogs who get anxious in the process. The device can be charged with a USB cable and comes with a charging indicator that tells when the grinder is fully charged.
Pros and Cons of Using a Dog Nail Grinder
Soon after it first appeared in the market, a toenail grinder for dogs became incredibly popular both with individual dog owners and professional users such as groomers and veterinarians. And while using a dog nail grinder has plenty of pros, there are also some cons you should know about:
Pros
If you have ever missed the mark and clipped your dog's nail at the quick, causing some bleeding and a painful sensation, you can rest assured your dog won't forget it any time soon. In case you are having trouble every time you want to trim your pup's nails, using a nail grinder is the most stress-free option for everyone involved.
Many dog breeds, especially large dogs, have extremely thick nails that may not be easy to handle with a regular nail clipper. Luckily, this is an easy challenge for an electric dog nail grinder.
After years of clipping clear or light-colored dog nails, you may find it easy to locate the necessary spot to clip. Dark nails, however, are a different story — even experienced groomers make mistakes with dark nails once in a while. A professional nail grinder allows you to go slow on each nails, lowering the risk of causing bleeding even with black nails.
Clipping your dog's nails without filing them causes them to have sharp edges, which can be damaging for the floor, furniture, and even people enthusiastically greeted by your pup. A nail grinder, on the other hand, leaves behind smooth and rounded edges.
Cons
If time is an issue and you want to finish the procedure as soon as possible, you should know that it can take you up to 3 times more time to grind your dog's nails than it would take using a standard nail clipper.
Many dog nail grinders feature quiet motors, but even the quietest motor will still produce a noticeable sound when being used. This sound may prove to be another trigger for a dog who is already scared of the procedure.
When trimming your dog's nails with a rotary movement, a nail grinder will inevitably produce an odd smell. If you are sensitive to this side effect, either move the operation outside or use a mask to limit your exposure.
Over time, the disc in the nail grinder will need to be replaced, whereas you can use a nail clipper for years if you sharpen its edges once in a while.
Features to Consider When Choosing A Dog Nail Grinder
The good news is that you are unlikely to feel lost when choosing the best dog nail grinder for your needs, as many of the options available in the market today share lots of characteristics. However, there are still a few features you should always consider:
Even though your dog is the one getting his nails trimmed, you are the one who will be doing all of the work. Look for a dog nail grinder that is easy to hold and to operate. You will be holding your dog's paw in one hand, which means you will only have the other hand to control the grinder.
Many dog nail grinder buyers intend to use it on multiple pets, whether it's for more than one dog in your household or professional use. If that is your case, make sure you buy a versatile nail grinder that has multiple speed settings, port sizes, and possibly even grinding discs.
A dog nail grinder will inevitably produce some noise, but while some dogs will have little to no reaction to the sound, some dogs may freak out. Look for a grinder with a quiet motor — this will make the process less stressful for your dog and yourself.
While it's usually easy to control your progress with a dog nail grinder, especially when you are working with clear or light-colored nails, but it's always better to have a grinder that is equipped with a safety guard. Using this grinder, you will never go too far when trimming the pup's nails.
Most of the dog nail grinders today are battery-powered, which makes them easily portable and convenient to use. However, if your dog's nails are particularly thick, you may not get enough power from a battery-operated grinder. A nail grinder with a cord may not be as portable, but it will easily deal even with the most challenging nails.
Tips on Grinding Your Dog's Nails
We have already established that grinding a dog's nails can be a stress-inducing and traumatic experience for everyone involved, but it doesn't have to be like that. With these tips, your next nail grinding session will be as smooth and safe as possible:
For the first few weeks since getting a dog nail grinder, it's best not to use it for its direct purpose. Instead, you should take the time to get your dog accustomed to the device and its noise.

For the first few days, simply turn the grinder on and off to show your dog how it's working. Follow the demonstration up with some treats. Then gradually increase the working time and continue praising your pup with treats, but only do it if the dog is comfortable enough near a grinder.

Knowing when it's time to trim your dog's nails is easy: when you hear a clicking sound while your dog walks or jumps around, or the pup's toenails are visibly touching the ground when he's standing up, it's time for a trim.

Find the ideal position for your nail trimming session. Most dogs prefer to stay seated during the procedure, and this position is very comfortable for the human as well since it allows you to comfortably hold the dog's paw without any extra effort. You can also hold smaller dogs in your lap on their back.

The safest and most effective way to hold a nail grinder is 45 degrees below the quick. That way, you will be able to control how much of the nail you are trimming and will avoid accidentally damaging the quick.

You should only apply a working nail grinder to your dog's nail for up to 2 seconds at a time before turning it in for another couple of seconds. The device and especially the grinding disc can get very hot very quickly, which, in turn, can burn your pup's nails.

Constantly praise your dog for his patience and good behavior, supporting your praise with tiny treats throughout the process and a bigger treat when the nail-grinding session is over to make the experience more positive for the pup.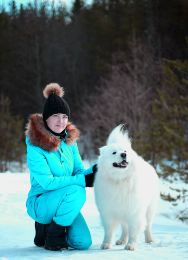 Vanessa Vilchek is one of our favorite authors. She is a real dog person, she was introduced to her first puppy at the age of 3 and since then she would rescue every pooch she met. Today all care and entertainment issues are a piece of cake for her, and we are really proud of having her on board. If you have any questions, feel free to ask in comments below or on her facebook page.