The right place for your dog to relax, the key to its longevity and good health. Quality sleep and relaxation are necessary for any living creature.
Choosing a dog pillow is no less important than choosing a feed. When it becomes necessary to buy a pillow, you should take into account several points on the proper selection and installation of a dog's place.
With the purchase of a dog pillow, you can finally forget about the independent arrangement of the place with the help of improvised materials.
Check out our list of best dog pillows on the market!
Majestic Pet Products
Editor's Choice
The fleece top is soft, thick, and feels durable; the bottom is a quality twill with a nice shine to the fabric.
This cover makes no doubts it will last for years. Based on several reviews, we recommend to pick the beds up every few days and shake them to fluff up the stuffing
This tip may not be necessary to keep the depth, but what is known for sure – it won't hurt.
By the way, regarding the size aspect, whether you have a 60 pounded pet curled up it will take up half the width
When he stretches out lengthwise, it will take up the full length.
Carolina Pet Company Sherpa Puff Ball Pet Bed
This is the pillow dog bed for your beloved pet if he likes to "nest". It is so soft and cushiony; they can sink right in. As far as you can wash the cover and fluff the insert stuffing every couple of weeks this makes this bed a great choice. But be aware that it does require periodic fluffing-up to keep its shape.
Despite the fact that the Sherpa material sheds a bit, we can't really make any complaints because this bed makes dogs really relaxed and happy.
Furhaven Pet Dog Bed
Give your dog or cat a delicious treat with this large dog pillow.
Do you wish your favorite furball to snuggle in for sweet dreams? So why not to take a look at this dog pillow featuring huge bolster pillow edges and luxuriously soft swirly faux fur fabric.
The bed's initial goal is to embrace your pet in soft, insulating comfort. What makes it so? The fact that it is stuffed with high-loft recycled fluffy filling.
This material is easy to keep smelling fresh, also tonal faux fur fabric in a swirl pattern is soft on paws and noses.
In order your machine to wash the cover simply unzip and remove the filled liners. The pet bed liner is zippered too. Convenient refills as needed are a great bonus here.
Choose your best among various sizes and 'flavors' to absolutely fit your loved friend's comfort needs and of course your home decor!
Comfort & Relax Pet Bed
This is a nice big bed, and what makes it so is the fact that you can wash the outer bed part. All the foam stuffing is contained in a separate zippered bag that you can take out at any time.
Be aware that you won't have an ability to wash the inner shredded memory foam. However, the outer cover is removable and washable. You can clean it in the washing machine or hand wash.
How To Find The Perfect Dog Pillow
Before buying a couch, measure your dog in its favorite sleeping position. Pay attention to how your dog loves to sleep – stretches out or curls up in a ball. If the animal is sleeping, stretching out sweetly, it is necessary to measure the distance from the head to the croup – with a margin for paws. The larger the pet, the more spacious the pillow should be in order for the pet to fully fit – from the tip of the nose to the very end of the tail.
If the pet likes to curl up, hide its nose and dig into pillows, you need to do dog measurements in this position.
Forms and models – there is an ideal pillow for everyone. The shape of the pillow should be chosen based on the age and needs of the pet, his habits, and features of temperament.
Observe whether he digs, gnaws the litter, behaves like a well-mannered darling, or can sometimes be embarrassed, having described himself.
Based on this, choose the right model or several at once – for home and travel. The shape of the pillow can be round and oval – for the "bagels" who like to twist so that it is not visible where the head is, and where is the tail.
Important Features To Consider
The key to a long pillow service is strong, wear-resistant fabrics, as well as a filler that withstands frequent washing and quickly restores shape. Pay attention to fabrics that are:
Furniture matting, velveteen, flock – the best options with an abrasion cycle from 35 thousand to 80 thousand according to Martindale. This parameter indicates the number of cycles, such as digging paws and while maintaining a neat appearance of the fabric coating.
Calico due to their naturalness in themselves are good fabrics, but not for sun pillow and houses. They wear out very quickly, become washed out, lose their color, and look messy after a dozen washes.
Cheap synthetic fabrics in their pure form are far from the best options. They can serve longer than the same calico, but caring for the sunbeds from them is continuous flour for the owner (it sticks a lot of wool) and discomfort for the animal (constant discharges of static electricity, especially in the sensitive nose of the animal is an extremely unpleasant thing).
Some pets are very fond of plush and faux fur with a long pile, which is so nice to dig in. But such fabrics are suitable only for "bare" breeds because they collect too much wool on themselves.
Fabric color is a rather aesthetic category. Detailed studies on how color affects the condition or mood of the dog are absent.
This is a practical point. If you choose a pillow with a fabric in the tone of the animal's coat, rather than sharply contrasting, the coat will be much less noticeable.
But this does not mean that such a pillow should be cleaned less often. Shorthair, shedding little dogs were more fortunate in color selection. For them, you can choose bright colors.
The filler deserves special attention. This is the case when the natural origin of the material can serve poorly – parasites often turn on in mattresses – mites and other evil spirits.
Conclusion
Today, the manufacturer cares for the comfort of our four-legged friends in the best way, releasing a lot of convenience for them.
A wide variety of all kinds of soft places and sunbeds. Even beddings with heating are produced, there are padded stools on which the dog can rest and feel free and calm. These are just a few examples from the huge range of soft sunbeds that exist on the market today.
It is necessary to choose such accessories, taking into account the dimensions of the animal, its habits inherent in one or another breed, of course, age, too.
But there are manufacturers who have been working at the zoo for a long time and are careful to take care of their pets, releasing unique soft spots. For example, today, there are companies that lead the market for pet products, selling only high-quality products. Over the decades, they have carried a well-deserved reputation as the best manufacturers of soft seats made of the best quality materials.
For example, soft bedding pillows made of ecological leather is the favorite brand of thousands of domestic dogs, which is in great demand in the market. Their feature is a waterproof surface and a very dense fabric. In the winter season, due to this material, the dog will be very warm, and in the summer heat fresh and comfortable due to the special microclimate. The litter can be easily washed in a washing machine at a certain temperature. It will be very convenient for the dog to sleep on such pillows, as they clearly and accurately accept the body formulas of the animal.

There are many colors and shapes of pillows and bedding for dogs that fit perfectly into any room interior. There are options for restrained pastel colors. There are very bright and extraordinary options. All of them are made from natural materials that are completely safe for the health of the dog and others. Cotton is treated with non-toxic paints; the filler in the pillows is very high quality and durable. Pillows and bedding for dogs will satisfy even the most demanding customers.
And the only right way to follow these up-to-date products and provide your loved one pets with them is a thorough adhering to the tips we offer you in our guides.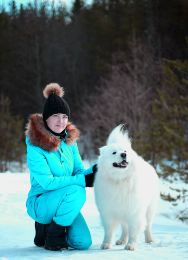 Vanessa Vilchek is one of our favorite authors. She is a real dog person, she was introduced to her first puppy at the age of 3 and since then she would rescue every pooch she met. Today all care and entertainment issues are a piece of cake for her, and we are really proud of having her on board. If you have any questions, feel free to ask in comments below or on her facebook page.