It is necessary to use dog poop bags nowadays. While one pooch produces up to five hundred pounds feces a year, dogs' number is increasing constantly. Their excrements unlike those of cows' poop, cannot serve as fertilizers, and are of no use for land cultivating. Moreover, it is pollutant due to multiple bacteria, parasites, larvae, which may cause intestinal diseases, salmonellosis and bunch of other infections via dirty hands and paws, or if getting in a water supply system.
So, collect your four-legged friends' "gifts" and discard them properly. Thus, you will avoid your neighbors disapproving glances when leaving behind piles with your dog poop. The most hygienic and quick way to do this, is to use pup's poop bags.
Top 5 Poop Bags
Earth Rated Dog Poop Bags, 13'' x 9''
Best overall
Our top choice is Earth Rated Dog Poop Bags. Amazing experience of parenting a pup will not change when cleaning and collecting poop after your pet with this product.
Bags ensure complete leak-free and odor-free safety, being offered in unscented and scented with lavender odor variants. Their thickness allows avoiding unpleasant feeling when collecting fresh waste.
They are designed as refill rolls for leash dispensers. If your dog is big, their dimensions still will be sufficient for its "activity". The product is offered in bulk of boxes sets (the quantity of rolls is 8 or 18, each roll is 15 bags).
Earth Rated is a series of grooming products for pups. Their production process is friendly for the nature and involves materials, which have been recycled.
Pogi's Poop Bags with Easy-Tie Handles, 14.5'' x 7''
Runner-up
A perfect variant is Pogi's Poop Bags. This product with Easy-Tie Handles is our number two choice.
Big enough and scented with fresh powder dog waste bags are sturdy, as well as safe from leaking. They offer a prefect protection from a messy job, which will take few seconds. Handles provide reliable shut tying and disposing.
The product comes in 300 or 900 items boxes, acting as dispensers for convenient grab.
Pogi's Poop products for pets protect nature. Bags and boxes are produced of recycled materials.
Downtown Pet Supply, Dog Pet Waste Poop Bags, 12.5" x 8.5"
Budget pick
We have chosen this item as a budget pick due to multiple benefits.
These reliable bags withstand up to 11 lb. content weight and are quite big. They are free of fragrances and do not let the liquid substance get out.
These cheap dog poop bags come in sets of 11 multicolored rolls, each comprising of 20 bags. Dispenser for containers is included in the set. With an additional clip, it may be easily adjusted to a dog's leash. There is no strain to separate a perforated bag, grab dog's excrements, and shut it hermetically.
Full containers should be discarded in compliance with the municipality rules of your area.
PET N PET Earth-Friendly Doggie Bags 13'' x 9''
Best biodegradable
Parenting a big dog means spending much time in the open air. So caring about environment is obligatory.
PET N PET Earth-Friendly Doggie Bags, biodegradable packs, is the best choice for a dog waste bag. They subject to composting, rather strong and free of leakage. Hygiene is safely observed. Moreover, they are supplied in rolls, and may be detached without strain and refill other dispensers.
Doggie poop bags are offered in bulks of 1080 units.
PET N PET is a series of canine products produced from nature friendly materials in compliance with corresponding regulations.
Gorilla Supply Dog Waste Bags, 12″ x 9″
Best dog poop bag with dispenser
Our choice for Best dog poop bag with dispenser is Gorilla Supply.
They have medium dimensions, for average pet poop. Bags are detachable without any difficulties, do not let the content out, come in rolls. They are not scented but conceal bad outside smell perfectly.
Each roll comprises 20 bags. Convenient leash dispenser is offered for every 50 rolls. 1000 items bulk offer may vary in colors.
No waste is left after bags utilization, as the rolls are coreless. They are eco-friendly and EPI additive.
Guide (Frequently Asked Questions)
Why you need dog poop bags
You may have a big dog, or you may be a parent of few pups, you may walk with your canine friends in parks, forests or along the street, your pooches poop outdoors. Moreover, according to some municipalities' regulations and your conscience, these "gifts" must be removed and discarded properly.
The poop it a strong pollutant, it contaminates environment with parasites, bacteria, infective larvae, salmonella etc. After rains, they get with fallouts into runoffs, thus polluting water supply.
Using poop bags for dogs is the most effective, quick and easy method. Some bag producers offer special dispenser. You may also buy it separately. It may be connected to the leash by a special clip, allowing you to perform this gross activity in the most hygienic way.
What makes a good poop bag
Substitute a usual plastic bag for collecting and discarding dog's feces with a special dog poop bag. It is more convenient to pick up excrements; helps to avoid stress and protect nature.
The bags are of a perfect quality in case they are:
free of leakage: all seams are connected reliably, it is easy to tie;
detachable without strains: there is no need in additional movements to tear one unit. Everything is done within an instant;
shut easily: stripes or handles may be bind together, thus avoiding leakage and bad smell;
environmentally friendly: units from biodegradable material will be less polluting comparing to plastic.
Some owners prefer thick material of a dog poop bag or additional layer of the bottom part, as it ensures proofing from the warm feces temperature, which is not a pleasant feeling.
We appreciate also bags in special dispenser, which may be refilled. It provides not only convenient detaching of the separate pieces. An application is attached to the leash and a full bag may be hanged as well, thus transportation of the full bags to a garbage station is free of unpleasant emotions.
Do biodegradable poop bags work?
There are different opinions about biodegradable bags. However, we collected some facts and you may take your own decision.
Plastic bags are banned in the most countries; they are pollutant due to their long period of degradation (over 500 years).
Biodegradable bags, marked with EPI, means around 6-12 months degradation process, turning a bag into pieces and dissolving then entirely.
There are alternatives to biodegradable ones, such as eco-friendly, made of recycled material (corn, fruits) or paper bags. However, their production means deleting trees, spending much energy and producing much CO2.
Our choice then is biodegradable dog poop bags. They are convenient in operation.
How long does it take for dog poop to decompose?
Animal feces may be preserved long in your backyard or a lawn. Poop may remain visible from one to nine weeks. This period is influenced by such factors as:
a dog's diet;
mechanical impacts;
weather conditions;
season of the year.
What is the difference between biodegradable and compostable bags?
At first glance, two definitions – "biodegradable" and "compostable" are very similar. However, they have some differences.
"Biodegradable"packs or bags are those that dissolve into chemical elements, which they consist of (water, methane) within a definite period. Poops packed in such bags must be discarded as plastic bags in accordance with your municipality laws.
"Compostable" means the following. Bacteria and parasite, which are inside of a poop bag for dogs, will decompose the waste totally. However, this occurs only under special humidity conditions and temperature (over 112°F).
Are dog poop bags sanitary?
Being a strong pollutant, dog poop cannot be fertilizer under any circumstances. It is necessary to collect and discard pup's feces properly. Utilization of dog poop bags is sanitary, if they are hermetic, may be taken out and separated rapidly, and knotted avoiding bad smell. Discard a pack in the corresponding animal waste container to be properly buried.
Do dog poop bags come in different sizes?
Owners of big breeds and several pups may be sure to find extra large dog poop bags for their pets. Bags come in different sizes.
An example of a smaller bag is 12″ x 8″, it is considered to be of a regular size.
A bigger one is 13.8″ x 9.8″ (for collecting poop after rarer large breeds or after several dogs).
Bags may be supplied in boxes and rolls, in various quantities (45-50 units per box), or in bulk packs (up to 1000 per box).
Is it OK to bury dog poop?
Burying dog's excrements is a good option, if you live out of town. Just remember, feces contain parasites, bacteria, larvae in abundance. Soil contamination will continue being invisible. Infection may easily get into a dog's or a host's organism with dirty paws or hands.
So choose a special area far from houses, vegetable gardens and lawns. Dig at least 6'' deep hole and bury dog's feces there.
Can dog poop bags go in green bin?
Dog waste bags are supposed to be discarded. Since the content of bags is contaminating environment, alongside with plastic wrapping or hygienic nappies, it cannot be recycled and processed further, thus it goes in green bin.
Is flushing dog poop OK?
If your municipal sewage system allows, flushing dog poop is the best variant of its discarding. Still, you will need a special doggie poop bag to collect feces outside and bring it home. Some producers offer polyvinyl alcohol bags dissolving in water. However, the pipes in old houses may be clogged by this waste.
How do I dissolve dog poop in my yard?
Rural area is an ideal place to bury dog poop in the most nature friendly way. Special substances (lime, septic, special dissolvers, enzymes) help dissolve feces. However, remember, that spraying these solutions, caustic substances directly on the poop bunch, may cause limb burns and damages.
Therefore, it is preferred transporting poop to the special place of your yard, or making a DIY composting tank to isolate the dissolving area.
Other Dog Poop Bags
Pogi's Poop Bags – Large, 13.5'' x 9''
This Pogi's Poop set is offered in the series pet grooming and nature friendly goods.
The bags are hermetic, they may be proposed even for the largest breeds. They may come with a scent of powder or unscented, however both variants conceal bad smell. Bags come in rolls (10 or 30 rolls in a set, 15 units in a roll), which may be enough for 6 months usage. Roll dimensions will suite many dispensers. This EPI technology product is environmentally friendly.
AmazonBasics Dog Waste Bags, 13'' x 9''
Convenient big bags may be securely tied without any mess. The set comprises bags and a refill dispenser of black color. A special clip will secure dispenser on the leash. Bags for pup's poop serve daily during jogging or walking with pups. Buying them in bulks is money saving. AmazonBasics offers various convenient sets.
Besides, choose between eco friendly dog poop bags (EPI additive) and conventional plastic bags. However, both variants demand that packs must be disposed according to animal waste regulations.
Bio Bag Premium Pet Waste Bags, 13.5'' x 11.5'' (with handles)
BioBag's activity isn't associated with pet products. It specializes in manufacturing of environmentally safe household bags for various purposes (food scrap, takeaway sandwiches, fallen leaves).
These dog waste bags are big, sturdy, are offered in various colors and are designed with and without handles. The packs quantity also varies (50-200 packs); you may choose the most convenient option.
However, these bags are free of plastic. Their material is resin (a product derived of corn, fruits), which is not supposed to deliver any atmosphere contamination by artificial materials and chemicals.
Greener Walker Poop Bags, 13'' x 9''
Greener Walker offers big bags. Despite their sturdy design, they are torn without any strain from the pack. Your messy job will be done quickly leaving time for a pleasant walk with your pup. The rolls will suit any leash dispensers. One pack is enough for 7 months usage (36 rolls), which saves your costs.
Bags are biodegradable; cores for rolls are produced from recycled materials.
Eco-clean Dog Poop Bags, 13'' x 9''
Eco-clean bags for pup waste are offered for pet parents who are concerned about nature.
The procedure takes few seconds to detach a bag from the pack, collect a bunch of feces, make a knot. The hands stay clean during this activity. Big bags are offered in rolls; they are strong enough and their size is suitable for average dispensers. It is provided by ordering a pack of 24 rolls. Moreover, several modifications of sets are available with different quantity and content.
Bags are biodegradable, EPI additive and meet ASTM D695-04 requirements.
Dispense A Mitt Box by Mutt Mitt, 13'' x 9''
Dog poop packs A Mitt Box by Mutt Mitt boast of their increased capacity. The biggest dogs may walk and do their business – the bags will cope with it. A special design offers a roomy bottom pouch. It just takes an instant to separate a bag from a pack, to collect excrement, turn and shut a bag. Everybody is happy.
A cardboard rolls' container with hanging tabs serves as dispenser. The quantity of these biodegradable bags is 200 units in a pack.
My AlphaPet Dog Poop Bags, 13'' x 9''
My AlphaPet Dog waste bags' set comprises 240 and 120 items in a pack. Other variants are unscented (green) units, and with a scent of roses (red and rose). Their regular dimensions suit average dispensers. The product is extremely convenient and hygienic due to enforced bottom, which makes impossible touching by hand and feeling unpleasant substance.
Environmentally friendly material comply with the strict USA, Canada and EU standards, bags are degradable within 90 days and leave no contamination.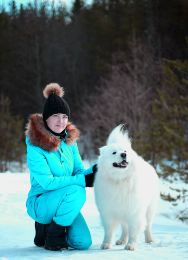 Vanessa Vilchek is one of our favorite authors. She is a real dog person, she was introduced to her first puppy at the age of 3 and since then she would rescue every pooch she met. Today all care and entertainment issues are a piece of cake for her, and we are really proud of having her on board. If you have any questions, feel free to ask in comments below or on her facebook page.