A typical dog's active lifestyle means that plenty of dirt and bacteria gets on their fur and skin. And while dogs are able to groom themselves to a certain extent, it is still the job of the owner to provide the necessary level of hygiene to their pet.
The most popular dog grooming product is a dog shampoo. Dog shampoos are formulated specifically for the needs and various skin conditions of dogs. Here is a list of top rated dog shampoo types plus how to find the best shampoo for your pup's healthy coat.
Honeydew Colloidal Oatmeal Dog Shampoo
Editor's choice
The Honeydew shampoo is created for a wide range of dogs, but pups with sensitive, itchy, and dry skin will benefit from it the most. This shampoo is created with oatmeal, colloidal silver, and lavender, which bring a long-lasting relief for irritated skin and eliminate the unpleasant odor from your dog's coat.
The inclusion of lavender into the Honeydew shampoo has a calming effect not only on the dog's skin, but also on his mood — with this shampoo, even the most anxious dog will keep cool during the bathing session. And with the no-tear formula, you won't risk hurting your pup's eyes.
Burt's Bees for Puppies Tearless 2 in 1 Shampoo and Conditioner
Best shampoo for puppies
If you have little dog grooming experience, you may not think that a conditioner is a necessity, but the pairing of pet shampoo and conditioner can help you maintain your pup's coat in a top-notch condition with little effort. This is exactly what you'll get with the Burt's Bees for Puppies shampoo.
Formulated with buttermilk and linseed oil, this is probably the best puppy shampoo you can get right now. It gently cleanses the pup's skin while also keeping it moisturized to avoid dryness and irritation. Thanks to the neutral pH balance, this shampoo is equally great for puppies and grown dogs, even with sensitive skin.
Earthbath All Natural Pet Shampoo
Best natural shampoo
Many owners choose a natural dog shampoo because of their philosophy of providing only the most natural and harmless products for their household, which includes the family dog. However, there is also at least one big reason to buy the Earthbath All Natural shampoo: it's one of the gentlest cleansers you can find right now.
Earthbath comes in a variety of natural flavours and is completely cruelty free. Its packaging is 100% biodegradable, and the shampoo does not contain any soap. It means that it can provide the same level of hygiene to your pup without the harsh chemicals that often go into pet grooming products.
Arava Flea & Tick Control Dog & Puppy Shampoo
Best for fleas and ticks
Fleas and ticks are two types of parasites that can not only give your dog lots of discomfort, but can also lead to more serious skin conditions. There are several ways to combat ticks and fleas, but thousands of dog owners swear by the Arava shampoo for flea and tick control.
With the help of this shampoo, you can both get rid of current flea and tick infestations and prevent new attacks in the near future. Unlike most other tick & flea products, this shampoo does not have a strong chemical smell and is instead formulated with natural ingredients that are gentle for your dog's skin but ruthless to the parasites.
VetMD Medicated Antibacterial and Antifungal Shampoo
Best for sensitive skin
Sensitive skin is something that can make the dog's life pretty miserable without proper care, but it's also something that always causes the owner to search for the best dog shampoo for sensitive skin. One of the contenders for this title is the VetMD medicated shampoo designed specifically for dogs with sensitive skin.
It is formulated to treat the two most common reasons for skin sensitivity: bacterial and fungal infections. It does not contain any harsh chemicals or parabens, but it does contain active clinical ingredients with proven efficiency towards bacteria and fungi. The VetMD has a lovely lavender scent and a matching spray that you can use to maintain the state of your dog's coat between grooming sessions.
Wahl Dry Skin & Itch Relief Pet Shampoo for Dogs
Best for dry skin
Dry skin is not a disease that needs special treatment, but it's a condition that, when left without proper care, can significantly lower the quality of your pup's life. The best shampoo for dogs with dry skin should be mild and have moisturizing properties, but still effectively cleanse your dog's skin.
The Wahl Dry Skin shampoo is one of the best options for skin with dry, flaky, and itchy skin. Its formula includes oatmeal, verbena, coconut, and lime, which give the shampoo not only a heavenly flavor, but also a strong cleansing and moisturizing effect. Plus, the Wahl shampoo contains coconut derived sodding agent, which gives it a thick lather and makes the bottle last for a long time.
Veterinary Formula Solutions Triple Strength Dirty Dog Concentrated Shampoo
Best heavy duty shampoo
If your dog is prone to getting dirty very fast or has a naturally smelly coat, you need a heavy duty shampoo to keep the pup clean and smelling nice. The formula of Veterinary Formula Solutions, which contains three times as many active ingredients as most regular dog shampoos, makes it one of the best options for extremely dirty dogs.
The shampoo is enriched with shea butter, vitamin E, and aloe to prevent your dog's skin from drying out. Moreover, it comes with a pleasant green apple and white tea fragrance that lasts for a long time after bath. And with the ionic dirt repelling technology, your pup will remain clean without additional effort.
FURminator deShedding Ultra Premium Dog Conditioner
Best conditioner
A dog conditioner may not be as obviously necessary as a dog shampoo, but it can help you solve a number of problems with your pup's coat. The FURminator conditioner is designed to both make your dog's skin and fur healthy and prevent the problem of shedding.
The conditioner's formula is enriched with aloe, omega 3 and 6 fatty acids, and chamomile extract to soften and condition the skin. The conditioner also releases the undercoat during the bath, preventing excessive shedding between the grooming sessions. And the best news is that you only need to use this product once a month for a long-lasting effect.
Nature's Miracle Supreme Odor Control Natural Oatmeal Dog Shampoo & Conditioner
Best oatmeal shampoo
Oatmeal is one of the most popular ingredients in dog shampoos. Oatmeal is able to soothe the skin, prevent irritation after bath, and keep the coat fresh and clean for a long time. Nature's Miracle Oatmeal shampoo is a favorite among dog owners thanks to its safe and effective formula.
This shampoo does not contain soap, which gives it a very mild cleansing effect suitable for dogs with most skin conditions. Instead, it contains natural cocoa surfactant for effective cleansing, oatmeal for conditioning, and odor neutralizer. Forget the heavy smell coming from your dog's fur — the lovely honey sage scent of Nature's Miracle will give your pup's coat the nicest smell ever.
Curaseb Antifungal & Antibacterial Chlorhexidine Shampoo
Best for hair loss
Hair loss is a skin condition that can happen due to dozens of reasons, but the look of your dog's thinning coat and the floor that is covered in dog hairs can be rather distressing. That is why Curaseb Antifungal and Antibacterial shampoo is considered to be a must-have among the owners of dogs who suffer from hair loss.
Its veterinary formula contains ketoconazole and chlorhexidine, the two ingredients commonly associated with the effective treatment of the most frequent causes of hair loss: pyoderma, fungal and bacterial infections, ringworm, and yeast infections. Curaseb also helps with the unpleasant odor from the dog's coat, leaving a fresh melon and cucumber scent.
Wahl Pet Friendly Waterless No Rinse Shampoo
Best dry shampoo
There are times when even the best dog shampoo is not the most suitable option. If your dog hates baths, creates a mess while being washed, or suffers from dry and irritated skin due to the running water, you could definitely use a no-rinse shampoo from Wahl.
This shampoo can be used between baths or even instead of them from time to time. The thick lather effectively cleanses your dog's coat and makes it smell nicer than ever without any mess or stress of a regular water bath. The lavender and chamomile extracts also condition your dog's skin and are able to calm down even the most anxious pup.
A Guide to Dog Shampoo
What is the difference between dog and human shampoos?
If you are the type of person who prefers to buy the same shampoo for the whole family, you may be tempted to use it on your dog as well. After all, both dog and human shampoo have a formula that shares a lot of ingredients, creates a similarly looking lather, and has a fresh cosmetic smell.
However, there are several important reasons why dog and human shampoos are very different and should not be used interchangeably:
The pH level of human skin is 5.5, while dogs have a pH balance of 7.5, which means the composition of their skin is more alkaline than acidic. Human shampoos are much more acidic, which is why using them regularly for dogs will deprive the dog's skin of essential oils, which, in turn, will lead to dry and irritated skin with dull fur.
The formula of human shampoo can be very diverse, but it contains ingredients necessary for the skin and hair of humans. Dog shampoos also have special formulas with ingredients you will hardly find in many human shampoos, including lactic acid, colloidal oatmeal, salicylic acid, hydrocortisone, glycerin, and menthol.
Human skin is three times thicker than dog skin. It means that dog skin is much more sensitive and has a higher chance of a negative reaction to the harsh chemicals in regular human shampoos.
The majority of human shampoos available from drugstores and online stores are designed to help with one of the common conditions of human hair such as dandruff, oily hair, or split ends. Dogs have completely different problems with their fur and skin, which is why a good dog shampoo should fit the condition of your pup's coat.
Types of dog shampoos
When you are looking for the best dog shampoo for your pup, the market has hundreds of options, but you should always choose the right shampoo for your dog's needs and skin conditions. Here are the most popular types of dog shampoos you can find today.
A general purpose shampoo is something you will find in every pet store or regular supermarket. There is a huge variety of general purpose shampoo for dogs and they can come with all kinds of scents and additives. What unites them all, however, is that they are not created to treat any specific skin condition — they are only designed to keep your pup clean and smelling nice.
Puppies have even thinner and more sensitive skin than adult dogs, which is why they need a particularly mild shampoo for regular cleansing. It can be enriched with oils and vitamins or simply contain mild detergents and no harsh chemicals.
Many dog breeds and individual dogs are particularly prone to skin irritation, dry skin, and itchiness. Hypoallergenic shampoos, which have a milder formula, will prevent irritation and soothe the skin of your pup.
If your dog's skin condition is more serious than mild itchiness or dryness, your vet may prescribe a special medicated shampoo that is designed specifically for your dog's issues, whether it's a severe allergy, shedding, dandruff, or mange.
In case your dog has dry skin but the condition is not severe enough to use a prescription medicated shampoo, you can improve the state of your pup's coat with a moisturizing shampoo. The formula of moisturizing shampoos often contains ingredients like aloe vera, shea butter, coconut, omega 3 fatty acids, and other active moisturizing agents.
Fleas and ticks affect most dogs from time to time, and a good thorough bath with an effective shampoo against fleas and ticks is the most effective way to eliminate this problem. Many of these shampoos have a strong smell, but some come with a pleasant scent.
An all-natural shampoo may be the best option for the environmentally conscious dog owner or someone who is always striving for the most chemical-free approach. Natural shampoos have carefully designed formulas free of chemicals, but they may not be as effective at thorough cleansing.
If you are a proud owner of a dog who loves rolling around in the dirt or has a naturally smelly coat, a regular dog shampoo probably won't do. Luckily, there are plenty of heavy duty shampoos created specifically for extremely dirty and smelly dogs.
If, for any reason, a regular water bath is not an option right now but you still want to make your dog clean, there is nothing better than a dry shampoo. It creates a thin lather that does not need rinsing but can still give your dog's coat a fresh smell and feeling.
Features to consider when choosing dog shampoo
Wondering how to choose a shampoo that will make your dog's fur and skin healthy, shiny, and fragrant? Here are the most important features to consider in your shopping quest.
Most regular dog shampoos can be safely used on dogs of all ages with the exception of puppies. Puppies have thin skin that is prone to irritation, so make sure to look for a shampoo designed specifically for puppies. Plus, puppy shampoos usually have a no-tear formula that is gentle for your dog's eyes.
One of the most important steps on your way to choosing the best dog shampoo is assessing your dog's starting condition. If your dog does not have any major skin and fur problems, you can easily get away with a general purpose product. However, if your pup suffers from shedding, dandruff, and other coat issues, you will need to find a product that meets your dog's needs. Pay special attention to allergy-prone dogs — they require the best dog shampoo for allergies you can get.
There are many shampoos that promise to completely eliminate ticks and fleas from your dog's coat, but if the infestation is serious enough, a shampoo on its own may not give you a 100% relief. Still, flea and tick shampoos are effective at repelling those insects and can be used in combination with other products.
In case you are not noticing any unpleasant odor coming from your dog, you can use any shampoo whose fragrance you like. However, if your dog is naturally smelly or has developed a strong and odd odor after spending time outside, you will need to use a deodorizing shampoo to get rid of the smell.
The more natural the formula of your dog shampoo is, the better it is going to be for your pup's coat. Dog shampoos containing harsh chemicals and artificial fragrances will dry out your dog's skin and make it more likely to develop irritations and allergies. Natural shampoo formulas usually don't have the same side effects and can suit a broad range of skin conditions.
How to Bathe Your Dog
If it is time for the next bathing session and you decided to bathe your pup on your own without visiting a professional grooming salon, here is a step-by-step guide on giving your dog a stress-free bath.
Choose an appropriate place. The location for bathing your dog depends on the size of the pup. Owners of small dogs can safely bathe their pets in a sink, while larger dogs will require either a special dog bath or simply a regular bathtub or shower cabin.
Thoroughly brush your dog. Brushing your dog several times before the bath will remove excess hair and help you get rid of hair mats, which can hold water after the bath and irritate your dog's skin.
Protect the ears. If the shape of your dog's ears allows water to get inside easily, it is recommended to put a cotton ball into each ear to protect your pup from ear infections.
Soothe your dog with your voice. Even if your dog is regularly bathed, the experience can still be stress-inducing for him. As an owner, it is your job to calm the pup down by talking through the process in a soothing yet firm voice.
Choose the right temperature. Dog's skin is surprisingly thin and sensitive, which means they should never be bathed in hot water due to the risk of burning. Choose the same temperature of water for your dog as you would for a newborn baby.
Shampoo and rinse. Apply the dog shampoo of your choice, massage it into the skin to create a stable lather, avoiding the ears. Then thoroughly rinse your dog's coat as many times as needed to remove any traces of the shampoo from the skin.
Air dry your dog's coat. Human hair dryers are too hot for the sensitive skin of dogs and can cause burns or serious irritation. Either allow your pup's coat to dry naturally or use a blow dryer created specifically for pets.
Praise your pup. Even if your dog does not show any signs of stress after the procedure, he will still be happy to receive a delicious snack, a pat on the head, or a stimulating game once the bathtime is over.
Frequently Asked Questions
Why can't I use human shampoo for my dog?
Dog shampoos have a special formula that is, at the very least, tailored to the specifics of dog skin and fur, and is often designed to help with a specific condition like allergies or shedding. Human shampoos are too harsh and acidic for dogs and can make the condition of your dog's coat worse over time.
How often you should bathe your dog?
There is no universal answer to the question of how often you should give your dog a bath. A typical schedule of dog bathing is once every one to three months. However, if your dog has started to smell before the three months have passed, it has been extremely hot where you live, or you have noticed obsessive scratching, it may be a signal to give your dog a bath.
There are skin conditions that require more frequent bathing. Your vet should tell you about the ideal bathing schedule for your dog, or you can find this information in the instructions that come with the dog shampoo.
What if you bathe the dog too often?
Bathing your dog more frequently than needed can lead to a variety of skin problems. Excessive washing removes valuable oils from your dog's skin and makes it exposed to the elements. As a result, your pup may develop irritation, flaky skin, itchiness, start shedding hair, or become more prone to bacterial and fungal infections.
What if you bathe the dog too rarely?
A dog who does not get the required amount of grooming will also start developing various skin problems, including unpleasant odor, itchiness, and hair loss. Plus, dogs who are rarely bathed can't get used to the process and experience extreme anxiety and stress every time they undergo grooming.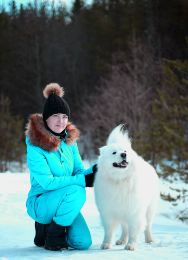 Vanessa Vilchek is one of our favorite authors. She is a real dog person, she was introduced to her first puppy at the age of 3 and since then she would rescue every pooch she met. Today all care and entertainment issues are a piece of cake for her, and we are really proud of having her on board. If you have any questions, feel free to ask in comments below or on her facebook page.