Flea and tick infestations are two of the most common health problems for dogs of all ages, but it doesn't mean they need to become the norm. There is a variety of products designed to help your dog get rid of fleas and ticks, but a flea shampoo for dogs remains the most popular option.
Top 5 Best Flea Shampoos for Dogs
Dog Wash Flea & Tick Shampoo for Dogs
This Dog Wash shampoo is probably the best flea shampoo for dogs if you want your new shampoo to not only effectively remove the ticks and fleas from your dog's skin, but also heave his coat looking fresh and smelling amazing. The active ingredient in the Dog Wash shampoo is permethrin, which instantly kills the fleas and ticks on-contact without doing any damage to the pup's health.
The shampoo does not contain any soap or parabens, which makes it very gentle on your dog's skin. Even though it should not be used as a regular shampoo, it still takes great care of the pup's fur and skin, leaving them clean for a long time. To ensure a 100% efficiency of the shampoo, leave the lather on your dog's skin for up to 10 minutes before rinsing it off.
SENTRY PRO Flea and Tick Shampoo for Dogs
Sentry is a brand known for its effective and affordable dog care products, which is why it's not surprising that this shampoo is the contender for the title of the best tick shampoo for dogs. It is formulated with four active ingredients: permethrin, piperonyl butoxide, pyriproxyfen, and Nylar, which not only kills existing ticks and fleas, but also destroys their eggs and larvae.
On top of that, the Sentry Pro flea and tick shampoo ensures protection against fleas and ticks for an extended period of time: 14 days for ticks and 30 days for fleas. Despite its impressive formula that is ruthless towards fleas and ticks, it is actually very gentle to the dog skin and can even be used on puppies starting from 12 weeks old. The lovely smell of green tea and ginger will linger in your pup's fur for weeks after each wash.
Adams D-Limonene Flea & Tick Shampoo for Dogs
Adams has a whole range of flea and tick products in its lineup and is widely considered one of the best brands of tick shampoo for dogs. The D-Limonene shampoo is one of their most popular products, and it is completely understandable. The active ingredient in this tick and flea shampoo, D-limonene, is derived from plants and is not as harsh as the chemicals that go into some others dog tick and flea shampoos.
The Adams shampoo not only kills the ticks and fleas currently present on the dog, but also prevents new pests from appearing for up to 4 weeks. The shampoo comes with a delicate citrus scent and can be used on dogs of all sizes and ages, as well as on cats, who usually require milder skin care products. To ensure an even more impressive effect, you can use this shampoo in combination with other products from the lineup.
Adams Plus Flea & Tick Shampoo with Precor
If you need even more pest-killing power than most tick shampoos can offer while not doing any damage to your dog's skin and fur, we have the perfect option for you — the Adams Plus flea and tick shampoo. Created specifically for dogs with sensitive skin, this shampoo not only solves the pest problem, but also gently cleanses and moisturizes your pup's skin with coconut, oatmeal, aloe extracts and lanolin.
As gentle as the Adams Plus flea and tick shampoo is for your dog's coat, it has no mercy for the ticks and fleas. The shampoo instantly kills ticks, flicks, lice, and their eggs and larvae. Moreover, the shampoo contains an insect growth regulator, which prevents the appearance of new fleas and ticks for up to 1 month. The Adams Plus shampoo can be combined with other Adams products to ensure better protection against the pests for the whole family.
Blue Gold All Natural Dog Flea and Tick Shampoo
For a long time, the only type of flea shampoo for dogs you could find in the market was a shampoo riddled with chemicals that were harsh for the pup's skin and fur. The Blue Gold brand of pet products wants to revolutionize the way we take care of our dogs' coats by making an all-natural shampoo that is effective not only at cleansing, but also at removing fleas, ticks, lice, and mange.
The Blue Gold shampoo does not contain any sulfates, parabens, or other harsh chemicals. Instead, it is formulated with natural oils, plant extracts, minerals, and herbs that have proven to be safe for the skin of dogs. The mild formula of the shampoo allows it to be used as a puppy flea shampoo. It kills the pests, prevents new ones from appearing, as well as cleanses and conditions the pup's skin and fur.
Features to Consider
The variety of dog flea and tick shampoos may not seem particularly big, but there are enough options to confuse any buyer. When shopping for the best flea and tick shampoo for your pet, take the following features into account:
Not all flea and tick shampoos are created equal, and while some actually do what they say on the package, others don't do anything rather than give your pup's coat a lovely smell. To tell whether the shampoo is effective against ticks and fleas, you can look at the list of the ingredients and see whether there are any ingredients commonly associated with removing the pests. You can also check the reviews of the product to see whether it worked for other people.
The majority of pest shampoos for dogs kill both fleas and ticks, but some dog shampoos are designed for just one specific type of infestation. Finding a shampoo that kills both fleas and ticks plus their eggs and larvae will allow you to get away using just one product for all of your dog's skin care needs.
With most flea and tick shampoos, you can expect them to effectively kill the existing insects. However, without any preventive powers, your dog will likely develop new tick and flea infestations within days or weeks. Look for a dog shampoo that not only kills the insects, but also ensures at least a week of protection against new pests, although a 1-month protection period is ideal.
It's very difficult to find a natural dog shampoo that is effective against fleas and ticks. On the other hand, many flea and tick shampoos are extremely harsh and can do significant damage to your pup's coat. If your dog has sensitive skin, look for a shampoo with the mildest possible formula. This is especially important considering you will likely use the flea shampoo several times during the infestation period.
Since it's not the best idea to use several shampoos in a row, your tick and flea shampoo should also have cleansing properties to keep the pup's skin fresh. Some shampoos also have conditioning and moisturizing properties. Different shampoos have different scents, and while some come with appealing smells like citrus or green tea, others have a strong medication flavor which may not be your cup of tea.
There is a good chance that a good flea and tick shampoo will become a mainstay in your family for the whole period of possible infestation. That is why it makes perfect sense to go for the bigger size. That way, you will avoid buying a new shampoo every couple of weeks and can stick to the shampoo that is working for you and your pup.
Frequently Asked Questions
What is the difference between regular dog shampoo and flea shampoo?
The biggest difference between regular dog shampoos and shampoos against fleas and ticks is that the latter are formulated specifically to treat infestations. Flea and tick shampoos contain special ingredients that can not only kill fleas and ticks on-contact, but also prevent the appearance of new insects for a period of 1 to 4 weeks.
No matter how good and expensive your regular dog shampoo is, it will not help you with the flea and tick problem. Clean skin and fur can still be infested with ticks and fleas, which is why you need a special shampoo to tackle this issue.
How often should I wash my dog with flea shampoo?
Flea shampoos are often harsher than regular shampoos, which is why you shouldn't use them too often. Ideally, you shouldn't wash your dog with flea shampoo more often than once a week, although if you can go for two or more weeks between using a flea and tick shampoo, your dog's skin and fur will stay healthy and moisturized.
Does flea shampoo expire?
Yes, like most other pet bath products, flea shampoos have an expiration date. The good news is that the expiration date of flea and tick shampoos is usually not that different from regular shampoos. Most tick and flea shampoos have a shelf life of approximately 2 years and can be used for 6 to 12 months after opening the bottle. After the shampoo expires, it may no longer be as effective against the insects as it once was.
How long does it take to get rid of fleas?
If your pup is suffering from a mild flea infestation, it is possible to get rid of fleas with just one thorough wash, although it may take you several more washes to solve the problem completely. If your shampoo not only kills, but also prevents new fleas from appearing, you may forget about the infestation issue for months. However, it's important to not only wash your dog with a flea shampoo, but also sanitize your home with special anti-flea sprays.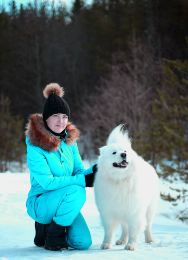 Vanessa Vilchek is one of our favorite authors. She is a real dog person, she was introduced to her first puppy at the age of 3 and since then she would rescue every pooch she met. Today all care and entertainment issues are a piece of cake for her, and we are really proud of having her on board. If you have any questions, feel free to ask in comments below or on her facebook page.