Every canine sheds regularly or suffers hair loss. The amount of fur may vary from tons of hairs scattered around your carpet, furniture or car seats to just a few hairs found in a cup of tea or on a dinner plate.
To enjoy communicating with your lovable four-legged friend without annoyance, a pet undergoes brushing, which includes trimming and massage. The procedure helps maintain a silky coat, healthy skin, control loose hair and regulate pup's body temperature.
A dog shedding brush gently desheds excessive fur; it stays collected on the tool, and may be discarded easily.
The amount of instruments for pet brushing and shedding varies greatly. To make your decision easier, we have collected the best products considering the factors of utility, breed and budget.
Top 5 Best Deshedding Tools for Dogs
FURemover Duo Dual-Sided Grooming & Hair Removal Dog & Cat Brush
Best Overall
Duo Dual-Sided Grooming & Hair Removal Dog & Cat Brush by FURemover is at the top of our choice due to its versatility and ease of use.
It is designated as a double-sided brush. Bristles are made of study but soft rubber, thus providing gentle skin massage and effective dirt and mats removal.
The side with thicker bristles effectively copes with severe tangles, collects thin and loose hair making pet fur looking soft and healthy. The side with fine bristles may be applied for both cleaning pup's shorter fur and hairs littered on pieces of furniture, couches, carpets, car seats.
The handle of this best dog brush for shedding is convenient in a grab and ensures effortless application.
Hertzko Self-Cleaning Dog & Cat Deshedding Tool
Runner-up
Hertzko Self-Cleaning Dog & Cat Deshedding Tool is our second loved choice for dogs grooming appliances. This instrument possesses a number of advantages for effective trimming of your four-legged friend being safe and easy in use.
Its unique design is its obvious benefit. The blade is curved and follows the contours of a pet's body. This allows strain-free and thorough cleanup of the loose fur and grime, even for pups with a thick undercoat.
The tool is effective for all coat types and breeds. This is very convenient for the households with several pets of different sizes and even for cats.
A special button for quick clean helps dispose of collected hairs with no mess. Press a button and get your deshedding tool ready for the next use.
KONG Dog ZoomGroom Multi-Use Brush
Budget Pick
Dog ZoomGroom Multi-Use Brush is our best budget pick due to its multifunction. This brush may be used during bathing procedures and for dry brushing.
Anyway, its soft gentle structure copes effectively with loose hair, provides mats removing, massages skin for better blood circulation and natural oil distribution. Thus, the fur coat becomes glittering, healthy avoiding uncontrolled shedding.
A product is supplied in two variants, for small puppies and for big animals.
Apply with shampoo during bathing or use as a comb, brushing gently along dry hair with circular motions.
FURminator Curry Comb For Dogs
Best Dog Comb for Shedding
Our choice of best dog comb for shedding is Curry Comb for Dogs by FURminator. It features a number of advantages among the tools for dogs' hygienic procedures.
This brush is convenient in grab, ergonomic and lightweight. The stubborn mats will be overcome with no additional efforts of your hands and wrists.
Its material is rubber, thus soft but sturdy bristles cause no damage to a pooch's sensitive skin.
The comb may be used for dry and wet hairs.
It is effective for removing loose fur coats and soft skin massage for efficient nourishing of hair follicles by natural skin oils.
Best Dog Deshedding Glove – HandsOn All-In-One Pet Bathing & Grooming Gloves
HandsOn All-In-One Pet Bathing & Grooming Gloves
Best Dog Deshedding Glove
All-In-One Pet Bathing & Grooming Gloves by HandsOn has proved to be the best among dog deshedding gloves. We value these dog grooming appliances for their utility.
Being made of sturdy nylon fabric, the gloves have tiny rubber nodules on a palm and fingers. Their structure allows gently removing loose hair without strain and pains no matter whether the hair is wet or dry.
The gloves may be used for bathing as a washing brush or as a comb to groom gently and remove loose hair. A dog's skin is protected and effectively massaged for healthy blood circulation in the capillary.
These HandsOn gloves are perfect for pets and their owners. There are three options for colors, 5 variants of sizes to fit a pet parent's wrist supplied with a reliable hook and loop fastener. The design ensures comfortable trimming without additional efforts.
Wash and dry prior to the next usage to avoid mildew and dirt.
Features to consider when buying best dog brushes & tools for shedding
The market of canine trimming tools is great and offers various instruments for grooming depending on the demands of a pup and its owner.
There are several requirements to hair deshedders:
safety,
durability,
effectiveness,
ease of use.
Choose the most suitable variant on the basis of your dog's breed and hair type.
The breeds with short coats, such as beagles, pugs, are usually trimmed less frequently and do not require a strong and powerful tool. A mob, a glove or a mitt with bristles, as well as a conventional brush is good for them.
Long haired breeds, collies, corgis demand thorough grooming. A strong and sturdy instrument must be applied for a better result: special brushes with cast iron teeth, slicker dog deshedders, coat rakes and even tools with blades.
Also, consider other factors before your purchase.
Ergonomics. A tool for shedding must be lightweight and convenient for grabbing to avoid strain in your hand or wrist during the procedure.
Your dog's size. A brush should be selected according to your dog's size. It should be big enough to cover a pup's body and not to damage its skin with the long teeth.
Easy cleaning. Choose your dog deshedder or coat rake with any adjusted appliances for self-cleaning. It will make the trimming procedure quicker and safer. A fur collector, retractable teeth or any other life hack help in handling with a long-haired and wriggly pup.
Guide (Frequently Asked Questions)
Does brushing a dog help with shedding?
Shedding is a conventional process in dogs. Usually, it occurs according to breed individual peculiarities, e.g. twice a year for shorthaired breeds (in spring and in fall), or small amounts during a year for pets with longer hair. Still, it needs to be controlled and managed properly.

Additional grooming and brushing a pup is strongly recommended. The benefits are numerous.

Regular examination of the fur and deshedding helps:
– maintain healthy coat,
– collect hairs without dirt spread,
– remove pests and fleas,
– massage skin and intensify blood circulation,
– delete hair mats,
– keep body temperature balance.

In case of excessive shedding, consult a vet to reveal a reason. Too much hair loss may be the manifestation of some disease connected with skin, digestive tract or stress.
How often should you brush a shedding dog?
A rule of a thumb for dog deshedding with the special tools depends upon a pup's fur coat and skin type.

Once a week or every other week grooming is suitable for hairless or short and smooth haired pooches (pugs, Doberman pinschers).
Trim your dog twice a week in case it is shorthaired with undercoat or owes a curly fur. These are poodles, Labrador retrievers, bulldogs, terriers, Rottweilers.

Care that is more frequent (3-4 times a week or daily in severe cases) is needed for longhaired pups, with a thick undercoat and coarse fur: collies, chow chows, shih tzus. In addition, there is an urgent need to trim a dog in case of fur tangling, heavy hair loss or if parasites are suspected.
Is it better to brush a dog wet or dry?
It seems reasonable to wet a dog's coat or to bathe a pooch prior to brushing in case its coat is tangled and matted. However, these hygienic procedures for dogs should not be combined.

The general advice is to comb a dog's fur dry. Thus, damaged or weak hair is ended up and remains on instruments (dog combs for shedding, brushes). Add specially designed for pups liquid or spray for detangling to make the process more comfortable and quick.

Remember, hairs become heavier and a dog sheds more after a bath. Therefore, there is a danger that excessive hair may be removed.
Do dogs shed more after a bath?
Yes, a dog sheds more after water hygienic procedures. Wet fur is heavy, subjects to damage; hair follicles are weak and make the hair loose.

However, it is advisable to apply shedding instruments after the bath for a dried coat.

Take few appropriate steps to ensure effective grooming and get shiny hairs and a healthy skin of your canine friend:
1. Wash your pet prior to grooming or brushing and apply deshedding products: shampoos, conditioners with moisturizing effects, correct pH, vitamins, omega fatty acids.
2. Add sprays or fluids with nourishing effects after hygienic procedures if necessary.
3. Dry the fur thoroughly.
4. Choose a deshedding tool for dogs appropriate to a pup's breed and a type of hair and use it according to the instruction.
5. Do not overbath.

Bathing once per couple of weeks using a specially designated dog's shampoo and grooming products will help:
– maintain a healthy coat, good blood circulation,
– distribute natural skin oils evenly over the body,
– avoid dry skin and irritations.
Can you brush a dog too much?
A skin under the thick layer of a fur coat seems to be invisible but it plays an important role in a canine wellbeing. Both overbathing and overbrushing may cause:
– damage to this tissue,
– make it thin and irritated,
– become a cause of skin diseases.

Try to keep to general rules for your breed and hair type grooming and to choose a correct hygiene schedule and instruments.

Remember, that keeping the skin in a good condition means supporting a natural barrier for infections, pests. Thus, a good base for healthy fur growth will be obtained.
Dog Hair Brush vs. Dog Shedding Brush
A dog hairbrush and a shedding brush seem to be the same, at first glance. However, it is not so.
A hairbrush is usually applied in case of short hair or hairless canines. It is used for gentle combing and massaging hair and skin and does not reach a deep undercoat. Moreover, if a dog deshedding instrument is used for dogs of these breeds, it may cause irritations or even wounds.
On the contrary, canines with a thick double-layer fur or undercoat cannot be groomed properly without a sturdy shedding brush with iron bristles. This kind of tool is able to reach deep in the pet's coat, untangle mats, comb hair and massage a skin to distribute natural skin oil for better hair follicles nutrition.
Other best dog brushes and tools for shedding
Pat Your Pet Five Finger Grooming Glove
Grooming your lovable pup becomes fun with this Pat Your Pet Five Finger Grooming Glove.
Its 5-finger design and soft rubber bristles help detangle and comb hair mats easily reaching the most sensible areas.
Regular deshedding procedures leave no chance to mites or pests, provide soft skin massage leaving your lodging tidy.
A glove is offered in a universal size with a fuzzy fastener making it convenient for any family member. Grooming Glove by Pat Your Pet is supplied in 2 variants: a single item or as a pair (left and right).
Safari De-Matting Dog Comb
De-Matting Dog Comb By Safari is designed for medium and longhaired dogs keeping in mind the comfort of canines and their parents during hygienic procedures.
The comb is designed with long and rounded teeth made of durable stainless steel. It is strong enough to cope with hard mats and detangle long hairs to make them soft, silky and smooth.
It removes possible dirt and pests, reduces shedding and distributes evenly natural skin oils for better fur growth.
A comb handle is made of a soft-touch material, comfortably fits in the hand, and adds no strain by an operation.
Dakpets FURblaster Deshedding & Light Trimming Tool for Long & Short Hair Dogs & Cats
Dakpets offers its FURblaster Deshedding Tool to make pet trimming a joy.
Due to its versatility, the instrument may be applied for dogs and cats, long and short hairs, animals with a thick undercoat.
The design of a dog comb for shedding is reliable. A rust resistant stainless steel blade is protected with a cover to avoid accidental injury. The handle is made of a lightweight material for easy trimming.
By proper operation, gently moving a comb down the coat, damaged and loose hair is removed and collected tidily even from the deep undercoat. New fur growth is promoted by skin massage.
Safari Combo Brush for Dogs
Safari Combo Brush for Dogs copes with the most severe tangles and mats. It perfectly deals with loose hair, making fur coats shiny.
The brush is designed for pups with short and long hair. It also may be used for multiple pets' households including cats. Its double-sided design combines pins and bristles for detangling and brushing.
A handle is made of wood and is ready for intensive usage.
Apply this Safari Combo Brush from a dog's head to tail to ensure a silky coat.
Hartz Groomer's Best Slicker Brush for Dogs and Cats
Groomer's Best Slicker Brush by Hartz is an important tool for pet grooming.
Its design is effective for coping with loose hair and shedding of the pets including dogs and cats. This ensures surface clean control and decreases the possibility of allergies in the pet parents.
The bristles of this best dog shedding brush are made of stainless steel and are protected by safety tips. This ensures effective blood circulation and natural skin oils distribution without damaging a pet's coat.
The grip is ergonomic, lightweight, demanding fewer efforts even with severe tangles.
FURminator Dual Dog Brush
With this FURminator Dual Dog Brush your pet looks greatly even without frequent pet stylist visits.
Its double-sided design is suitable for long and short haired pups.
A side with pins works well for long loose hair and can cope with the most difficult mats. A side with soft bristles made of nylon is good for hairless or shorthair dogs and makes their coat shiny and clean.
This shedding brush for dogs may be used even on a daily basis if it is necessary, ensuring gentle skin massage and pleasant trimming for your lovable four-legged friend.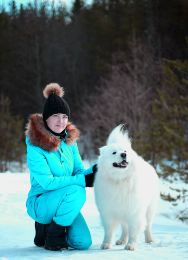 Vanessa Vilchek is one of our favorite authors. She is a real dog person, she was introduced to her first puppy at the age of 3 and since then she would rescue every pooch she met. Today all care and entertainment issues are a piece of cake for her, and we are really proud of having her on board. If you have any questions, feel free to ask in comments below or on her facebook page.