Is your favorite cozy armchair occupied 24/7, or is your place on the couch in front of the TV always full of dog's fur? It is high time to buy a dog sofa.
This is a very special piece of furniture. It will be not only useful for you, but will match your lovable four-legged friend's needs, her way of life, and also will be an eye-catching element of your lodging.
Couches for dogs fit perfectly your pooch size and sleeping behavior, so that she will lose any interest in human sleeping places. She may sprawl out, turn around or spread like a starfish. Just select a suitable dog bed.
To make you feel at ease while deciding, we've collected the best offers enhancing the most important characteristics of pet sofas here below.
Top 5 dog couch beds
Keet Fluffly Deluxe Sofa Dog Bed
Еditor's Choice
Our top selection in the rating of dog couch beds is Fluffly Deluxe Sofa Dog Bed with Removable Cover by Keet. This is the best offer in the market due to the highest level of comfort it offers both, a pet and her parents.
An item is supplied in two pieces: a reliable sturdy frame made of wood, upholstered with leatherette and a cushion with orthopedic memory foam filler and a washable soft cover. This design is beneficial for the pooch's spine and limbs health. Aged dogs with health issues may feel relief having rest on this couch.
The item maintenance is very convenient and effortless for a dog's owner. Just wipe a leatherette wrapping to delete stains. A cover of the cushion fits any washing machine.
Keet Fluffly Deluxe Sofa is proposed in several colors to match any interior. 3 sizes of couches for your canine pal will make her feel comfortable: small for 15 lbs., medium for 25 lbs., large for 40 lbs. pooches.
Enchanted Home Pet Quicksilver Sofa Dog Bed
Runner-up
Made of soft plush fabric with tense knitting, the product from Enchanted Home Pet is our runner-up choice. Quicksilver Sofa Dog Bed is the second loved dog bed couch and your dog will adore it as well.
The construction of a sofa is reliable. Being raised on its feet by 2 inches above the ground, it perfectly absorbs vibrations. A couch offers a spacious place to rest of one 30-lbs. pooch or several small ones.
The cushion is removable and its cover may be easily washed in a washing machine. Other parts are cleaned by wiping.
This couch in a classic design matches most of the house interiors and provides perfect comfort with its 3-sided arms. The rounded shape allows a pooch to turn around in a circle or to sprawl out on the bed choosing his favorite posture.
Enchanted Home Pet Snuggle Sofa Dog Bed
Budget pick
The best budget saving offer is supplied by Enchanted Home Pet. This is Snuggle Sofa Dog Bed with Removable Cover.
It is produced as a fine stylish piece of real furniture to keep your home look great and your lovable pet safe and comfortable. With its high soft bolsters on 3 sides and wood 2'' legs any small creature will be out of draughts and have a healthy nap any time.
A cushion is removable and together with a cover, they are machine washable. Other dog sofa areas are spot cleaned. There is a handy pocket for toys on one side of the bolster.
The item is intended for small dogs up to 10 lbs., which prefer curler and leaner sleeping styles.
Enchanted Home Pet Panache Sofa Dog Bed
Best Dog Couch for Large Dogs
We recommend this Panache Sofa Dog Bed with Removable Cover from Enchanted Home Pet as the best among large dog couches.
This luxury-looking item is extremely sturdy. Being made of wooden frame and upholstered with a durable plush fabric, it is available in three colors.
It also features a memory foam cushion with a removable machine-washing cover. Other surfaces of a large dog couch may be wiped clean. A practical pocket for small items adds utility to this stylish chaise.
The dimensions of Panache Sofa Dog Bed are perfect for curler and leaner dogs. Its lofty cushion (31'' and 17'') and vibration-absorbing wood legs provide comfortable and deep sleep of your canine friend.
Moots Premium Leatherette Sofa Dog Bed
Best Mini Dog Couch
Moots offer a wide range of dog lounge products. We have chosen its Premium Leatherette Sofa Dog Bed with Removable Cover as the best mini dog couch.
It has a luxurious look and high utility. Its wood frame has durable leatherette upholstery enforced by textile mesh. A mini dog couch features a cushion with shredded memory foam and poly-fiber to provide maximum comfort and breathability.
A cover, which protects reliably a cushion, is supplied with a zipper and is easily removed for machine washing. It is waterproof to prevent leakage if accidents occur. Two furry pillows supplement the couch to make your buddy extremely comfortable and private.
This variant of a sofa is spacious enough for pups up to 30 lbs.
Features to consider when buying a dog sofa
It is obvious that your pooch needs a cozy and comfortable place for rest, and it must match orthopedic demands to joints and spine health. This function may not be fully covered by a simple dog mat or a bed.
Tend to a special dog sofa. Thus, a dog bed couch will become an attractive element of your house. The product is a pricey one. Keep in mind the listed below features of dog sofas to make a long lasting investment.
Materials and filling
The main user, your pup, will vote for comfort of the piece of furniture. In case a couch is broken, it will not only spoil the look of your apartment, but a dog will not use it as well. Try to avoid designs with budget saving materials, fillers, hard synthetic fabrics or too soft mattresses.
Genuine leather and pleasant to touch microfiber are very popular for their perfect quality and durability.
Tend to an orthopedic filler, such as a memory foam. It will last longer and won't demand frequent replacement or repair.
Shape and size
Dog bed sizes and forms should be strictly selected according to your canine size and preferences in sleep. Otherwise, this product will stay untouchable by your pup and she will continue using your favorite armchair.
Make proper measurements of your dog and select a couch, which is bigger than the size of your dog is.
Keep in mind that the sofas are elevated above the floor due to small feet. Make sure with your veterinarian that your pooch does not have any health concerns and joint issues to get on and off, which make using a raised dog bed harmful for his health.
Prior to the purchase, watch out your dog sleeping postures. She may sleep creating a round nest or stretch over the mat. Buy a dog couch bed in a corresponding round or rectangular shape.
Removable accessories
Traditional dog couches have fixed bolsters on one or more sides. Think about using easily cleaned or machine washable covers and cushions. Thus, a place for a dog rest may be transferred according to the dog's needs, more practical in use and always look tidy.
Durability
If your dog is susceptible to chewing or scratching, forget about cheap materials of the sofa basis and upholstery. Only durable materials or easy to replace accessories may be used, such as metal elements.
Style
This feature is extremely important for a pet parent. Usually, dogs have no preferences in what their couches look like. Choose the most suitable one for your house interior: an exquisite classic one, oriental, laconic modern or loft, etc.
If you have some special demands for color, remember that vivid prints may be created by artificial materials (microfiber or microsuede), unlike the limited color variety of natural ones (leather, linen, wood).
Guide (Frequently Asked Questions)
Are dog couches good for dogs?
Actually, spending around 12 hours sleeping, your pup will surely find a cozy place for her in your lodging. However, this is not beneficial neither for a dog's health, nor for your hygiene.
Using an individual dog sofa and her own place for rest, will promote overall cleanness, thus dirt from the outdoor will not be spread around. Removable and replaceable items, which are easy to clean and wash, will provide additional freshness.
Choose a dog couch fitting a canine size or a bigger one for her to spread freely. It will be good for her joints and spine health.
Orthopedic mattresses are recommended for those pups who suffer hip dysplasia, joint diseases or for aged ones.
How big should a dog couch be?
To buy a dog sofa suiting a dog's size, the exact measurements should be done.
For a couch to be comfortable in the length and width, measure a pet from the tip of her nose to the tail, and from shoulder to shoulder. Add 6'' to 12'' depending on a dog's breed to the figures so that a piece of furniture is spacious enough for a pooch to sprawl out on the dog bed freely.
What is the best material for a dog sofa?
Each element of a dog bed couch, upholstery, a frame and its filler should be made of high quality, sturdy and easy to clean materials. Thus, it will look great and will be a part of your parlor interior.
The best materials for upholstery, which add attraction to any lodging, are natural fibers with tight weave, such as denim, linen canvas. They are sturdy enough to withstand hard exploitation. Besides, they are easy to clean. Dog hair may be swept with a lint brush. Microsuede is another popular fiber material for dog couches. It is manufactured from artificial components, but has perfect exploitation qualities and may be offered in various colors to fit any interior. Natural leather is the material offering luxurious quality, look and comfort for a pooch. However, if a pup is prone to scratching and chewing, avoid it, as it will not last long in this case.
Loose and soft materials for a couch's basis, such as polyester fillers, pellets, foam shreds are not durable in exploitation and may be harmful for a dog's health in the long run. Mattresses with orthopedic memory foam should be preferred. They are beneficial for a dog's spine, limbs and are durable.
A frame and feet of a couch are also elements, which must be seriously treated. Claws and teeth may damage nice looking open wooden or plastic components of the sofa. If a dog behavior is not trained, you may choose frameless variants of the basis, or made of durable metal.
How long does a dog sofa usually last?
A couch may last long or it may go out of order just after the purchase. Its lifetime depends upon two key factors: its quality and pooch's behavior.
In case you are lucky enough to have a perfectly brought up buddy, and you have made quite a big investment in a dog sofa before, this piece of furniture may last from 7 to 15 years, which actually coincides with your lovable canine friend's life. However, even the sturdiest items need to be renovated or replaced.
Are pet sofas easily washable?
If you prefer dog couches with leather or microsuede upholstery, you will not get any problems with dirt removing. These materials are easily rubbed with a wiper, vacuum cleaned, washed with soap water.
In case, some natural fabrics, linen or denim are used for couch's exterior wrapping, there may be the problems with stains, hair, salvia and bacteria removal. High quality covers or other pet sofa beddings will come in handy. These items may be easily hand washed or machine washed.
Choose waterproof sheets for small untrained puppies or older animals to prevent leakage.
Do dogs love couches?
Using a dog couch for your pups' rest may be beneficial for both pet parents and your canines. Pups usually seek getting on your sofa to make a warm cozy nest for their rest. If you are frequently out and your four-legged friend stays unwatched, she may want to occupy your place on the bed or a couch, as it smells of you.
To avoid this, prepare an individual place for dog's sleep, his own dog sofa. A pup will sure to love it.
Except for hygiene and an orthopedic effect, a separate dog couch is beneficial for the psychological aspect of her training. A pooch remembers to use a special place for her rest, so if your guests come or you visit some other apartments with your dog, she will be aware to stay out of human's sofas. Thus, no other people will be bothered. Keeping to these boundaries is very important to train obeying in dogs.
Other dog sofas
Enchanted Home Pet Wentworth Sofa Dog Bed
This spacious dog couch bed from Enchanted Home Pet is perfect for a big king or queen and her parents, who prefer the classic look of interiors.
Chesterfield-look Wentworth Sofa Dog Bed is manufactured from dark brown colored faux-leather and is raised on 2'' wood legs, which protect a sofa from vibration. The décor by nail heads attracts attention.
A cushion places a solid foam inside. Thus, pet's health is always protected and an orthopedics effect of the mattress is provided. Its faux leather upholstery may be wiped down with soap water.
A unit is equipped with a handy pocket to collect small essentials in order. The sofa is spacious for one big pooch up to 80 pounds or several smaller ones.
Enchanted Home Pet Rosie Sofa Dog Bed
Rosie Sofa Dog Bed with Removable Cover by Enchanted Home Pet is a perfect offer for small and middle pets, up to 15 lbs.
It is extremely snug and safe due to its design and materials. Produced in a rounded shape, it lacks sharp corners and together with high plush sides and 3'' legs offers a perfect sleeping place avoiding draughts.
Upholstery fabric is soft and pleasant and may be easily wiped. A removable cushion with a machine washing cover is good for leaner and curler dogs.
Richell Elegant Wooden Dog Bed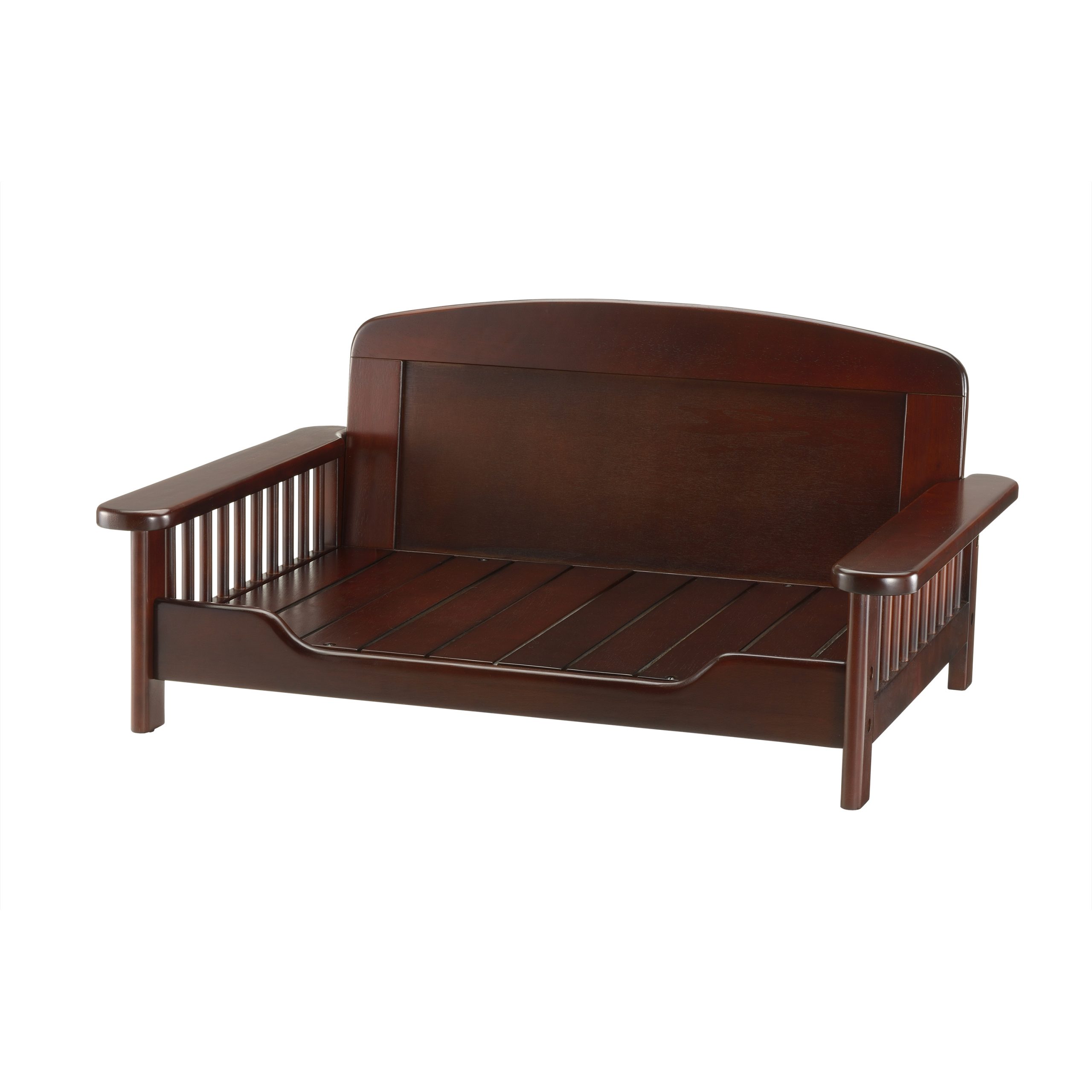 Richell Elegant Wooden Dog Bed is a stylish and all-natural piece of furniture to match any interior. It is made of dark-brown wood.
The dog couch is 35.4'' length and is spacious enough for a doggy up to 44 pounds.
The dog couch is easy to maintain and clean. For quick and calm slumber, add an orthopedic cushion as it is not provided. An instruction for easy assembling and maintenance helps with exact directions for usage.
Iconic Pet Maharaja Rattan Sofa Dog Bed
Maharaja Rattan Sofa from Iconic Pet is created for your four-legged maharaja to feel comfortable both indoors and outdoors.
It is light weighted, made of woven palm stems and protected by UV-inhibitors to avoid damage and corrosion when used in wet premises. Thus, your sunny porch or terrace gets an oriental décor and your pooch a safe and drought free raised place for rest.
The dog couch is complemented by a cushion with a removable polyester cover and may be safely washed in a washing machine.
La-Z-Boy Chaise Furniture Sofa Dog Bed
Chaise Furniture Sofa Dog Bed produced by La-Z-Boy is provided in a light design of a chaise. However, it ensures a perfect comfort for a pooch, as a classic dog sofa.
Its high headboard supports a pup's neck, soft plush 2-sided bolsters provide space to curl up and stretch over for a perfect dog lounge.
Designed with a nailhead decoration, Chaise Furniture Dog Sofa is offered in beige and blue colors to match your apartment interior. Two variants of length (34'' and 40'') place comfortably smaller or larger breed dogs.
Club Nine Pets Traditional Chair Sofa Dog Bed
Club Nine Pets offers a dog couch, which goes perfectly with any human lodging style due its versatility, practical and universal design.
It is made of easy to clean charcoal grey polyester fabric. Darcon textile is tough and elastic ensuring excellent comfort to a pup's nose and paws.
The mattress is high-density foam and is good for sweet slumbers. Covers are reliably zipped, cushions are attached by Velcro to avoid rolling. 2-inch legs are protected with anti-slip pads, produce no noise and absorb vibrations.
Traditional Chair Sofa is manufactured in two sizes. A smaller variant is 27.5'', a medium one is 36'' for bigger pooches.
K1 Pet Design Wickman Sofa Dog Bed
Wickman Sofa Dog Bed with Removable Cover from K1 Pet Design is a perfect rest place for any medium sized pooch inside or outside of your lodging.
The item has perfect utility due to its spacious dimensions, a sturdy platform and removable cushions. A cover is produced of soft breathable material. Its three sided bolsters ensure cuddle comfort for a pet without any draughts. Besides, it is easy to wash in case of any accidents.
Wickman Sofa will perfectly come to any interior thanks to 4 color variants: blue, khaki, purple and gray.
KOPEKS Orthopedic Round Sofa Dog Bed
This dog couch bed by KOPEKS is perfect for large and extremely large dogs.
Due to the circle shape of Orthopedic Round Sofa Dog Bed with 50'' in diameter, any pup may have a nap after a noisy day and relax. The sofa is equipped with a mattress upholstered with a slip-resistant material in the bottom and leak-free protection in its upper side. The microsuede textile is soft and pleasant to touch. It is also very convenient for machine wash.
6'' height of the dog couch and its 7'' soft sides provide protection and free of drought shelter.
Staart Modern Elite Sofa Dog Bed
You and your paw-tner will sure to love this Staart Modern Elite Dog Sofa. It will make a bright spot in your interior with its stylish look.
Classic furniture construction in pet-size dimensions with a bright and comfy leopard cushion cover is worth your attention. The armrests and a headrest provide protected areas for dogs from small to medium size breeds. A dog sofa is comfortable to get in and out. Special pads on feet protect the floor from scrapping.
The faux-fur cloth of the cushion may be easily removed for cleaning in case of any accidents.
Iconic Pet Rattan Sofa Dog Bed
Rattan furniture from Iconic Pet made of palm stems and protected by UV-inhibitors for flaking protection is extremely stylish, sturdy and may be used indoors, in a sunhouse, on a porch.
Your four-legged friend will adore this sleeping place, as it is also very comfortable. It features a reliable base covered with a soft pillow. The mattress upholstery is waterproof and easy to clean. The foam filling is beneficial for pup's limbs and spine.
Charcoal cushion matches perfectly beige and mocha rattan base coloring. The 31.5" length of a dog bed couch will place a small to medium pooch snuggly.