Body temperature is an indicator of a dog's well-being and health. If the pet becomes inactive, constrained, and lethargic, then the owner should seriously think about its health and, first of all, measure the temperature. This will help identify the clear sign of potential illness and take the necessary action.
Having a pet, you should always be prepared for emergency and avoid rushing around drugstores to buy the first comer thermometer the pharmacist offers you. Instead, take care of this situation beforehand. Obviously, as a responsible owner, it is suggested that you purchase a thermometer for pets before buying a puppy.
The Top 5 Available Options To Buy On Your Own
So, let's start with the best picks each of which may come in handy if your dog feels unwell.
Pet-Temp Instant Pet Ear Thermometer
Editor's Choice
Having a pet to sit straight can be a struggle for some owners and an ear thermometer for dogs will a savior in this case. The hardest part about the process is to put the unit into the right place in the ear. It should be pointed at the horizontal canal, which is also a heat pocket. Although it might not be as accurate as traditional thermometers, it still does the job of telling you whether your pet is in danger of illness. The battery is supposed to last for 5 years, but several reviews reported that it was already dead when the unit arrived or after few times of using it. So, make sure to check the return policy before buying this item.
Pet Clinic Thermometer for Dog, Cat, Rabbit and All Pets, Measure in 1s, C/F Switchable
Runner-up
Despite the fact that it is easy to use, according to numerous comments, it does not perform its functions in the best way possible. It might not be the case with all delivered units of this product, but sometimes it gives a different result after every attempt to use the device. It is not suitable for smaller pets because of its thick insert. What's more, it does not vibrate to give off any sounds that might startle the pet. Overall, if you opt for this dog ear thermometer then make sure to have a more reliable option and use this one as a surmise that the dog has high temperature and is sick.
Vet-Temp Rapid Digital Pet Thermometer
Best rectal thermometer for a dog
The main bright sides of a rectal thermometer are its availability, price, and accuracy. Even though it might need some more time to determine the pet's temperature, it would always be there for you and won't dare to let you down in tense situations. It has a long-lasting battery, however, after it goes off you will have to resort to a service center. Otherwise, it is the most affordable device among rectal thermometers for dogs. So, if you don't' want to buy a pricier rectal thermometer, feel free to choose Vet-Temp since this offer provides a good price-quality ratio.
Care Touch Digital Thermometer
An oral thermometer can be a tricky option for pets: only separate individuals will be able to sit calmly with a stick in their mouth. If your pet is of those, then go ahead. Oral pet thermometers are only trustworthy until the pet's mouth is closed, but this a different case: Care Touch's thermometer with a flexible probe and covers for it might be game-changer. Also, keep in mind that its screen does not light up thus you will have to turn on the light at night to see the result. However, it may be a good option if you are able to make a peaceful agreement with your dog and ask it to calmly sit with a thermometer in its closed mouth.
White Coat Fast Reading Digital Thermometer for Oral Rectal and Underarm Use with Flexible Tip
Flexible-tip thermometers are known to deviate from the true figure by 2 or 3 degrees. Based on customers' reviews this one is no exception, but some other features make it stand out. When buying it, you also get probe cases to protect it from germs and also a 1-year guarantee. Hence, if you are wondering: "Where can I buy a dog thermometer?", this is the answer. Choose this model and buy it online or in the nearest vet store. Vet clinic workers even use it and report about its accuracy but also there can be some inconvenience with changing the battery.
Features to Consider When Buying a Dog Thermometer
To get an accurate temperature result for your dog at home, it is best to select a unit in advance in the drugstore where you can check the state of the device and make sure that you do not waste your money. The best way to measure a dog's temperature is rectal and besides the thermometer itself, you will also need lubrication for it. For this, some vegetable oil or petroleum jelly would do the job.
Attention! Family members are forbidden to use a pet's rectal thermometer. It is also not recommended to use the same unit to measure the temperature of different pets. One device should serve one pet in order not to transfer microbes from one animal to another.
Basically, you can choose from two types of thermometers – mercury or thermoelectric.
The most accurate thermometer is a mercury one. But obvious reasons make it not safe to use in pet. They are very fragile (these thermometers are made of glass, which can crack or break at the slightest impact), and mercury is a hazardous substance for both humans and animals. What is more, such models do not have a rubberized handle, so there is always a risk that such a thermometer will fall out of your hands even before you start measuring the temperature.
Also, it takes several minutes to read the temperature with a mercury unit, and animals (as well as most kids) are not ready to feel the discomfort, thus they might even make aggressive attempts to break the device and get rid of it.
The electronic thermometer is the most common nowadays due to its safety and comfortability of use. Numerous models are equipped with a sound, which indicates the measuring results are ready and built-in memory to compare current temperature results with the previous ones. The most common downside found in thermometers of this type is a lower temperature measuring accuracy. Approximately 12% of electronic thermometer buyers are left with a defective one, which does not work straight from the box, requires battery replacement, or has a deviation while measuring. So, you should be very attentive to when and where to buy a dog thermometer.
Guide (Frequently Asked Questions)
So, since this device is not as easy as it seems, let's find the answers to the most common questions when it comes to making a choice.
Why and When Do We Need a Dog Thermometer?
If the dog has no health problems, then it is not necessary to measure its body temperature daily. For thoroughbred puppies, their temperature should be checked at regular intervals. The vet usually draws up a special schedule for them to follow.
The temperature should be measured before vaccinating the pet and during its illness. Later check is done twice a day. It is advisable to record the indicators in a notebook to demonstrate them to the veterinarian.
Note! Not many dog ​​breeders know that low temperatures are just as dangerous as high temperatures. Many serious illnesses are latent and are accompanied by hypothermia.
Before proceeding with the manipulations, it is worth taking a closer look at the behavior of the animal. Some signs will indicate the onset of the disease in the dog:
Decreased appetite or complete refusal to eat.
Constant desire to drink water.
Sleepy state during the day.
Lack of desire to play and walk.
What kind of thermometer do you use on a dog?
A mercury thermometer has a row of disadvantages compared to its electronic analog, but it provides the most accurate result and has little chance to break when used carefully. The absolutely best dog thermometer is an electronic one with a flexible tip. For objective reasons it is worth noting that an electronic thermometer is used in vet clinics and the workers there usually take several measurements. But one will never see infrared thermometers, stickers, and temperature indicators used in veterinary medicine as far as they cannot show the actual animal's body temperature.
Rectal measuring is the best way to get an accurate result with an electronic thermometer.
The most affordable one is once again an electronic unit.
This device is also much safer than mercury. Most likely, nothing will happen if the electric thermometer falls to the floor.
Which kind of thermometer is most accurate?
Mercury thermometers are the most accurate of all. The readings of electronic and infrared thermometers are also quite correct. All of them are close to real values.
The mercury thermometer is the most accurate and versatile of them all. But such a thermometer must be used with great care. Store it in a case out of the reach of children (and dogs).
If you break the thermometer, contact a specialist to check if dangerous balls of mercury are hiding in secluded places. Remember: mercury is odorless and its vapors are not visible to the naked eye. Just one broken thermometer can cause chronic poisoning of all people living in an apartment. An electronic dog rectal thermometer is the most affordable, practical, safe, and accurate option for measuring a dog's temperature.
What Makes a Good Pet Thermometer
A good pet thermometer is affordable, made of quality easy-to-clean materials, needs little time to read, and is accurate.
Affordability. As you can see after analyzing the products described above, modern thermometers are tricky. So buying a new thermometer after the first one broke down is a usual practice for many dog owners. Find a perfect for you to balance between price and quality.
Thoughtful material and design. As mentioned before, an electronic rectal thermometer for a dog with a flexible tip is the most optimal choice. A unit you are to choose must be made of materials that tolerate lubrication and cleaning.
Fast-measuring ability. There is little chance of a dog will be waiting for even 2 minutes while the device is measuring its temperature. The most advantageous waiting time is 10 to 30 seconds.
Accuracy. The difference in one degree is no joke when it comes to an illness or disease.
What is a Normal Dog Temperature Range?
Temperature indicators of a healthy dog ​​are in the range of 37-39°C. More accurate ones depend on the individual characteristics of the pet: age, breed, weight.
Decorative dogs have the highest body temperature, it can reach up to 39.3°C.
In dogs of large and giant breeds, on the contrary, the limit of the norm ends at 38.3°C.
In puppies, there is usually a deviation from the norm by 0.5 °C upwards.
Also, animals may experience an increase in body temperature during excitement, fear, after physical exertion, in female dogs – during estrus, in puppies – during teething.
Can you use a human thermometer on a dog?
Dog thermometers have absolutely the same structure and function as those for humans, they may only sometimes have a different size. Some models are designed in such a way that it is possible to use them for both dogs and children, as they are easy to use, comfortable, painless, and safe. The only thing you will be required to do is to mark a device that it is for dog use only.
Can I use an ear thermometer on a dog?
Ear thermometers are created for mostly professional usage in vet clinics. They are quite delicate and a person with no experience of using it may not know how to position it correctly. With an ear thermometer, a dog will be less irritated. It is especially suitable for dog breeders as far as it gives accurate results because of the mercury inside.
Can you take a dog's temperature with a forehead thermometer?
You can do it, but forehead thermometers for dogs have a reputation of not being suitable for dogs. Amazon clients claim that they have struggled a lot to get a more or less accurate result. They mostly measure external temperature, which doesn't give optimal information about the presence of fever or illness.
Other Popular Options
So, here are more devices to choose from. As we have said, you should be careful with the choice since thermometers are fragile devices, and sometimes they may be delivered in already broken conditions. That is why it may be better to choose the model online but buy it in a specialized store.
Pet Dog Thermometer
Big animals need temperature measuring just as home pets. This bigger-sized unit with a practical hole on the end for comfortable taking out is what will dispel your anxieties. It is also a great pick for large dogs. Medium- and small-sized dogs may find it incredibly uncomfortable, but the owners appreciate its accuracy. The alarm is not too loud and does not scary an animal.
iProven Pet Thermometer (Termometro) for Accurate Fever Detection
This device is working slowly but it is one of the most accurate. This particular product has the least number of negative reviews. The main and the most significant disadvantage is that it can take from 20 seconds and up to 2 minutes to determine the temperature. Clients claim that it was too long for a pet to have a pet thermometer in their anuses. The unit is waterproof which eases the process of cleaning it.
Keenhealth Digital Pet Thermometer for Rectal Use
To be completely honest, it is just an average dog thermometer. What makes it stand out is the vivid design and a free case in the set. A lot of buyers had problems with a "LO" on the screens of their thermometers, that is why you may find some dissatisfactory comments. This is the case with many other similar products. So keep in mind that you first have to test it out.
ADC Veterinary Thermometer, Dual Scale, Adtemp 422
Less than 60% of people who purchased this product remained fully satisfied. Firstly, it does not beep or vibrate to indicate that the temperature measuring process is over. Secondly, it does not have built-in memory to recall the last measurement (however, this may be an extra feature – you may write the results in a usual notebook to keep track). Thirdly, it takes longer to read, which irritates the pet. However, customers tell about this tool as a satisfactory one that is capable of delivering accurate results, even despite the waiting time.
Hurricane Animal Electronic Thermometer
As for this model, there is something that makes it more comfortable than some other options. Due to its design, it is easier to hold, but, unfortunately, the device is not equipped with a soft probe. The plastic that it is made of is easy to use, unlike some resin probes. Another cons is the absence of batteries. The better part is that it uses more of a universal type of batteries, unlike some other thermometers.
Conclusion
As you can see, it is not easy to choose the right thermometer for your dog. What is more, it is better to immediately be prepared for the fact that this is not the thing that will last a long time. These devices are too fragile to be super reliable, and even the price is not always a guarantee of quality. Of course, you can choose any model from our review, and we, in turn, hope that this device will be kept sealed and your dog will not have any health problems.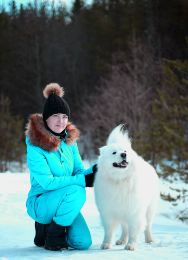 Vanessa Vilchek is one of our favorite authors. She is a real dog person, she was introduced to her first puppy at the age of 3 and since then she would rescue every pooch she met. Today all care and entertainment issues are a piece of cake for her, and we are really proud of having her on board. If you have any questions, feel free to ask in comments below or on her facebook page.