Just like brushing your teeth twice a day is a normal part of your routine, brushing your dog's teeth with special toothpaste should become a standard part of your life with a dog. Unfortunately, many dog owners still consider dog toothpaste to be a completely unnecessary item and either skip toothbrushing completely or use human toothpaste.
The truth is that regularly brushing your pup's teeth with toothpaste and toothbrush designed specifically for dogs is the most effective way to keep your dog's dental health in check. Here are the best dog toothpaste options for every situation plus a detailed guide on how to pick the best toothpaste for your pup.
Top Dog Toothpastes in 2020
Petrodex Enzymatic Toothpaste for Dogs
Editor's Choice
Petrodex is known as one of the leading brands of best products for dogs teeth, so it's completely unsurprising that their Enzymatic Toothpaste is so popular with dog owners. This toothpaste is very effective at cleaning the teeth and reducing the buildup of plaque and tartar.
Moreover, the Petrodex toothpaste for dogs helps fight bad breath and comes with a delicious poultry flavour that most dogs can't get enough of. An equally great feature of the Petrodex dog toothpaste is that it does not require rinsing and is absolutely safe when swallowed.
Paws & Pals Pet Dental Care Kit
Budget Pick
If you are shopping on a budget but still want to find the best dog toothpaste for your pup, you are guaranteed to like the Paws & Pals dental care kit. It comes with not one, but two tubes of special dog toothpaste, and two toothbrushes — a finger brush and a long toothbrush suitable for most breeds.
Despite its affordable price tag, the Paws & Pals toothpaste meets every requirement for a high-quality dog toothpaste. It helps prevent tooth decay and various gum diseases, stops the buildup of plaque and tartar, comes with an enzymatic formula that does not require rinsing, and has a delicious beef flavor.
CET Virbac Plaque Tartar Control Enzymatic Toothpaste
Best for Tartar Control
Virbac has produced some of the best products for dogs teeth for over 30 years and has been getting stellar dog toothpaste reviews from buyers. Their plaque tartar dog toothpaste does exactly what it says on the package: helps prevent the buildup of tartar on your dog's teeth, keeping both the teeth and the gums healthy and fresh.
The formula of this toothpaste is effective but very mild, which is why it can be used not only on dogs, but also on cats. The Virbac toothpaste comes in five appetizing flavors ranging from the pet favorites like poultry and beef to vanilla and mint, which was probably designed to keep the owners as happy as their dogs.
Radius Pura Naturals Pet Puppy Dental Kit
Best for Puppies
When you start using a dog toothpaste and brush while your dog is still a puppy, the pup will more easily get used to the process compared to adult dogs who are seeing a toothbrush with toothpaste for the first time. The Pura Naturals dental kit from Radius is a great way to start your dog's journey to healthy gums and teeth.
The kit contains a USDA certified organic toothpaste that doesn't contain any harsh chemicals and can be used from the first months, as well as a toothbrush that has super soft bristles and an ergonomic handle that gives you a firm grip while brushing.
Radius Pura Naturals Pet Organic Canine Dental Gel
Best Organic
Most dog owners strive to get the best for their pets, and for many of them, it includes organic dental care products. The organic dental gel for dogs from Pura Naturals is possibly the best tooth gel you can get right now if you are a big believer that organic products are infinitely better.
Thanks to the all-natural formula that contains coconut, cinnamon, and mint, this tooth gel is perfectly safe to be ingested by the dog. With regular use, the Pura dental gel will prevent plaque and tartar buildup and give your pup fresh breath for a long time between brushing sessions.
Ark Naturals Brushless Toothpaste
Best Brushless
If you are often in situations where you cannot brush your dog's teeth the regular way or if your pup has a negative reaction to brushing, you can always use the Ark Naturals brushless toothpaste. This dental chew is also great for traveling and other situations where it's not possible to use the usual toothbrush and toothpaste combo.
Available in several sizes for different dog breeds, the Ark Naturals brushless toothpaste comes in the form of a chewable stick with a soft centre filled with dog toothpaste. This toothpaste has a natural formula, contains cinnamon, clove, and vanilla, and helps maintain your pup's dental hygiene and fresh breath.
Arm & Hammer Dog Dental Care Tartar Control Kit for Dogs
Best For Bad Breath
Bad breath is a very common problem in dogs, and regularly brushing their teeth with dog toothpaste is the easiest way to make sure your pup's breath smells nice. The Arm & Hammer dental care kit for dogs was designed to help dogs and their owners fight the problem of bad breath naturally.
The kit consists of a finger toothbrush for dogs with little toothbrushing experience, a double-sided regular toothbrush with different head sizes, and toothpaste that helps not only maintain the dental health of your dog, but also kills the bacteria that cause bad breath. The toothpaste comes with a delicious chicken flavour and subtle mint scent.
Dog Toothpaste Buying Guide
The process of toothbrushing seems completely natural for humans, but when it comes to dogs, owners are often at a loss over which toothpaste to choose, how to clean the dog's teeth, and how often to do it. That is why we have created our ultimate guide on how to choose and use a dog toothpaste the right way.
Why it's important to clean your dog's teeth
Some dog care items, including toys and beds, are optional — you and your pup may or may not need them, depending on your lifestyle and taste. Dog toothpaste is a different story: if you own at least one dog, a dog toothpaste should always be present in your bathroom cabinet. Here are the three biggest reasons why your dog will benefit from a regular use of toothpaste.
Dental health
When your dog is still young, the effects of poor dental hygiene may be barely noticeable. However, when the dog grows older, these effects will be not only visible, but will also give your dog lots of discomfort or even pain. Tooth decay, plaque, tartar, bleeding gums and painful sensation are just some of the things that can happen when you don't regularly brush your pup's teeth.
Treating your dog's dental problems that result from poor hygiene is also rather painful and will likely take a toll on your budget. Brushing the pup's teeth regularly is a much more cost-effective way to achieve a better state of your dog's oral health.
Fresh breath
There are no dogs that are immune to the problem of bad breath. If you have ever held your face close to the dog's mouth, you know that it doesn't smell nice. This happens due to several reasons, including a typical dog's diet, but there is one simple way to eliminate this problem by introducing regular toothbrushing into your routine.
Many of the best dog dental care products come with appetizing flavors for the dog's enjoyment and a barely noticeable scent for maintaining fresh breath. Their effect may not last forever, but it definitely helps you smell your dog's breath without feeling like you are going to be sick. You can also use various flavored chewables in between brushings to keep your dog's breath fresh.
Hygienic habits
Compared to some other pets, dogs are relatively fuss-free when it comes to health and maintenance. However, there are still several important hygienic habits your pup needs to learn in order to stay fit and healthy for years. Brushing the teeth is one of the most important habits for a dog, and the sooner the pup gets used to it, the better.
Introducing the process of teeth brushing early in your dog's life not only helps you avoid the aggression and discomfort of an older dog trying to get the hang of dental hygiene, but will also teach your pup how to be patient even during the less than pleasant procedures. This can become handy when you are trimming the nails, groom the coat, or take your dog to the vet for a checkup.
Features to consider when choosing a dog toothpaste
There are hundreds of dog toothpaste options available in the market today, but not all of them are equally good and suited to your and your dog's needs. Here are the features to consider when choosing the best dog toothpaste.
Formula
At the very least, a good dog toothpaste should effectively clean your dog's teeth, which is impossible without a well-designed and safe formula. Always look at the list of the ingredients before making the purchase and then match the active ingredients to the manufacturer's promises to see whether the product can actually do what it says on the package.
Safety
Safety is an essential parameter for choosing the best toothpaste for your dog. If it wasn't for this requirement, dogs would have been able to use human toothpaste with no negative consequences. A safe dog toothpaste should have a harmless formula and be suitable for ingestion, since it is impossible to make your dog rinse his mouth after brushing.
Easy use
Even for the most patient dog, regular toothbrushing can become a hassle. To minimize the uncomfortable feelings for you and your dog, look for a toothpaste that requires minimal brushing. For example, enzymatic toothpaste works well even with no brushing at all. Plus, some toothpaste for dogs comes in a chewable formula, so you won't even need a toothbrush.
Flavor
Whether your dog is a big fan of brushing his teeth or absolutely hates the procedure, he will still be able to appreciate the delicious flavor of the toothpaste. Most dog toothpaste brands include an appetizing flavor into their product — it can be chicken, beef, or seafood. Flavoring the product makes the process of toothbrushing more bearable and helps train the pup.
Breath freshness
The fact that most toothpaste options for dogs are flavored with traditional pet flavors is great for the dog but not as great for the owner. If your dog suffers from bad breath or you can't stand the regular dog toothpaste flavors, you should look for a toothpaste designed specifically to treat the problem of bad breath by killing harmful bacteria. This toothpaste also often has a smell that feels nice to humans, such as mint or cinnamon.
How to clean a dog's teeth with toothpaste
Using a dog toothpaste is somewhat trickier than brushing human teeth, but with our tips and plenty of patience both from the dog and the owner, you will master this process in no time:
While it's possible to start cleaning your dog's teeth when he's older, you will achieve the best results if you introduce toothbrushing when he is still a puppy. That way, the dog will be perfectly familiar with the process and avoid many dental diseases in the following years.
The important thing to do here is to get your dog used to the feeling of a foreign item in the mouth. Your job is to get your dog to open the mouth when the toothbrush approaches. You can start by offering your dog a toy, and while he is holding the toy, the teeth and the gums become exposed and easily accessible.
Based on your dog's age, size, and preferences, you can choose between a regular dog toothbrush and a finger toothbrush. Finger toothbrushes may feel more comfortable to the dog, but regular toothbrushes with medium bristles are more effective at removing the plaque and cleaning the teeth.
Next, it's time to get your pup accustomed to the flavor of the toothpaste. You can do it by offering a dab of toothpaste to your dog as a treat on your fingertip or put it on your dog's favorite toy.
Once you feel your dog is comfortable enough around the toothbrush and toothpaste, you can move on to the cleaning process. Simply put a dab of toothpaste on the toothbrush and clean your dog's teeth in circular motions, trying to cover as many teeth as possible. The human requirements of 2-minute brushing sessions may not be applicable here, so the longer you and the pup last, the better. Don't forget to verbally praise your dog in the process and after it is finished.
Frequently Asked Questions
What is the difference between human and dog toothpaste?
The biggest difference between human and dog toothpaste is that human toothpaste should necessarily be rinsed out of the mouth after brushing, while dog toothpaste can be safely swallowed. Moreover, human toothpaste often contains harsh cleaning agent that would be harmful to a dog, and human toothpaste flavor will hardly delight your pup. A lot of human toothpaste also contains the artificial sweetener xylitol, which is toxic to dogs even in the smallest amount.
How often should I brush my dog's mouth?
Ideally, you should brush your dog's teeth once a day. However, it's understandably difficult for most busy dog owners to maintain this schedule. Plus, many dogs have problems getting used to the procedure, which makes every brushing session filled with stress. At the very least, you need to thoroughly brush your pup's teeth two to three times a week, although your vet may recommend you a different schedule based on the state of your dog's dental health.
What is an enzymatic toothpaste for dogs?
Enzymatic toothpaste can be a real lifesaver for dogs who hate toothbrushing and their owners who get stressed out in the process. A typical enzymatic toothpaste contains enzyme glucose oxidase, either on its own or together with lactoperoxidase. When applied to the dog's teeth, the enzymatic toothpaste starts exhibiting antibacterial properties and effectively removes plaque from the teeth. Since it does not require brushing in order to work, you can simply put a small amount of enzymatic toothpaste into your dog's mouth for the paste to deliver its effect.
What if my dog swallows the toothpaste?
Your dog swallowing toothpaste is nothing to worry about, as long as the toothpaste has been formulated specifically for dog use. Whether you are using the best natural toothpaste for dogs or a regular dog toothpaste, you can rest assured it is safe to be ingested. The manufacturers of dog toothpaste know very well that dogs cannot rinse their mouths after brushing, which is why it's perfectly fine if a small amount of toothpaste is swallowed by your pup.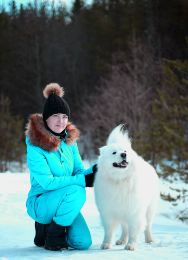 Vanessa Vilchek is one of our favorite authors. She is a real dog person, she was introduced to her first puppy at the age of 3 and since then she would rescue every pooch she met. Today all care and entertainment issues are a piece of cake for her, and we are really proud of having her on board. If you have any questions, feel free to ask in comments below or on her facebook page.