Even if you are a dog diet expert, maintaining the required nutritional content for your dog's food can be nearly impossible. Your dog may simply refuse to eat some products or have dietary restrictions that prevent him from getting every necessary nutrient with food. This is where vitamins for dogs come in handy, and here is a list of the best dog vitamins plus some tips on how to choose the best ones for your pup.
PetHonesty 10 in 1 Dog Multivitamin
Best Overall
When you're looking for the best dog supplements, you want a good formula, a reputable manufacturer, and a convenient form. This is exactly what you'll get with the PetHonesty dog multivitamin. Just one small and tasty treat contains all the essential nutrients your pup needs.
In the PetHonesty multivitamin, you will find probiotics for a healthy digestive system, omega fatty acids for heart and skin health, glucosamine and vitamin D3 for joints, and niacin for a healthy brain function. The supplement also contains pumpkin for a healthy fiber intake, vitamin C for stronger immunity, and eggshell meal for maintaining collagen levels.
ProSense Multivitamin for All Life Stages
Budget Pick
If you don't have a huge budget to spend on dog supplements but still want the best for your pup, the good news is that there are dozens of brands who produce high-quality and budget-friendly supplements. One of them is ProSense, who dog multivitamins for all life stages are a big hit in the dog owner community.
One bottle of the ProSense multivitamin for dogs contains 90 chewable tablets. In every tablet, you will find a variety of nutrients, minerals, and vitamins for supporting dog health, including niacinamide, calcium, zinc, vitamins A, D3, B12, and flax seed.
Best for Puppies
Muscle Bully Puppy Natural
When you are raising a puppy, you are watching its food intake even more carefully and want only the best for its health. The Muscle Bully puppy supplement is widely considered to have one of the best formulas for puppies. It comes in a convenient powder form and has a great taste that is adored by most pups.
The formula of Muscle Bully is very rich and contains everything your pup may need for healthy development, including 18 amino acids such as arginine, glutamine acid, and tryptophan, as well as 23 nutrients, such as iron, calcium, niacin, and vitamins A, B6, B12, C, and D3.
Primo Pup Multivitamin Support For Puppies
If you prefer your puppy vitamins to come in the form of chewables instead of a dog vitamin powder, you should definitely consider the multivitamin formula from Primo Pup. It is designed to supply puppies with the vitamins, minerals, and nutrients needed for healthy physical and mental development.
Besides the delicious taste that will have your pup begging for more, you will get a balanced protein, fat, and carbohydrate content. Each tablet of Primo Pup for puppies contains vitamins A, C, D3, E, copper, iron, potassium, zinc, taurine, riboflavin, and niacinamide that will help your pup grow up the healthiest dog on the planet.
NaturVet VitaPet Puppy Daily Vitamins For Dogs
NaturVet is a well-known brand of supplements for dogs, so it's not surprising that their puppy formula is also highly regarded in the puppy owner community. The VitaPet supplement for puppies has a thoroughly designed formula for maintaining healthy development in puppies from 12 weeks to 1 year old.
This puppy supplement formula comes in a convenient chewable form with a tasty flavor. Each kibble will supply your pup with over 20 vitamins and minerals, including vitamins A, B1, B2, C, D3, E, and K, calcium, zinc, copper, magnesium, niacin, and more. Moreover, the formula aids in maintaining fresh breath of your puppy.
Best for Senior Dogs
Strawfield Pets Senior Multivitamin Probiotic
Senior pups need an equally thoughtful approach to their diet and nutritional content of their food intake, and Strawfield Pets produces one of the best senior dog vitamins we have seen so far. The supplement comes in soft chewables with a tasty peanut butter flavor, which is perfect even for older dogs who have trouble chewing tough substances.
The Strawfield Pets formula contains over 20 vitamins, minerals and nutrients for your senior pup's health: probiotics for better digestion, biotin and omega 3 for a shiny coat and healthy skin, hyaluronic acid and glucosamine chondroitin MSM for hip and joint health, milk thistle for improving liver function, and more.
Zesty Paws Senior Advanced Multivitamins For Dogs
The Zesty Paws multivitamins are perfect for senior dogs who have allergies or other diet restrictions. The supplement's formula is free of artificial preservatives or flavors, and each chewable bite with a tempting chicken taste is produced with a heat-free method, which helps the product retain its nutritional value.
Zesty Paws offers an 8-in-1 multivitamin formula for senior dogs, which means it positively affects 8 aspects of pup health. There are folic acid and CoQ10 for a healthy cardiovascular system, vitamins A and C for a stronger immune system, lutein and zeaxanthin for better vision, and vitamin E, biotin, and cod liver oil for skin and fur health.
NaturVet Vita Pet Senior Daily Vitamins
The wheat-free, soft chewables by NaturVet are designed specifically for senior dogs with allergies and trouble chewing through tough food. It works great for older dogs of different levels of physical activity, and, together, with a healthy diet, is able to maintain the ideal nutritional balance in senior pups.
In the formula of NaturVet, you will find numerous nutrients and minerals needed to maintain your senior dog's health, from iron, copper, zinc, and magnesium to biotin, choline, and niacin. Moreover, the formula is rich in vitamins A, C, B1, B2, B6, D3, E, and K for an even better nutritional profile.
Best for All Ages
Zesty Paws Aller-Immune Bites
Zesty Paws has a whole range of dog vitamins and supplements where every dog owner will find the best option for their pup, and it understandably includes a formula for dogs who are prone to allergies. Aller-Immune Bites are designed for allergic dogs who need a boost to their immune system and overall health.
Each Zesty Paws bite contains probiotics for digestive health, colostrum for a powerful immunity, apple cider vinegar for healthy gut bacteria, salmon oil for skin and fur health, and EpiCor for supporting the immune system. Moreover, the formula helps soothe irritated skin and has an irresistible lamb flavor.
Premium Care Stress And Anxiety Calming Chews
If your dog displays anxious behavior, is overly aggressive or is often subjected to stress, a well-chosen supplement can help you maintain your pup's good mood and behavior. This is exactly what Premium Care offers with its Calming Chews formula. These duck-flavored chews contain hemp and valerian root that positively affect a dog's mental and emotional wellbeing.
On top of that, Premium Care chews contain a variety of nutrients for improving your dog's behavior. The ginger root, chamomile extract, passion flower, and L-tryptophane all have proven efficiency for reducing bad behavior, taming hyperactivity, keep low stress levels, and [revent aggression.
Milk-Bone Soft And Chewy Dog Treats
The Milk-Bone dog chewables don't have as powerful of a formula as some powder and liquid vitamins for dogs. However, it can still be a great addition to your stash. If you think of it as a healthy and more nutritional alternative to regular dog treats, you will see the benefits of this product.
Underneath the scrumptious beef flavor, you will find a variety of 12 vitamins and minerals that support dog health. Milk-Bone chews contain dietary fiber, vitamins A, E, and D3, copper, folic acid, niacin, and biotin. Plus, the soft and chewable texture of each bite makes it perfect even for senior dogs.
How to Choose the Best Vitamins for Your Dog
Many dog owners prefer to support even healthy dogs with vitamins and supplements, but it's especially important to find the right vitamin formula for dogs with health problems. In some cases, your veterinarian will recommend a specific formula or brand, especially, if certain nutrients are essential for correcting your pup's health ailments.
However, you can also choose the supplement for your dog on your own. If you want to make the best possible choice, follow these tips:
In an attempt to sell you a bottle of dog vitamins, the manufacturer can often make claims that sound too good to be true. The important thing to remember here is that even the best dog vitamins are not able to cure your pup — they are designed merely to support the healing process. A manufacturer that is willing to lie about the effect of the product will also likely lie about other things.
Many dog vitamins have very long and impressive-looking lists of ingredients that contain popular vitamins and nutrients. However, you should also note the amount of each ingredient that is contained in the formula. Often it can be so little that the ingredient doesn't make any real difference and is simply included to make the supplement look better.
It is possible to release dog vitamins and supplements with little to no studies and testing, but the most reputable brands will always have their formulas clinically tested. You can find the information about clinical and laboratory studies on the manufacturer's website or ask your vet for advice.
It's not uncommon for manufacturers to make the most appealing promises and we don't always have the level of expertise needed to evaluate the formula of a particular supplement. This is where online reviews may come to the rescue — they will tell you if the supplement is safe and effective.
Features to Consider
When choosing the best dog vitamins for your furry friend, you will need to consider the following factors:
Finding the right vitamin formula for a young and healthy dog is probably the easiest challenge, but if you are dealing with a puppy, a senior dog, or a dog with health ailments, there are a few more features you should think about. Dog with joint and bone problems may require a different supplement formula than a pup with vision problems. You should also consider your dog's potential allergies and look for a hypoallergenic multivitamin formula.
While a few of dog vitamins come in an injectable form, most dog owners prefer oral supplements. They may come in liquid form, as capsules, chewables, or as a powder. Powder and chewables are probably the most convenient dog vitamin forms, while capsules usually cannot be chewed and are best suited for extremely well-behaved pups who have no trouble swallowing the pill whole.
The formula of the multivitamin supplement you buy for your pup should fit his requirements and health needs. Carefully study the formula to see if it's balanced and does not interfere with other supplements of medicine your dog may take. Artificial preservatives, flavors, and fillers are some of the ingredients you need to avoid if you want to avoid the potential health damage. You should also stay clear of formulas that contain a high quantity of one or two ingredients — too much of a good thing can be very bad for your pup.
Convincing your dog to take any medicine can often be a challenge, which is why most dog vitamins come with attractive flavors such as peanut butter, chicken, liver, or beef, so you just need to choose your dog's favorite one. However, some powdered formulas don't have any flavor at all and are designed to be mixed into your dog's food without interfering with its smell and taste.
Frequently Asked Questions
Should I give my dog vitamins?
Despite the marketing efforts of many dog supplement manufacturers, not every dog on the planet needs to regularly take vitamins. If your dog eats a balanced diet of veterinarian-recommended and professionally made dog food, there is a chance his nutritional balance is perfect and the pup does not need any multivitamins.
However, there are several situations where the dog will definitely benefit from a vitamin supplement. If you prepare your dog's food on your own, it may be hard to maintain the required nutritional intake. Dogs with low appetite, health problems or pups of senior age may also need additional vitamin support.
What vitamins are bad for dogs?
In case your dog eats a balanced diet and already has acceptable levels of the most important vitamins and nutrients in his body, taking additional doses of vitamins can be harmful to the pup.
Plus, it is important to maintain the recommended dosages of the supplement. Taking too much of any nutrient can lead to various side effects, which is also why you should keep the jar of delicious-smelling dog vitamins out of your pup's reach.
Can I give my dog human's vitamins?
No, you should never give your dog your own vitamin supplements, unless otherwise recommended by your vet. Human multivitamin formulas have completely different dosages of key ingredients that can have dangerous consequences for the delicate dog health.
Moreover, human multivitamins are often formulated with additional ingredients that should be never used in dog supplements due to their potential toxicity. Human and dog vitamins are completely different things and are not interchangeable.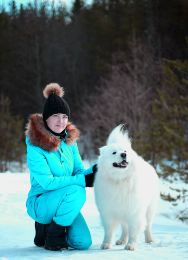 Vanessa Vilchek is one of our favorite authors. She is a real dog person, she was introduced to her first puppy at the age of 3 and since then she would rescue every pooch she met. Today all care and entertainment issues are a piece of cake for her, and we are really proud of having her on board. If you have any questions, feel free to ask in comments below or on her facebook page.