All of us were taught to follow hygiene rules from childhood. Adults strictly observed that we wash our hands, brush our teeth, wash our face, etc. But not everyone always understands that proper hygiene is important not only for people but also for their beloved pets.
Often, owners wash paws or the entire pet with ordinary soap, which dries out the skin and causes discomfort to the dog. But nowadays there are many options for keeping your pet clean at home and outdoors.
Let's take a look at which dog wipes are the best and the ways they work.
Top 5 Dog Wipes for High-Quality Hygiene of Your Pet
But which napkins to choose and what types are there? Why do you need dog eye wipes and which wipes are best for wool? To answer these and other questions, we have collected Top 5 products that will not let you and your pet down.
Optixcare Dog & Cat Eye Cleaning Wipes, 50 count
Editor's Choice
Always remember that your pet's eyes require more serious care even than his paws. Is it safe to use baby wipes on dogs' paws? Of course, this is not the best option, but you can use it on rare occasions. But you cannot replace wipes for your pet's eyes with any other products. Then the Optixcare Dog & Cat Eye Cleaning Wipes is what you need. If your pet has lingering eyes or stains under them, then this product will help you cope with this problem. Simply rub under your pet's eyes with these gentle wipes and trust in this safe formula. This product is great for everyday use as the formula contains chamomile extract and other safe ingredients. And convenient packaging allows you to take them with you wherever you go.
Pet MD Aloe Vera & Eucalyptus Dog Ear Wipes, 100 count
Best dog ear wipes
Pet MD Aloe Vera & Eucalyptus Dog Ear Wipes will help you not only to clean your pet's ears but also to keep them healthy. These veterinary healing wipes will gently remove wax and other fluids that can be dangerous and infectious. You will not find alcohol in this product, so they will not cause a painful effect on your pet. These pet wipes do not contain a pungent smell as they contain aloe vera and eucalyptus to help soothe and refresh your pet's ears. Prevent the spread of infection in advance with Pet MD Aloe Vera & Eucalyptus Dog Ear Wipes and you can always rest assured about the health of your dog's ears.
Nature's Miracle Spring Waters Deodorizing Dog Bath Wipes
Best dog bath wipes
Deodorizing wipes for your pet are convenient and quick. Don't always have the time or opportunity to bathe your pet? Then Nature's Miracle Spring Waters Deodorizing Dog Bath Wipes hurries to your aid. The formula is enriched with refreshing and moisturizing conditioners to keep your pet's coat and skin healthy and glowing. The absence of alcohol will help not to dry out your dog's skin, but to make it softer. But can you use baby wipes on dogs and not buy specialized ones? If you are interested in the safety of your pet, then you know the answer to this question, since the composition of other wipes can be harmful. Remove dirt and odor safely with Nature's Miracle Spring Waters Deodorizing Dog Bath Wipes.
Petkin Fresh Mint Dog & Cat Plaque Tooth Wipes
Best dog plaque tooth wipes
Your pet's teeth and gums need to be kept healthy, too. No, you do not need to take him to the dentist, it is enough to buy a Petkin Fresh Mint Dog & Cat Plaque Tooth Wipes and it will do its job. From the very first pet wipe, you can deal with your dog's mouth odor. All packaging is gently soaked with mint and baking soda to remove odor and food debris from your dog's teeth. Just open the package and use the tissue without rinsing your pet's mouth. Petkin Fresh Mint Dog & Cat Plaque Tooth Wipes are very convenient and will quickly refresh the smile of your pet.
TropiClean Deep Cleaning Deodorizing Dogs Wipes, 100 count
Best deodorizing dogs wipes
TropiClean Deep Cleaning Deodorizing Dogs Wipes is a great time saver and will delight your pet as well. These deodorizing wipes not only wash away dirt, but also dandruff, saliva, pollen, etc. The coconut cleanser inside the formula will keep your pet fresh and crystal clear. And Aloe Vera will help soothe the skin and heal it. Another plus of this chlorhexidine wipes for dogs is that it does not affect the treatment of fleas, so you can safely wipe your pet without worrying about anything.
Features to Consider When Buying Dog Wipes
Washing your pets often, especially large ones, is not always convenient. Light dirt from the coat and paws can be removed with ordinary wet wipes. These hygiene items can be useful in case of visiting the exhibition or guests. It is convenient to take it with you as the package is usually compact and lightweight.
Type. First, you need to decide what type of wet wipes you are interested in because, as you already know, they are of different types. We will discuss in more detail the types of napkins in the next section.
Suitability. After you have decided on the type of wet wipes, make sure that they are specialized for animals, and suit your pet. Because as you already know the most popular question is: "Сan I use baby wipes on my dog?" We remind you that this is an acceptable option only in emergencies. Regular use of these wipes can harm your pet. Baby wipes and wet wipes are not manufactured with the intent of canine use and therefore may not be tested for dog safety. So why endanger your pet when there are so many types of this product specifically for animals?
Potentially allergic elements in the composition. Also, make sure your dog is not allergic to any of the ingredients. If you're not sure, then you can always find hypoallergenic options. But before buying, it is always better to consult with a veterinarian.
Guide (Frequently Asked Questions)
Now, we are going to answer the questions about the best dog wipes that the owners are most interested in.
Do dog wipes really work?
Of course, wet wipes are not a substitute for taking a bath for your pet. But frequent bathing does not work well either, as it can dry out your dog's skin. Therefore, the best option is to alternate the use of napkins with a bath. They perfectly clean off small dirt, kill germs and moisturize the skin. Depending on the type of napkins, they will perform their function. For example, dog eye wipes will dry and keep your pet's eyes from watering, and ear wipes will remove wax and other ear fluids, and so on. Most often, wipes for dogs are designed for daily use, so you can safely allow your pet to walk in any weather without fear of contamination.
What kind of wipes can you use on dogs?
You can only use wipes designed for animals. None of the usual antibacterial or baby wipes will replace the ones you need. So what types of wipes are there for your pets?
grooming
paw cleaning
ear wax control
yeast infections
fungal infections
tear stain removal
antibacterial wipes.
As you already understood, the type of product that you need depends on the intention to use. For example, antibacterial wipes for dogs can help clean paws and small dirty areas, and oral wipes can help keep your pet's teeth clean and healthy.
How do I use dog wipes?
When you have chosen the type of wipes, read the instructions carefully. It is very important to know:
how often the product can be used
its composition
rules and conditions of use
Make sure your pet is not allergic to the listed ingredients. It is always best to check it with your veterinarian before purchasing medicated wipes for your pet. The veterinarian will also be able to explain in more detail why you cannot use baby wipes on dogs. After the above recommendations, you can safely use the selected product and enjoy walking with your pet without worrying about its purity.
How often should I use dog wipes?
Usually, all dog wipes can be used every day. You can read about this in the manual of the purchased product. Of course, they are not a substitute for bathing as it is difficult to thoroughly clean the dog's entire body with napkins. But to cleanse certain parts of the body, you can safely use dog cleaning wipes, which will also remove dirt and infection. Therefore, it is a great choice when you go to visit someone with your pet or travel.
Are dog wipes a good substitute for a complete bath?
The main thing is not to forget that buying wipes does not negate bathing your pet. Veterinarians recommend bathing your dog about once a month to maintain skin and coat health and avoid various infections. Based on this, we confidently declare that wipes cannot completely replace bathing with the same confidence as well as baby wipes for dogs are not acceptable for regular use. Therefore, the best option is to use wipes regularly, but do not forget to bathe your pet about once a month.
Are dog wipes safe?
If you have purchased wipes being guided by our recommendations, then you do not have to worry about safety. We recommend products only with a natural composition that does not have complex chemicals. The formula inside the products we've picked for this guide is specially selected for your pet and can only improve its condition. The wipes cleanse and remove the infection while leaving a silky coat and moisturized skin. The main thing is to choose the right napkins. For example, use dog face wipes for their intended purpose, and do not wipe their paws with them or do not clean ears with paw napkins. Well, if you follow all the recommendations, then your pet is completely safe.
Can I use antibacterial wipes on my dog?
You can use antibacterial wipes that are intended only for animals and not for humans. Conventional antibacterial wipes can be harmful because of their composition not intended for animals. Most often, dog paw wipes are automatically antibacterial. Since their main function is to remove dirt and germs from your pet. So after using such wipes, you may not worry about the cleanliness of the floors of your house after walking with your dog. This kind of product also prevents the spread of infection and keeps the paws moist.
How do I stop my dog from tracking dirt in my house?
It's very simple, you just need to get dog bath wipes and forget about this everyday trouble. Many types of wipes replace partial bathing. After the walk, it will be enough to wipe the paws and other polluted parts of your pet and boldly let him into the house. In this way, you not only prevent the spread of dirt around the house but also moisturize your pet's skin. But the main thing is not to forget that once a month you still need to bathe your dog.
Other Best Dog Wipes for a Wider Selection
If you still have not been able to make a choice or perhaps you are more interested in medicated wipes for dogs, then we are glad to offer you additional quality options.
Miracle Care Sterile Eye Wash Pads for Dogs & Cats
Are baby wipes safe for dogs? Of course not, especially if you want to use it for the eyes of your pet. If you want to safely cleanse your dog's eyes, then we are happy to offer you a Miracle Care Sterile Eye Wash Pads for Dogs & Cats. The well-moistened pads can be used for both dogs and cats, clearing the eyes of unpleasant debris without irritation. The natural formula of this product will cleanse the eyes safely without causing discomfort to your pet. These effective pads also remove bacteria that can spread infection in your dog or cat.
Petkin Dog & Cat Tushie Wipes
Petkin Dog & Cat Tushie Wipes are a great option for cleaning your pet's paws. The specially selected formula with Aloe Vera and Vitamin E thoroughly removes dirt while restoring your dog's skin and coat. To clean the paws, simply open the package, remove the tissue, and wipe the dirty areas without water or rinsing. The main thing is to use them for their intended purpose and not as eye wipes for dogs, for example. The simplicity and safety of this product will immediately win your trust. The convenient snap-in packaging also keeps unused wipes moist and ready to use.
TrizCHLOR 4 Wipes for Dogs & Cats
If your dog is allergic or has clear skin problems, then TrizCHLOR 4 Wipes for Dogs & Cats is what you need. They are excellent for the treatment of superficial bacterial infections and dermatitis. It is also effective for staphylococcal infections. The healing formula consists of betaine to soothe the skin and chlorhexidine to kill germs. This quality product is alcohol-free and the stinky smell helps to heal your pet's skin. Another plus of these allergy wipes for dogs and cats is that you can get them without a prescription.
Vetnique Labs Glandex Pet Wipes
Vetnique Labs Glandex Pet Wipes Cleansing & Deodorizing Anal Gland Hygienic Dog & Cat Wipes are a great way to cleanse your pet's anal area. Active and healthy ingredients containing aloe juice and vitamin E soothe and deodorize your dog's backside. It can also be used for the daily hygiene of the whole body as this product will not harm any part of your pet's body. These antiseptic wipes for dogs and cats contain the DeoPlex enzyme, which helps eliminate unpleasant odor glands while maintaining your pet's pleasant scent. The easy-to-use wipes keep your pet's anal glands healthy and ensure proper hygiene.
TropiClean Oxy Med Allergy Relief Wipes for Dogs & Cats
Dandruff often causes allergies in your pets. Does your dog sneeze frequently? Then it's time to think about purchasing a TropiClean Oxy Med Allergy Relief Wipes for Dogs & Cats. Each pre-moistened wipe contains Alpha-Hydroxyl and oatmeal to instantly wash away dandruff and cleanse the skin. Soft compact cat and doggy wipes allow your pet to get rid of not only dandruff but also itching and seborrhea. No rinsing is required. After use, your pet will smell a pleasant scent that will delight the whole family.
MalAcetic Wet Wipes for Dogs & Cats
Your pet's sensitive skin can sometimes be a recurring problem. MalAcetic Wet Wipes for Dogs & Cats will help you to heal your dog's skin. The excellent formula helps balance skin surface pH making it unfavorable for the overgrowth of fungus /yeast. This product is formulated based on acetic and boric acids, which also prevents the spread of the fungus. Do dog wipes make skin dry? This type of wipes dries the skin slightly to prevent the spread of infection. Perfect for quick cleaning and degreasing. The wipes are conveniently packaged so you can take them anywhere you want.
Pogi's Pet Supplies Deodorizing Wipes for Dogs & Cats
Pogi's Pet Supplies Deodorizing Wipes for Dogs & Cats will help cleanse your pet while leaving a pleasant smell after the procedure. A great plus of this product is that the size and thickness of the wipe are suitable for large dogs with thick hair too. Hawaiian Awapuhi, Aloe Vera, and Vitamin E complement this product's natural formula and leave your pet clean and shiny. Also, environmentally friendly Pogi's Pet Supplies Deodorizing Wipes for Dogs & Cats decompose quickly, which does not harm our planet. By purchasing these pet wipes for dogs, you help not only your pet but also the environment.
Conclusion
As you can see, there are many different wipes for your pets that work. Your main task is to choose the right product and use it for its intended purpose. Let's love and take care of our pets together since there are so many useful and affordable tools to maintain your pet healthy, clean, and well-groomed.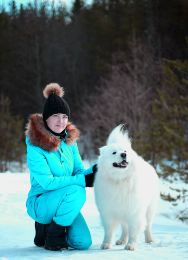 Vanessa Vilchek is one of our favorite authors. She is a real dog person, she was introduced to her first puppy at the age of 3 and since then she would rescue every pooch she met. Today all care and entertainment issues are a piece of cake for her, and we are really proud of having her on board. If you have any questions, feel free to ask in comments below or on her facebook page.