Some dog owners believe that fleas and ticks are not too serious enemies for our pets. Mosquitoes bite us every summer – and nothing happens! But this is every owner's big mistake. Are fleas and ticks that dangerous? Yes. Fleas are a source of torment for animals – their bites provoke itching. Ticks are even worse – they transmit many dangerous infections. So how to choose the best flea and tick prevention for dogs? Our review will help you make the right choice and answer the most common questions on this topic.
Top 5 Flea and Tick Prevention for Dogs
There is a ton of advice on tick prevention for dogs. But is it all effective and safe? To do this, we have selected the most optimal ways to save your pet from these troubles as well as save your time and help with the right choice.
Seresto 8 Month Flea & Tick Prevention Collar for Large Dogs
Best Tick Prevention for Large Dogs
The Seresto 8 Month Flea & Tick Prevention Collar for Large Dogs works against ticks and fleas in contact with skin and hair, so the parasites do not need to bite your pet for the remedy to work. When you take flea and tick pills, the active constituents work in the blood, and the parasites must bite your pet to die. The active ingredients of the Seresto are distributed throughout your pet's skin and coat and can target parasites on contact, which means the parasites do not need to bite your dog. The Seresto 8 Month Flea & Tick Prevention Collar for Large Dogs releases active substances from the collar's unique matrix in controlled low doses to ensure flea and tick prevention for dogs. It allows you to forget about the use of anti-ticks and fleas remedies for up to 8 months.
Seresto 8 Month Flea & Tick Prevention Collar for Small Dogs
Best Tick Prevention for Small Dogs
If your puppy is seven weeks old, then it's time to take care of his safety, because soon he will get to know the outside world. Seresto 8 Month Flea & Tick Prevention Collar for Small Dogs can be an excellent solution to this task. The active substances continue to flow from the collar into the lipid layer in the required amount. The optimal level of insectoacaricidal protection is maintained in constantly effective doses for 8 months. Seresto 8 Month Flea & Tick Prevention Collar for Small Dogs is odorless and also waterproof, which allows you to bathe your puppy without removing the collar. It is the best way for flea and tick prevention for your small dog or puppy.
Revolution Topical Solution for Dogs, 40.1-85 Lbs (Teal Box)
Best for Instant Relief
They are easy to use and effective: fleas disappear within a few days, and ticks do not even try to cling (unless, if the dog is very shaggy, they can crawl on the coat, but never bite). If you are looking for the best flea and tick medicine for dogs you are on the right way now. In the box, you will find six doses that will help you forget about fleas and other parasites for half a year. But before applying Revolution Topical Solution for Dogs, 40.1-85 Lbs (Teal Box) your four-legs friend must have a current heartworm test. Please visit your veterinarian before starting any treatment.
Simparica Trio Chewable Tablets for Dogs, 44.1-88 LB, 6 Treatments (Green Box)
Best Soft Chews Tick Prevention for Dogs
Within 12 hours after giving the pill, your dog will be protected from 9 species of ixodid ticks, fleas, ear mites (otodectosis), scabies (sarcoptic mange), and demodicosis. The dog can walk in the rain, and swim in a pond and a bath, but the effect of the pill is not reduced, and the dog remains under reliable protection! The tablet is sized to fit your dog's size. Most dogs eat Simparica themselves as a liver-flavored pill. Simparica Trio Chewable Tablets for Dogs contains an active ingredient – sarolaner, which is the best way for tick prevention. This is the best option for pets whose age is 8 weeks or more and weighing between 44.1 and 88 pounds.
K9 Advantix II Flea, Tick & Mosquito Prevention for Large Dogs 21-55 Lbs
This tick medicine for dogs protects animals from flea and tick infestation for 4 weeks. Also, Advantix can be used to treat allergic flea dermatitis. It is important that it is waterproof and retains its effectiveness even after bathing, so you can safely bathe your pet. You can also use this medication if your pet is pregnant and you will not harm it. Prevention of fleas and ticks reviews say that K9 Advantix II Flea, Tick & Mosquito even scares away flies from dogs. If your pet is over 7 weeks old and weighing 21-55 pounds you can safely use this miracle cure.
Guide (Frequently Asked Questions)
Here we will provide answers to a couple of questions that owners usually have when they are looking for the best flea and tick prevention.
What is a dog tick repellent and how does it work?
First, let's find out why are ticks so dangerous? If there is a piroplasmosis pathogen in the tick's saliva, it enters the dog's bloodstream along with the saliva and affects the erythrocytes, destroying them. Lack of treatment or untimely treatment will lead to serious complications and (in most cases) to the death of the pet.
So dog tick repellent is a product that should protect your pet from all parasites. The best tick prevention for dogs is the main goal for every owner. There are many kinds of repellents to protect your pet, but they all have almost the same effect. The active substance is distributed in tissues and reaches high concentrations in adipose tissue, liver, muscles, and kidneys. Modern dog tick repellents are effective, however, you should be attentive. Check your dog's skin and fur all over after you spent time outside.
How safe is it?
As mentioned earlier, there are a lot of remedies. Your main task is to find the right tick repellent for dogs that will fit your pet. Always read the instructions for anti-mite drugs carefully and check
what is the weight the drug is suitable for,
are there some contraindications, the period of guaranteed protection,
from what age and weight of the puppy or dog the drug can be used,
whether it is suitable for pregnant and lactating dogs.
Try to choose a drug that has the best dosage for your dog's weight. If you have any doubts, it is best to contact your veterinarian first.
For animals at a young or old age, you need to carefully select drugs for parasites so as not to harm. Lifestyle is also important, for example, if the pet is constantly staying outside, you need enhanced protection. But remember that if the health condition is weakened, some drugs may be too toxic.
What makes a dog tick repellent effective?
For the best tick repellent for dogs, look for ingredients that kill and repel ticks but aren't harmful to your dog. Make sure that your repellent does not contain imidacloprid, flumethrin, permethrin, and pyriproxyfen. These are quite dangerous substances for your animal.
The best way is when the active substance is concentrated in the blood plasma or spreads over the fat layer. According to veterinarians, parasites, as a rule, do not bite such an animal. And if they bite, then the diseases that the tick carries are not transmitted.
Do tick repellents actually work for dogs?
This is a very strange but frequently asked question. Of course, it works for dogs as well. But each product has its characteristics. Therefore, you need to pick up a repellent individually to protect your dog as much as possible. Tick treatment for dogs is a very important part of caring for your pet. Don't let everything take its course. The main thing is that the product evenly protects all parts of the animal's body. Look for drugs with low toxicity that are safe for weak or young animals and rarely cause allergic reactions.
Can I use tick repellent on my lawn?
As we already know, ticks love thick and tall grass. But if you treat these with pesticides, you reduce the number of ticks that live there. Be careful when applying pesticides, as both the chemical and organic products can have toxic properties. Read the product's instructions and safety labels closely. Flea and tick for puppies are dangerous but chemical pesticides are not safe as well.
But it will be more reliable to pick up tall grass and mow the lawn. It is also better to put up a reliable fence so that the ticks cannot get from the nearest areas. And also try not to let other animals walk in the yard if they are not treated from ticks. They can carry ticks and transmit other diseases.
What kills ticks naturally?
There are some repellent plants that scare away pests with a smell. This property of plants helps to effectively cope with the protection of domestic animals from external parasites. Repellents prevent the bloodsucker from landing on the victim and biting, acting on the insect's sensitive receptors with an "intolerable scent."
However, we should honestly admit that none dog tick prevention can protect with a 100% guarantee. Only insect-acaricidal or only repellants in any form (collar, drops, spray) are not enough. The highest degree of protection is provided only by the complex application of these protective tools.
Other Flea and Tick Prevention for Dogs
If you have not found a suitable product at the top, we are glad to offer you some more dog flea and tick prevention which may interest you.
Nexgard Chewables for Dogs, 24.1-60 Lbs (Purple Box)
This is a delicious chewable flea and tick medication for dogs that works for three months. The beef flavor makes this tablet a real pet treat. The main active ingredients of this product are afoxolaner and milbemycin oxime, which have a paralytic effect on parasites, leading to their death at all stages of their development.
The medicine is designed for dogs aged 8 weeks and older and weighing more than 2 kg. The dose of the prevention is calculated depending on the weight of the dog. In a pack you will find three pills, that is, one pack is enough for one season.
Bravecto Chews for Dogs, 44-88 Lbs, 1 Treatment (Blue Box)
These are tablets for dogs weighing 44 to 88 lbs. They are used for the treatment and prevention of aphanipterosis, in the complex therapy of allergic dermatitis caused by fleas, as well as acarosis caused by ixodid ticks. These chewable treats are suitable for 6 months old dogs and older pets. Your pet will easily confuse the taste of the pill with regular food and make it easier for the owner. Why is this item considered one of the best tick treatment for dogs? A huge plus of this product is that one tablet is enough for 12 weeks. You don't have to think about protection every month and relax for a whole season.
Frontline Gold Flea & Tick Treatment for Large Dogs (45-88 Lbs)
For a long time, Frontline has been producing quality antiparasitic products that undergo mandatory laboratory tests. After Frontline Gold Flea & Tick Treatment for Large Dogs is applied, it remains in the sebaceous glands of your pet's skin and spreads over the entire surface of the body along with the constantly secreted sebum. The product begins to work after contact with your pet's skin and hair, not when the pet is already bitten.
In the package, you will find 3 doses which will last for 3 months. This solution is suitable for dogs over 8 weeks old and weighing 45-88 lbs. By purchasing this flea and tick prevention, you are guaranteed to receive a certified product that allows you to provide your pet with a comfortable life and minimize the risk of parasite infection.
Hartz Ultraguard Flea & Tick Topicals for Pets
Parasite drops are one of the most common forms of these prevention products. They drip onto the withers of the animal, thereby preventing him from licking them. They are quite effective and provide strong protection for a fairly long period. Hartz Ultraguard Flea & Tick Topicals for Pets is one of the best tick medicine for dogs and puppies over 12 weeks of age weighing from 5 to 14 lbs. One package is enough for 3 monthly treatments. Repeated processing of animals should be carried out no more than 1 time per month. The effectiveness of protection is not reduced by moisture which means that you will not wash off the product while bathing your pet.
TevraPet Activate II Flea and Tick Prevention for Dogs
The product is applied by drip application on the dry, intact skin of a pet. It not only kills existing fleas but also repels new ones. To eliminate fleas and ticks, dogs are treated once a month. The amount of the product in the package will last for 4 months, which means that it is the best flea and tick control for dogs if you are looking for a long-lasting solution and money-saving offer. With this product, you can forget about buying new packaging for a long time. The preventive solution is available in four convenient weight dosages so you can easily find the right option for your dog's size.
Conclusion
As you can see, it is wrong to believe that fleas living on a dog are normal. These tiny insects are dangerous because they carry infection from one animal to another and go unnoticed. When choosing the best way to protect your dog from fleas and ticks, use several measures at the same time – for example, a collar and drops can work well in tandem. And of course, be guided by our review when making your final decision!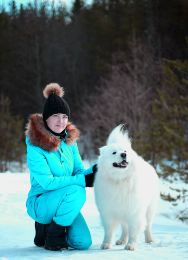 Vanessa Vilchek is one of our favorite authors. She is a real dog person, she was introduced to her first puppy at the age of 3 and since then she would rescue every pooch she met. Today all care and entertainment issues are a piece of cake for her, and we are really proud of having her on board. If you have any questions, feel free to ask in comments below or on her facebook page.