Does your pet destroy one toy after another? And are you tired of buying a new one every time an old one has been torn up by sharp teeth? Indestructible dog toys are the best solution! They are made of stronger materials, so your pet will enjoy them longer despite active chewing. Meet the top-19 most durable dog toys!
Top Indestructible Dog Toys for the Most Aggressive Chewers
Pacific Pups Products Dog Rope Toy for Aggressive Chewers
This is the leader among all tough dog toys because of the following qualities:
Monster K9 Indestructible Dog Ball
This is one of the best indestructible dog toys because it is:
But note that this is not a dog chew toy! It can easily withstand blows and several contacts with the animal's teeth during the game, but it is not intended for focused and constant chewing for hours.
Arm & Hammer Super Treadz Chew Toy for Dogs
The best chew toy available in the form of gorilla or alligator takes third place on our top. This is the best option to keep your pet busy and his teeth healthy. This item is really excellent due to the following characteristics:
Nylabone Durable Dental Dinosaur Chew
This is one of the best dog toys for aggressive chewers. This cute dinosaur can keep pets busy for hours for their owners to be satisfied with their behavior. The chew toy is very effective in case of damaging the environment with chewing. Also, it is advantageous for a pet when it feels anxiety or loneliness.
Here are some more reasons to choose this very item:
West Paw Zogoflex Hurley Tough Dog Bone
This strong dog toy is both for fun and for health. It is resistant to chewing to take care of dental health and is appropriate for different games to bring a lot of joy. Thousands of dog owners choose this item thanks to the following advantages:
KONG Flyer
This is one of the most durable rubber dog toys. It is made of a special tough type of this material to last longer. But this is not one of the chew toys for dogs. It is not intended for focused chewing.
It will bring much joy to you and your pet thanks to the following advantages:
Benebone Maplestick Chew Toy
Is your dog fond of wood and is eager to chew everything made of it: sticks, furniture, and other things?
Then this item with maplewood flavor is just for you! It will save your furniture from being destroyed and the home from getting dirty because of sticks brought inside by your pet.
Here are some more reasons to give this alternative to real wood to your fluffy companion:
Kong Extreme Dog Toy
This item can be surely called one of the best dog toys for chewers. Here is the list of characteristics that prove this statement:
Goughnuts Virtually Indestructible Dog Pull Toy
Are you looking for the toughest indestructible dog toy? You've just found it! The manufacturer of this item has focused on durability and has created the item specially intended for avid chewers. And some more advantages make this option worthy to buy:
Oneisall Dog Toy For Aggressive Chewers
One more nominee in the top of the best dog chew toys is worthy of your attention. It can make you satisfied and get your pet busy and pleased thanks to the following benefits:
ZippyPaws – Skinny Peltz No Stuffing Squeaky Plush Dog Toy, Fox, Raccoon and Squirrel
Are there any indestructible plush toys? There are some products of this kind made of more durable materials than usual ones. And this option is one of them! Here are some more characteristics except durability that make these indestructible stuffed dog toys worthy of your attention:
Nylabone Dura Chew
This is one of the toughest dog toys. It is appropriate even for the most active chewers. Furthermore, it is:
Buck Bone Organics Elk Antlers for Dogs
Every year elks shed antlers. And this is a great opportunity to get 100% natural and safe both for your pet and for ecology material to produce the best chew toys for dogs. And the Buck Bone Organic company uses this opportunity to the full. It gathers elk antlers, that meet the color and density standards, and produces the best chews for dogs that have the following advantages:
Nylabone Dura Chew Textured Ring
Meet one more option worthy of being on our top best toys for aggressive chewers due to the following reasons:
VANFINE Almost Indestructible Dog Squeaky Toy
Entertaining squeaky toys bring a lot of fun to pets and often become their favorites. And it is so disappointing for a dog when a favorite toy can no longer make him happy as it is accidentally destroyed.
But with this item, such a disappointment is highly unlikely. It is so durable that it will delight your cuddly friend for many years. Here are some more benefits of this product that make it one of the best dog toys for chewers:
Wobble Wag Giggle Ball, Interactive Dog Toy, as seen on TV
Everyone knows that dogs admire balls. True fans of fetch games get excited immediately when they see something like a ball. But the problem is that the majority of these toys are very vulnerable to mechanical damage. So, you need to have a dozen of them in reserve to change them every time they "die" in the teeth of your four-pawed buddy.
But you will not have to do this any longer if you choose more durable toys for dogs. They can last much longer replacing a dozen flimsy ones. And this item is one of the tough balls that can last for a much longer time than a usual one.
In addition to being durable, it is also:
Outward Hound Invincibles Dog Toy – Stuffingless Squeaky Plush Dog Toy
This cute thing will excite your pet! It is so lovely and entertaining that your cuddly friend will not want to leave it for a single minute. In addition to being extremely lovely, this is one of the tough toys for dogs. Thus, it will last for a long time without disappointing your pet by being destroyed by him accidentally. Here are some more advantages that make this item a great choice for active dogs:
NOUGAT Dog Toys For Aggressive Chewers
Do you want to get one solution for many problems? These lovely indestructible dog chew toys can prevent:
boredom;
stress;
misbehavior (first of all, destructive chewing);
dental problems (bad smell, tartar).
Make your pet healthy and happy with this awesome toy. Here are some more characteristics that prove that this is a great solution:
KONG Classic Dog Toy, Large
Meet the last item on our top! Though it takes the last place, it does not mean that it is worse than previous products. Just the full list of good tuff dog toys would be too long if we would have mentioned all the nice options on the market. So, we have decided to finish our review with this very option having a lot of benefits that will bring happiness to your pet:
Features to Consider When Choosing Indestructible Dog Toys
Material to Look For
The best, the most durable, and the safest are:
rubber;
latex;
nylon;
vinyl.
In the absence of small parts, toys made of these materials are really indestructible. As for safety, the best options, if choosing by this parameter, are latex and special eco-friendly types of rubber. They are based on natural ingredients.
Additionally, other natural materials are worthy of your attention: for example, elk antlers one of the items from our top is made of. This is a great option as it is 100% natural, safe, and good for the pet's health. But it is not as durable as polymers like rubber or latex.
If you want to make your cuddly friend happy with the help of a plush toy, pay attention to natural cotton fabrics as they are hypoallergenic and safe. As for the stuffing, it is better to choose the options that do not have it at all or have the specialized hypoallergenic one.
Materials to Avoid
If you care about your cuddly companion's health, do not buy products made of plastic or rubber that contain BPA. This is a chemical widely used in the production of polymers. It has been proven to be dangerous to health.
Since your dog will chew the toy every day, the particles of the substance will enter the body regularly. And this has a destructive effect on the endocrine system, disrupts hormonal balance, and can also lead to metabolic disorders.
So, it is better to choose the items marked "BPA-free".
Types of Indestructible Dog Toys
These are the options made of more durable materials to last longer withstanding the power of your pet's jaws. And these toys may be of different kinds. They can be divided into types depending on the functions:
Chew toys. These are the toughest ones. They are specially intended for daily continuous chewing. They help to prevent chewing of the objects of the interior the dog sees around him as he will be busy with the toy. Moreover, this type of entertainment is good for relieving stress, anxiety, loneliness, and does not let your pet be bored.
Balls. This group of toys does not even need to be introduced and commented on. Everyone knows that dogs wig out seeing balls. They are so excited with toys of this kind that they often accidentally damage them with their teeth when picking them up and carrying them. And this brings so much disappointment! To avoid this, many dog owners prefer more durable balls marked "indestructible".
Flyers. This is one more type of toy for entertaining fetch games. For some dogs, they are even more enjoyable than balls. The dog constantly catches it with its teeth during fast movement. Therefore, if the material is not strong enough, deep marks immediately remain on it, it wears out quickly and may even crack. Therefore, in order not to be afraid that the toy will quickly become unusable, having barely managed to become a favorite one of your four-pawed friend, pay attention to indestructible toys of this type.
Squeakers. These are toys with special "speakers" which let air flow through the inside. They make funny sounds when pressed, which makes them very entertaining for dogs to play with. Being more durable, they can make your dog happy for much longer.
Plush toys. They are so soft and cute that many pets just adore them. But, since they are made of fabric, they very quickly become victims of the dogs' teeth. To prevent a pet from losing his favorite toy due to his own negligence, pay attention to the toys made of special reinforced fabrics with stronger seams. You can find some options like this in our review.
Indestructible dog toys can be also classified depending on the size of breeds they are intended for:
Small dog toys. They are miniature to be convenient for the games of petite pets.
Medium dog toys. They are of the standard size and are intended for middle-sized dogs.
Big dog toys. These ones are larger and even more durable as they are intended for the most aggressive chewing with powerful jaws of large and giant pets.
Best Indestructible Dog Toy Brands
The undisputed leaders on the market are:
Kong, a UK company with the highest quality and safety standards. It has been working for the fun and health of millions of pets for over 40 years. The company regularly updates its already wide assortment, controlling the quality of each produced item. Loving dog parents choose time-tested toys made by this reliable manufacturer!
Nylabone, a brand that specializes in chewy toys. As you know, the narrower the specialization is, the higher the expertise in this area is. This manufacturer knows a lot about dental health. Therefore, all toys are designed not only to entertain dogs but also to bring maximum benefit to their teeth and gums.
Some more good brands:
Pacific Pups, a brand that is focused on charity.
Monster K9, a company that specializes in producing highly durable toys.
Arm & Hammer, a powerful combination of durability and safety.
West Paw, toys of the finest quality produced in the USA.
Benebone, innovations, safety, and eco-friendliness are the three most important things for this brand.
Goughnuts, a company that takes full responsibility for the quality of each item and can offer a lifetime guarantee.
Oneisall, budget products of fine quality.
ZippyPaws, a brand of toys with a unique design for those who are looking for something special.
Buck Bone Organics, 100% eco-friendly and healthy brand.
Vanfine, a manufacturer that thoroughly tests indestructible toys for durability.
Outward Hound, a great value-for-money.
Nougat, innovative solutions, unique design, high quality, and strict adherence to safety standards.
Pets of What Breeds Need Tuff Toys?
Durability is important for all dogs that are prone to chewing. But some breeds with powerful jaws can damage their favorite toys even without direct chewing, just accidentally when picking them up or carrying them. And this is when durability becomes the crucial parameter. It is especially important for:
Giant breeds: Mastiff, Newfoundland, Great Dane, etc.
Large dogs: Shepherds, Labradors, and so on.
Breeds that were originally intended for fighting: Pitbull, Bull terrier, Bullmastiff, and others.
FAQ
Do Indestructible Dog Toys Really Exist?
Goods that cannot be destroyed at all probably do not exist. However, toys marked "indestructible" have a much longer lifetime. They are made of more durable materials than usual ones, so can serve for months or even years, unlike the ones that can be completely torn up within a day or a week.
Can You Make DIY Dog Chew Toys?
Chew toys should be made of especially strong and durable materials for a dog not to be able to accidentally bite off and swallow a piece. You can hardly find this kind of material for doing an appropriate item yourself. It is better to pay attention to the products made by trustworthy brands. They are high-quality, durable, and, what is the most important, completely safe for pets.
How Can I Make My Dog Toys Last Longer?
Here are some recommendations:
– Do not let a dog purposefully chew a toy that is not intended for this. Only specialized chew toys can withstand it.
– Clean the item only in the way specified in the manufacturer's manual. If it is allowed to wash in a dishwasher or a washing machine, feel free to do this. If not, just wash it with cold water by hand.
Are Indestructible Dog Toys Worth the Money?
As they serve significantly longer, they can replace dozens of usual toys destroyed by your pet's teeth one after another. Thus, they cost only a few dollars more expensive but can save you a lot of money as you will not need to buy new means of entertainment for your pet every week.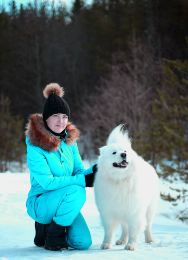 Vanessa Vilchek is one of our favorite authors. She is a real dog person, she was introduced to her first puppy at the age of 3 and since then she would rescue every pooch she met. Today all care and entertainment issues are a piece of cake for her, and we are really proud of having her on board. If you have any questions, feel free to ask in comments below or on her facebook page.