Pit bulls have a reputation for often being destructive and overly active, but a lot of unwanted behavior can be managed with the right toys. Unfortunately, pit bulls tend not to be very gentle with their toys, which results in the owner buying a brand new toy every couple of days.
The ideal toys for pit bulls should be both stimulating and durable. We have prepared a list of indestructible dog toys for pit bulls that your pup is guaranteed to love.
Goughnuts Maxx Chew Stick
Editor's Choice
The toughest dog toys for pit bulls often don't look too exquisite, but their durability is perfect for pit bulls, who are famously zealous players. The chew stick from Goughnuts may look like a basic white stick, but it's actually much more functional:
The size of this toy is ideal for the size and weight of a typical pit bull.
The material used in the stick is so durable that your pooch can play the toy daily for months and not cause a single tear.
There is an easy way to tell when the toy needs to be replaced — as soon as you see the red indicator underneath the black layer, it's time to get a new stick.
KONG Rubber Ball Extreme
KONG is a renowned brand behind some of the world's most durable toys for pit bulls, and their Rubber Ball Extreme is a best-seller for a number of reasons:
The ball comes in two sizes, which is perfect for making sure the new toy fits your dog.
This toy can be enjoyed by your pit bull on its own or used in a fun game of fetch.
On top of the ball, you will find a hole. It can be used by the dog for a better grip or filled with peanut butter or other snacks for extended play.
Benebone Rotisserie Chicken Flavored Wishbone
Dogs are known for being big fans of bones, but real bones create a mess very quickly and can often be unsafe for pups. Benebone decided to create the next best thing — indestructible dog toys for pit bulls that are shaped like bones and made from nylon:
The nylon in the bone is one of the most durable materials in the pet toy market.
The wishbone-shaped toy is very easy to grip and hold for dogs of all sizes.
This Benebone toy is flavored with real chicken, making it absolutely irresistible for your pit bull.
Goughnuts TuG Dog Toy
If you prefer playing with your pit bull to leaving your dog to play on its own, the two of you are definitely going to love one of the best toys for pit bulls we've seen so far — the TuG toy from Goughnuts:
Measuring at 11 inches, this toy is the ideal size for a typical pit bull.
The tug-of-war game will be more fun than ever with the Goughnuts TuG toy.
There is no red indicator underneath the black outer layer, but the toy comes with a replacement guarantee in case your dog manages to destroy it.
Goughnuts Interactive Black Chew Ball
Some of the best chew toys for pit bulls are actually multipurpose devices, just like this chew ball from Goughnuts. This ball not only looks very impressive, but has every chance of becoming your pup's favorite toy:
This Goughnuts ball can be used both by the dog on its own for individual play and for a fetching game with the owner.
The ball floats on water, which means you can pack it for your next beach retreat or pool time.
Like many Goughnuts toys, this ball comes with a red indicator layer underneath the black one. As soon as you see red, contact the brand for a free replacement.
Monster K9 Indestructible Dog Ball
The Monster K9 dog ball looks fairly basic, but it's regularly featured as one of the most indestructible dog toys for pit bulls. There are at least three reasons why you and your pup are guaranteed to enjoy this toy:
The ball is made from 100% non-toxic material and can be safely chewed for a long time.
The universal size of the ball, which is close to a classic baseball, is perfect for pit bulls.
The colorful design of the toy will always attract your dog's attention and will be easy to spot even in the busiest dog park.
Elk Antler Dog Chew Toy
The common thing between dogs and humans is that they both prefer the real deal to the artificial replacement. That is why so many dog owners and their dogs love playing with genuine elk antlers. Here is why your dog will love it too:
The antler doesn't produce any mess, sticky patches, or odd smells even after days of playing.
This toy is surprisingly durable and lasts longer than most natural dog chew toys.
Regularly gnawing on an elk antler helps your dog maintain clean teeth and gums, as well as prevent tartar.
Summary
There are indestructible dog toys for pit bulls for every budget and personality. Whether it's a durable nylon ball or a genuine elk antler, we are convinced you will easily find the toy that will give you and your dog days or even months of thrill.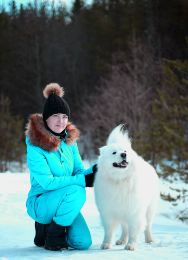 Vanessa Vilchek is one of our favorite authors. She is a real dog person, she was introduced to her first puppy at the age of 3 and since then she would rescue every pooch she met. Today all care and entertainment issues are a piece of cake for her, and we are really proud of having her on board. If you have any questions, feel free to ask in comments below or on her facebook page.