There are few things dogs love more than a squeaky toy that doubles the fun while playing. Unfortunately, many squeaky dog toys tend to break down very quickly.
A broken squeaky dog ball not only possesses a safety hazard, but also causes you to regularly buy new ones. Find out which 5 indestructible squeaky dog toys will last for a long time and give your dog lots of joy!
Nerf Dog Squeak Rubber Football Dog Toy
Editor's Choice
If you or your dog are not in a mood for a squeaky chicken toy or a squeaky pig dog toy, you're guaranteed to love this creation from Nerf. Shaped like a traditional American football and measuring at 7 inches, this toy is exactly what the two of you need for a fantastic bonding session.
Like most good squeaky dog toys for aggressive chewers, this Nerf is made from high-quality rubber that is BPA-free and FDA-approved. The bright colors of the toy won't let you lose it even in the busiest location, and the lightweight design of the ball makes it super easy to carry around.
Gnawsome Medium Squeaker Ball Dog Toy
Any list of durable squeaky dog toys would not be complete without at least one ball. Balls are among the favorite dog toys for many reasons, and when they come with the squeaker, they become nearly irresistible! These squeaky toys for small dogs from Gnawsome come in four vivid colors that make finding the toy at home or outside easier than ever.
The spiky texture of these durable dog squeaky toys provides for a firm grip and helps massage the gums of teething puppies. And rest assured that even if your dog manages to chew through the ball, the food-grade, BPA-free material is absolutely safe for your pup.
Kong Squeezz Ball Dog Toy
If you're shopping for your first ever dog squeaky toy, many experienced dog owners recommend choosing this KONG squeaky toy as a way to introduce the pup to squeaky play. This rubber ball is available in four sizes and three colours, which means you can easily find the perfect toy for your pooch.
In addition to being one of the best-known tough squeaky dog toys, this KONG ball has another major advantage.The construction of the toy safely conceals the squeaker, making it nearly impossible to break. Even in case the ball is eventually punctured, the squeaker is very likely to still work!
Multipet Latex Loofa Dog Toy
Latex dog toys are a popular choice for owners of medium to avid chewers, and when you add a squeaker, it's a recipe for an absolutely irresistible dog toy. The fun design, convenient shape, and practical 6-inch size, it's definitely going to be a great addition to your pup's toy collection.
Despite its somewhat delicate look, this Multipet toy is actually one of the most indestructible squeaky dog toys in the market. Some owners report it lasting for up to a year!
JW Pet iSqueak Bouncin' Bowlin Pin Dog Toy
The bowling pin design of this dog toy is ideal for dogs who have already tried every variation of a squeaky toy on earth. However, this JW Pet toy has a lot more to offer to its buyers besides the unconventional shape.
The toy is made from extra durable rubber and is perfect for teething puppies and dogs who never get tired of chewing. Available in three sizes and four colours, this bowling pin squeaker toy will become your dog's favorite chewing companion.
Summary
In order to be called a good dog toy, it's not enough for the toy to be equipped with a squeaker. It also needs to be durable enough not to fall apart every couple of days. With these 5 indestructible squeaky dog toys, your dog will enjoy a virtually unlimited play!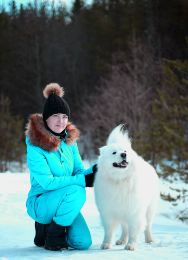 Vanessa Vilchek is one of our favorite authors. She is a real dog person, she was introduced to her first puppy at the age of 3 and since then she would rescue every pooch she met. Today all care and entertainment issues are a piece of cake for her, and we are really proud of having her on board. If you have any questions, feel free to ask in comments below or on her facebook page.