Melatonin is a hormone, which is produced by the pineal gland acting as a sedative or relaxing substance for a human or an animal organism. It is responsible for a sleeping regime, controlling a body's need for the rest.
No secret, healthy animals are very vigorous and energetic. However, it may lead to anxiety and discomfort for both pet parents and a pet. There are also situations of high stress for a pup (loud sounds such as car beep or drive, veterinarian visits or medical operations, separations with beloved family members, etc.).
In such cases, the aim of owners is to decrease the negative impact, which may lead to diseases. Various options offer medications treatment and food supplements, including those with melatonin.
Each pooch is different, and curing substances have their side effects. Read our picks of the best melatonin products, their features and make up your mind regarding an effective soothing remedy. However, get professional advice from your vet before introducing a new supplement into your fur friend's menu.
Top 5 Calming Treatments with Melatonin
NaturVet Quiet Moments Calming Aid Dog Soft Chews
Editor's Choice
NaturVet brand offers various options of supplies for a pet's healthy and happy life. We have chosen its Quiet Moments Calming Aid Dog Soft Chews as the best overall melatonin product due to its compliance with the strictest demands of vets certification authorities and laboratories. Thus, the product is completely safe.
Your canine friend is reliably protected from the impacts of occasional or expected fear or stress (travel by car, thunderstorm) due to its ingredients, providing soothing and relaxing effect: melatonin, l-tryptophan, vitamin B1. Chamomile and ginger ensure a curing effect for any inflammations or digestive concerns.
The soothing supplement is offered in a form of soft chews for easy feeding. There are options with 70, 180 and 240 count chews for your convenience.
Administer these melatonin dog treats to pups older than 12 weeks. The instruction, as well as precaution warnings, are provided on the label.
Waggedy Calm Stress & Anxiety Relief Melatonin Dog Supplement
Best Melatonin Soft Chews
Calm Stress & Anxiety Relief Melatonin chewing tablets by waggedy is our choice for the best melatonin soft chews.
These are delicious treats for dog's stress reduction and calm demeanor within upsetting situations for a pooch. The substance containing melatonin as the main constituent provides peaceful household, no barking and pet's serenity during rain or snow, thunderstorm or lightning, plane or car travel.
Supplementary ingredients are chamomile, ginger, thiamine, vitamin B1, passionflower ensuring better curing effect.
The supplement starts its action after half an hour after digesting. Keep to the feeding instruction indicated on each pack, which counts 60 chews each. It also warns against consumption of medication by pregnant dogs and small puppies (under 12 weeks). Avoid feeding more than double the daily amount within a 12-hours period.
ThunderWunders Melatonin Calming Dog Chews
Budget Pick
We value soft treats by ThunderWunders as the Best Dog Melatonin Budget Buy.
Use these Melatonin Calming Dog Chews for pooches in uneven situations to reduce anxiety, to soothe stomach work, to regulate sleeping. Thus, your travel, vets' visits or stormy weather won't influence family quietness.
The ingredients are intended for the comprehensive result, and comprise melatonin, thiamine, l-tryptophan, passionflower for safe sedative action, and ginger for proper digestion.
The product's label provides information about the package content and amount. Feeding instructions for correct daily amount calculation are indicated in a diagram. Tasty treats are supplied in a resealable pack or cans by 60 and 180 units.
Pet Wellbeing Melatonin Dog Supplement
Best Melatonin in a Liquid Form
Dog Melatonin by Pet Wellbeing is our choice for the best liquid supplement. Its gentle formula of pure melatonin without additives promotes healthy sleeping, urination, a good mood, hair growth, appetite in any stressful situation. It influences directly the adrenal gland, manages correct cortisol level, thus acting as mild sedative and drowsy drops.
The liquid is poured in 2 lq. oz. bottle, supplied with a dropper, and may be fed directly into the mouth, or added to water. Due to tasty bacon flavor, a pooch of any breed or age consumes it eagerly.
Keep to the instruction of feeding and precautions indicated on the label of the preparation. Undergo a vet's consultation before starting a supplement or if any side effect occurs.
Fur Goodness Sake Calmify Melatonin for Dogs
Best Organic Melatonin for Dogs
We appreciate Calmify Melatonin for Dogs by Fur Goodness Sake for its natural origin. Thus, it is awarded the nomination of the Best Organic Melatonin for Dogs.
The remedy comprises pure melatonin without additional ingredients and activities. It possesses bacon taste, which is attractive for pups of all ages and breeds.
Administer a supplement with an ease any time to pacify your dog's stress, fear, undesired behavior or uncontrolled anger or urination. It is good for travels, vets' visits or sleep regulation.
Calmify Melatonin for Dogs is supplied in convenient 2.0 fl.oz. bottles, with detailed description of its content and usage directions in the packing. A dropper is provided to make its administration simple.
Features to consider when buying melatonin for dogs
Although the melatonin supplement for dog anxiety may be fed to a dog additionally to his main meals' course, a definite amount of this hormone is produced by a pet's endocrine system naturally.
The additive is aimed at:
boosting the processes of pacification in an organism, if it is caused by a lack of melatonin;
increasing melatonin soothing effect, in case a serious stress has occurred.
However, the main purpose is to reach a positive influence avoiding any side effects.
Here we collected the factors, which may influence the substance activity, make your dog swallow it eagerly and your administration process easy.
Quantity.
Feed your dog with the supplement according to the vet's prescription. Limit a quantity of feedings to 1-3 a day. Quantity of the active ingredient approximately amounts to 2-5 mg per unit.
Form of use.
There is a wide range of melatonin products on the market. Choose your compromise option considering pooch preferences and your administration ease:
hard substances (soft chews, tablets, pills, powder),
liquid substances (drops, fluids).
Ingredients.
Melatonin preparations may be supplied in two ways. The first one comprises a single active ingredient. Another variant is multiple (up to 6) ingredients food additives with a curing effect. Avoid artificial ingredients, chemicals, colors, preservatives in the list of content.
Tastes.
Some supplements are flavored with your dog' favorite taste (bacon, chicken). This allows easy feeding and quick remedy administration for a pet owner.
Guide (Frequently Asked Questions)
Can you give melatonin to a dog?
Pineal gland is responsible for melatonin natural production in an organism. Lack of this hormone or its release in wrong time leads to definite dysfunctions, and consequently the therapy is needed.
Due to its natural origin, melatonin is the least dangerous and harmful sedative drug.
Additional supplements of melatonin are necessary under several conditions.
Dog's anxiety. Severe stresses are dangerous and may lead to further diseases. Additionally, they may cause undesired dog's change in behavior.
Seasonal hair losses. This symptom is not pleasant and may be manifestation of the other skin disease, such as alopecia. Melatonin decreases this symptom and makes it pass quicker.
Sleep dysfunction. This may be the result of stress, anxiety and may be manifested a change in the sleeping regime or insomnia itself. As a result, a dog is weak, passive and has no interest in food or walks.
Cortisol hormone dysfunction. An adequate quantity of this hormone regulates immune system activity and organism's reactions to the stresses. On the contrary, frequent urinations, weak muscles, inactive behavior are the consequences of cortisol excess. It may be manifestation of
Cushing's disease, caused by a tumor on adrenal gland. Melatonin blocks the exceeding amount of cortisol, thus alleviating the ailment symptoms.
What are the side effects of melatonin in dogs?
If used properly, melatonin adverse effects in puppies must be excluded, as it is 100% organic and safe. It is more preferable, compared to other remedies with a tranquilizers' effect. However, the following pups' conditions may be noticed:
Rare symptoms of overdosing or allergic reaction are itching, diarrhea, vomiting.
In case a dog has any health concerns or takes other medications (e.g. aspirin, meloxicam), be aware of the following: remedies medication activity may be weakened, some symptoms of diseases may be worsened.
Melatonin is not recommended for pregnant dogs, as it may affect the pups. Dog melatonin supplement has never been tried on expectant dog-mothers.
To exclude possible overreaction follow the general rule to start with a smaller dose of the supplement, gradually increasing a portion.
How much melatonin can you give a dog?
Overdosing of any drug or remedy is dangerous and may lead to dogs' health concerns.
Melatonin is a hormone; its undesired portion may cause changes and dysfunctions of the endocrine system. Depending on your dog's weight, the quantity of an acting substance differs.
Keep careful calculation of the portion needed according to the following chart.
up to 10 lb. pup – 1 mg. of melatonin;
11 – 25 lb. – 1.5 mg;
26 – 50 lb. – 2.0 mg;
51 – 100 lb. – 3.0 mg;
over 100 lb. – 4.0-6.0 mg.
How often can I give my dog melatonin?
There are a few simple rules to be followed while using melatonin for dogs.
Regulate the frequency of feedings upon each situation.
In case of repeating fear or stress for a pooch, give a dog a treatment every eight hours.
If anxiety appears occasionally, feed a pup once at the time.
Anticipating a dog's future unrest, give melatonin to it 30 minutes in advance, as the time is needed to absorb the substance in the blood.
Never exceed double the daily portion within 12 hours.
Can I give my dog melatonin for anxiety?
Yes, one of the means of decreasing stress influence in dogs is the melatonin supplement.
Dogs' anxiety may be situational or chronic. It means that a dog may suffer stress occasionally under certain conditions or constantly.
Situational stresses may be caused by the sounds produced by car or motorbike riders, thunder, fireworks. Avoiding these situations is the best decision. Though in case it is impossible, try applying melatonin.
Some chronic stresses like separation (e.g. a pet parent leaves for a work) or constant loud sounds (e.g. the descending plane noise if you live close to the airport) may cause insomnia, loss of appetite, wrong behavior, unhealthy coping mechanisms. Use therapy with the melatonin to make a pet calmer. It also helps regulate sleeping customs (a schedule and quality).
How does melatonin work on a dog?
Pills, tablets or liquid substances of melatonin have the same effect on a dog. Additional ingredients, like chamomile, beta-carotene, or ginger, may cause the difference.
Usually, it takes some time to dissolve hard medications and an acting substance to be absorbed in the bloodstream. Thus, start giving melatonin supplements to your dog ahead of the situation of anxiety.
Feed the remedy directly into the mouth, pore it in the drinking water, wrap in a piece of a tasty treat for easy administration.
To achieve better curing results, try to propose melatonin supplement for a pooch separately from the main feeding.
Is melatonin supplement beneficial for a dog?
Melatonin supplement is considered to be experimental for dogs, as there are no exact scientific researches on this theme. Taking decision on giving a dog melatonin, please bear in mind this fact.
For his reason, avoid giving this supplement to pups consuming other medications and pregnant dogs without a vet's consultation.
On the other hand, melatonin, being a naturally produced hormone, is safe compared to other tranquilizers, and does not render adverse effects.
The supplement has proved its positive result in dogs:
calming and soothing anxiety;
healthy and scheduled sleep;
obedience and following commands;
sedative and pain relieving medicine;
hormone balance maintaining.
Other melatonin for dogs
Zesty Paws Hemp Elements Calming Nutrastix Behavior Dog Supplement
We love Zesty Paws Hemp Elements Calming Nutrastix Behavior Dog Supplement for its double effect.
On the one hand, treats supplied in sticks, stimulate fresh breath and promote strong and clean teeth. On the other hand, its components, such as melatonin, provide a calming and relaxing effect, avoiding sleepy conditions.
The product consists of nutritional elements aimed at additional feeding only, i.e. bone broth powder, tapioca flour. Hemp, melatonin, chamomile, valerian root, suntheanine are natural elements with soft sedative effect, making your pet collected, obedient and calm in the situations of frustration, fear, weather or emergency impacts. Kelp, peppermint oil and taurine ensure teeth protection.
There are two variants of product packing, 12 or 25-oz. resealable bags, which is convenient for storing leftovers.
Dr. Lyon's Calming Aid with Melatonin Soft Chew Dog Supplement
Dr. Lyon's Calming Aid with Melatonin Soft Chew Dog Supplement is a perfect choice for those pet parents, who are looking for the safe soothing effect for their pups and the simplicity of application.
Provided in easy to break up soft chews with delicious chicken liver taste, supplements may be divided into pieces and fed to a pup. Dogs eagerly swallow tasty treats with melatonin packed with a number of other wholesome elements.
Naturally obtained melatonin and chamomile provide relaxing activity for the situation of dog's anxiety and fear: vet or groomer visits, thunderstorms, fireworks. Ginger root soothes tummy's irritations. L-tryptophan amino acid and vitamin B promote an antioxidant effect and correct metabolism.
A big 8.4-oz. container supplies 160 soft chews for your best furry friend.
Particular Paws Calming Aid Dog Chewable Tablets
Does your dog feel sick or nervous while traveling, meeting new people or on other occasions? Maybe its behavior is hyperactive, noisy and interferes with your household routine?
The supplement, which is offered by Particular Paws, will help. The mild and safe effect of Calming Aid chewing tables with melatonin has a precise formula for soothing pup's mood and stomach. Chamomile, l-tryptophan, melatonin, passionflower reduce activity of stress hormones and improve sleep quality; ginger supports tummy.
Administer a pill within 30 minutes prior to the situation, which needs a calming effect. The supplement is intended for pups older than 12 weeks and is supplied in bottles with 60 chewable tablets each.
ThunderWunders Hemp Seed Calming Chews for Dogs
ThunderWunders Hemp Seed Calming Chews for Dogs is a perfect solution to pass any stress situation, separation, fear or anger for a pup without severe and dangerous manifestations.
If your furry friend is prone to losing its temper, your vet may advise this effective means by ThunderWunders, containing in its formula pure and organic ingredients.
Melatonin, chamomile, hemp are responsible for relaxation, l-tryptophan and thiamine increase stress resistance.
The product is offered in two packing options: 60 and 120 count soft chews.
Pro-Sense Plus Calming Solutions Chewable Tablet Dog Supplement
Pro-Sense Plus offers a safe and natural solution for relieving a dog's mood of fear, anger, aggression or distress. If you foresee such a situation or your pup is prone to losing its temper, administer this supplement daily or on occasions.
The ingredients are pure organic, including melatonin, chamomile, valerian root for soothing anxiety, ginger root for calming irritated stomach.
Antioxidants, vitamin C and E are included for immunity support.
A product is supplied in containers for 60 chews with detailed use directions.
Particular Paws Calming Aid Soft Chews Dog Supplement
Particular Paws brand offers a reliable herb supplement for relieving tension or relaxing situational anxiety of a pup. Undergo a vet's consultation or a groom's visit without fear or stress.
All the ingredients of this Calming Aid Soft Chews Dog Supplement are natural and safe. Melatonin and chamomile are responsible for weakening the activity of stress hormones, ginger relieves irritated tummy, vitamin B and antioxidants promote immunity.
An instruction for use is indicated directly on the label. Never exceed double daily melatonin dog dosage within 12 hours and use according to the directions when needed.
A resealable bag contains 65 tasty soft chews and is convenient enough for taking along.
Solid Gold Supplements Calming Aid Soft Chews Grain-Free Dog Supplement
Maintain your habitual active way of life, traveling, noisy guests and support your four-legged friend with the food supplement to relieve possible tension.
Occasional stressful events, like vets' visits or train travel, and constant situations of anxiety, like driving cars or crossing streets with heavy traffic, will not cause discomfort for your pup if you feed it with the delicious Calming Aid Soft Chews by Solid Gold Supplements.
Stuffed with pure natural components, it provides a soothing and relaxing effect by melatonin, passionflower, thiamine, l-tryptophan, ginger.
The bottle contains 60 soft chewing treats, loved by animals. It is easy to administer by pet owners.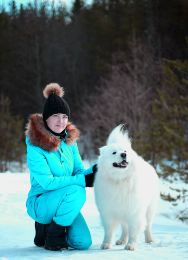 Vanessa Vilchek is one of our favorite authors. She is a real dog person, she was introduced to her first puppy at the age of 3 and since then she would rescue every pooch she met. Today all care and entertainment issues are a piece of cake for her, and we are really proud of having her on board. If you have any questions, feel free to ask in comments below or on her facebook page.