The necessity of buying a special house for your dog to sleep in when spending time outdoors is not up for debate — an outdoor dog house keeps your pup warm, protects it from the elements, and gives it a sense of security that is hard to achieve in an outdoor living situation.
If you are struggling with finding just the right house for your furry family member, know that you are not alone. The variety of dog houses for sale has gotten so big that today you can have dozens of equally great options to choose from. Check out the best dog houses in each category with our list and use our buying guide to select an option that will work for both of you.
Top Dog Houses
Petsfit Outdoor Dog House
Editor's Choice
Even a quick glance at the Petsfit dog house is enough to understand why this option is so popular with buyers. Shaped and styled like a real house, the Petsfit creation will become your dog's favorite place to spend time outdoors. The raised bottom helps the house stay warm and dry during bad weather, the slated roof prevents the water from being accumulated on top of the house, and the front door, which is equipped with a door flap, will give your pup easy access in and out of the house.
If you are a fan of nice dog houses, the ideal house for your dog you have always imagined is probably made of wood. In that case, there are several options you can check out. The first one is the Petsfit wooden dog house, which has a rather unusual construction: in addition to the front door with a flap, there is also a roof that can be opened for better view and ventilation. This dog house is beautifully designed, but even more importantly, it is completely waterproof and comes in three sizes.
Best Cheap Dog House
Confidence Pet Waterproof Outdoor Dog House
If you are shopping for dog houses on a budget, the good news is that there are plenty of cheap dog houses to choose from. Our favorite budget-friendly option is the Confidence dog house, which looks and feels as good as any other house on our list. Made from durable plastic, this dog house is suitable for all-year-round use and has plenty of room inside for your dog to relax and catch up on the sleep. The Confidence house has a cute design and can be assembled very easily.
Best Wooden Dog Houses
Tangkula Outdoor Pet Dog House
The number one reason the Tangkula dog house attracted our attention is the beautiful design of the house. The reddish wooden finish with a black trim will give a more classy look to your yard or garden. The bottom of the house is raised on four feet to prevent the cold and moisture from getting inside, and the roof will make the snow and water slide right off the sides. Thanks to the adjustable feet, this house can be installed even on uneven ground and ships with a complete package of assembly tools and materials.
Pet Squeak Dog House
A wooden dog house typically looks more stylish and expensive than its plastic or metal counterparts, but the Pet Squeak wooden dog house is one of the most stunning outdoor dog houses we have ever seen. The shapes, finish, and trim are simply gorgeous, and the three available sizes will help you choose just the right one for your furry friend. And with the raised floor, slanted roof, and sturdy construction, this dog house will last your pet for years under any circumstances.
Best Metal Dog Houses
Advantek Pet Gazebo
The pet gazebo from Advantek is not a dog house in a regular sense of the word, which means that your dog will unlikely spend nights outside in this creation. However, this metal gazebo can be very helpful for any dog owner who needs a limited space for the dog from time to time. The gazebo is great if you need to leave the dog outside while you are running errands and don't want to come home to a ruined garden or backyard. There are four sizes of the gazebo available, and the roof will effectively protect your pet from the sun or rain.
Best Plastic Dog Houses
Petmate Indigo Dog House
This igloo-shaped house certainly belongs in the category of cool dog houses. However, it's much more than just a novelty — it's a spacious, beautiful, and practical choice for your furry friend. The igloo shape of the construction provides extra protection from the cold, while the offset doorway will securely cover your pup from the rain. There is a ventilation window in the roof of the dog house, and the inside is covered with antimicrobial protection for a healthier microclimate in the house.
Suncast Outdoor Dog House
In case you have always envisioned your pup in a house that was designed with amazing attention to detail, you should definitely consider the Suncast creation. The resin material of the house and the crowned floor ensure outstanding protection against the elements even in the toughest weather. The vinyl door is also a genius addition to the house — it makes it super easy for the dog to get in and out of the house, but the wind, rain and snow will never make it inside.
Pet Zone Our Pets Tuff-N-Rugged Dog House
Designed specifically for large dogs up to 125lbs, this plastic dog house is probably as simple and as practical as they get. One of its biggest advantages is the easy assembly — you can do it super quickly even without prior experience, and the best news is that the assembly does not require any specialized tools. It will keep your pup cool during the summer and warm during the colder months, although you may need additional insulation during winter.

Best Large Dog House
Precision Pet Extreme Cabin Dog House
Finding a small dog house is a relatively easy task, but if your dog is larger than 70lbs, then locating a suitable house for your pup may prove to be a challenge. We suggest the Precision Pet cabin dog house by Petmate, which sports a practical and sturdy design. The house is marketed as weather-proof, and there are many features to support it, including a raised floor, slanted roof, and a sealed protective coating. The feet can be easily adjustable and the assembly takes only three easy steps.
Best Heated Dog House
ASL Solutions Deluxe Insulated Dog Palace
Regular outside dog houses work great in milder weather conditions, but if you live in a tougher climate, you may need something with more protection against the elements. The ASL Solutions insulated dog house not only has a sturdy and ergonomic design, but also comes with insulation on all sides. The insulation panels are removable, which makes this dog house perfect for using all year round. The raised floor will provide your pup with even more comfort for sleeping.
Best Fancy Dog House
Acme Rylee Pet House
If you have always imagined your dog spending time in a house that was created with finesse and excellent taste, you are definitely going to love the many fancy dog houses available today. Our favorite in this category is the Acme Rylee dog house, which looks like the most classic dog house you can ever imagine, but much more refined. The tasteful color scheme and understated shape of the house are both beautiful to look at and super comfortable for your dog.
Best Dog House With A Porch
Boomer & George Large Dog House With Porch
In case you are looking for a different kind of fancy and value space and sturdy construction over attractive colors and finishes, check out the Boomer & George dog house with a porch. Thanks to this dog house with porch, your pup will feel like a true king of the castle. The warm house with a slanted roof and raised floor is perfect for a comfy night of sleeping, and the adorable and spacious porch can be used for watching the surroundings and just chilling out.
Best Dual Dog House
PawHut Large Wooden Weatherproof Cabin Style Dog House
If you are a lucky owner of two dogs who often spend time outdoors, buying two identical outside dog houses is hardly a sound financial decision. The dual dog house by PawHut is the ideal solution for this problem. The modern yet rustic design of the house will be a great addition to your garden. Made from fir wood, the house is super durable and feels extremely comfortable under all weather conditions. And with a spacious porch, your dogs can enjoy observing the surroundings for hours.
Best Dog Houses: The Complete Buying Guide
The variety of good and bad dog houses has gotten so big that normally you would need weeks or even months to find the best option for you and your pup without breaking the bank. Luckily, we have prepared for you an extensive guide on how to choose the most suitable dog house for your family and which features to consider.
Why you should buy a dog house?
Even though outdoor dog houses are getting more and more popular, they are still not the most common item on a shopping list for new dog owners. So who exactly should buy dog house? The answer to this question is really simple: if your dog spends a lot of time outdoors, both of you will benefit from investing in a dog house.
The most obvious reason why any dog can benefit from a special dog house is that it can protect the pup from various elements. Being left without shelter when it's raining, snowing, or when the temperature outside gets too high or too low, is a big threat to your dog's health and well-being. A solid dog house with a roof and raised floor will lower the impact the weather may have on your pup.
At the same time, there is a less obvious reason why so many dogs could benefit from a special dog house. By buying an outdoor house, you are gifting your pup with a space that is his and only his, and gives him a strong sense of security. Your furry friend will be able to catch up on naps, take a break from playing, or spend some time without interacting with the human members of your family, which is something that even the most sociable dogs need to do from time to time.
Types of dog houses
Even though the choice of dog houses has grown a lot in the past decade, the variety of materials used in their production has remained largely the same. Today you will likely find a dog house for sale made from one of the three following materials:
Wooden
Wooden dog houses are probably what you imagine as soon as you think of a classic dog house. These houses have been produced for over a century and they still have plenty of fans. Wood has numerous advantages over other materials: it is sturdy, beautiful, and warmer than plastic and metal. Plus, wooden dog houses come in all shapes and sizes and with all kinds of add-ons. On the downside, the wood is prone to bug and tick infestations, but as long as you choose cedar and similar types of wood for the house, you should be fine.
Plastic
Plastic dog houses are some of the cheapest options on the market, and one of their main advantages is their light weight. It means that you can easily transport the house around the property or even take it with you when you are traveling. Plastic dog houses are also easily cleaned and don't need any special varnishes to make them last longer. The most notable disadvantage of plastic dog houses is that they are mostly suitable only for warm weather, since only a small part of them are insulated.
Metal
The majority of metal dog houses fall into the crate category and are not meant for prolonged use during the night or under bad weather. A metal dog house can be used for temporarily restricting your dog or potty training, but you probably cannot use it as a permanent outside sleeping place for your dog. The majority of metal dog houses are intended for indoor use, although they can be taken outdoors for limited periods of time.
Style of dog houses
Besides the choice of the material for your dog house, you will also need to choose the style of the house you and your pup will prefer. Most dog houses sold today belong to one of the three following categories:
Classic
Again, the classic dog house is something you have probably seen in films and cartoons and can instantly imagine when thinking about a typical dog house. These houses are made from wood or plastic, have a slanted roof and often a raised floor. Traditional dog houses are praised for their durability, but even more importantly, they are the most universal kind of a dog house and can be used all year round.
Igloo
Igloo houses are shaped like domes, which is actually their main advantage, since it makes them extremely stable against the wind and other elements. Igloo houses are often purchased for harsher climates where you need to ensure a warm outdoor sleeping place for your pup. Most igloo dog houses come with special ventilation systems that allow the air to circulate freely without lowering the temperature inside.
Canopy
In case you live in a place with high temperatures and plenty of sunlight, your main goal is to buy a dog house with a noticeable shade effect. A canopy or gazebo is the type of dog house you should go for. It usually has a canvas roof and an airy construction, which means your dog will always be able to enjoy the fresh air while still being effectively protected from the sun. Normally, canopy or gazebo dog houses can be easily transported for traveling.
Important Features to Consider
By now, you already know enough about the two most important parameters of your future dog house, the type and the material. However, there are a few more essential features you need to consider when choosing the best option.
Dog size
The size of the dog house is an essential parameter, since you don't want your large dog to feel confined by the limited space of the house or your tiny pup to feel lost in a dog house that is too big. At the very least, your dog needs to be able to stand freely, turn around, sit, and lie down without anything limiting his movements. Measure your pup and try to choose a house that closely fits your dog' measurements, so that the house doesn't feel too empty. Plus, if the dog house is too big, it will likely be harder to keep warm during winter. It's also worth noting that most dogs prefer rather limited spaces, so if you go for a house that is too big, your dog may not find it cosy and secure enough and may even refuse to spend time there.
Climate
If you live in a mild climate with little to no extreme temperatures all year round, you can look for a dog house with regular walls and a door flap. In case you live in a place where it's either hot or warm all the time, you can consider something like a gazebo or a lightweight plastic house that does not provide extra warmth. However, if the climate in your area is more severe, you may want to look for something with a little more heat retention.
Ventilation
Fresh air is one of the most vital aspects of a dog house. Without proper ventilation, your dog may suffer from a heat stroke or experience other negative symptoms linked to the lack of fresh air. Ventilation is equally important during winter months, since the excessive moisture accumulated inside the house can also feel very uncomfortable and be unhealthy. Look for a dog house with sufficient ventilation through the door, windows, or roof ventilation openings. You can also simply drill holes in the house for an extra flow of fresh air.
Insulation
Many wooden and plastic dog houses intended for colder living conditions come with insulation, which is usually located between the two wall layers. They can provide adequate protection against milder low temperatures, but if you live in an extremely cold climate, you cannot count in insulation alone to ensure your dog's warmth all day and all night long.
Portability
If you frequently travel with your dog, a good idea is to look for an easily portable dog house. When you are able to just pick up your dog's house and transport it to another location, you will never feel restricted to your own home. Plus, a dog house can double as a crate on vacation to make your dog the best-behaved furry guest in any hotel. And even when you want to easily move your dog house around the property, you will definitely appreciate the portability feature of your new purchase.
Assembly
If, like most dog owners, you are constantly busy and have neither the time nor the desire to spend hours or even days assembling the dog house you have just bought, then easy assembly is another important feature you need to consider. The best dog houses for busy owners can be assembled in a few simple steps and don't require any specialized tools or excessive construction knowledge. At the same time, dog houses that can be effortlessly assembled are usually rather simplistic and may not have the state of the art features you probably want for your new dog house.
Additional Features
There are a few more dog house features, which, while not being essential, can significantly increase your dog's and your own enjoyment from the purchase.
Conditioning
In case you live in an area with a lot of sunlight and frequent extremely high temperatures, you may not get away with built-in ventilation systems in your dog house. This is especially true for long-haired dogs who don't have a sufficient cooling system of their own. There are few dog houses that come with pre-installed air conditioning, but you can add the air conditioning feature to nearly any house with a separate unit. This add-on is certainly not cheap, but it can be a real lifesaver in extreme heat. Make sure the cool air will not escape through the freely opening doors and windows!
Heating
On the other hand, if you live in a place with extremely cold winters, standard insulation and raised floor may not be enough to ensure your pup's warmth during chilly nights and days. Luckily, there are a few options for keeping your dog cosy all year long. The most affordable and electricity-free one is a self-heating pad, which contains a reflective sheet of metal and directs your dog's own body heat back to him. If you are looking for more warmth and are not worried about placing your dog closely to electric devices, you can consider a heated dog pad or dog bed. They come in all shapes and sizes, which means you can easily find the right one to fit your new dog house.
Cameras
Parents have been using nanny cams for years, so if you consider your dog to be one of your children, albeit hairier, you can also use a camera to maintain your dog's safety when he's alone in the house. In fact, security cameras have gotten so affordable that you can even install two: one on the inside to watch him while he's sleeping, and another one on the inside to see how he spends his free time when he thinks no one is watching. Many cameras can be connected to your smartphone and you can easily monitor your pup when you're at work or running errands.
Conclusion
Even a few decades ago, dog owners did not have a lot of choices when it came to picking the best dog house for their pup. You could mostly choose from standard wooden and plastic houses, as well as bulky metal crates. The good news is that the dog house market has transformed and now there are hundreds of options to choose from.
You can go for an affordable dog house with no fancy features or surprise your pup with a gorgeous dog house with a cutting-edge design. Air conditioning, heating, ventilation, insulation, and monitoring are just some of the features to look for in a new dog house. With our guide, you will have a much easier choosing process and will definitely enjoy the result.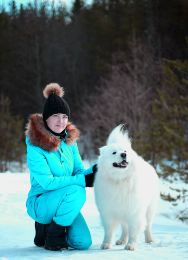 Vanessa Vilchek is one of our favorite authors. She is a real dog person, she was introduced to her first puppy at the age of 3 and since then she would rescue every pooch she met. Today all care and entertainment issues are a piece of cake for her, and we are really proud of having her on board. If you have any questions, feel free to ask in comments below or on her facebook page.